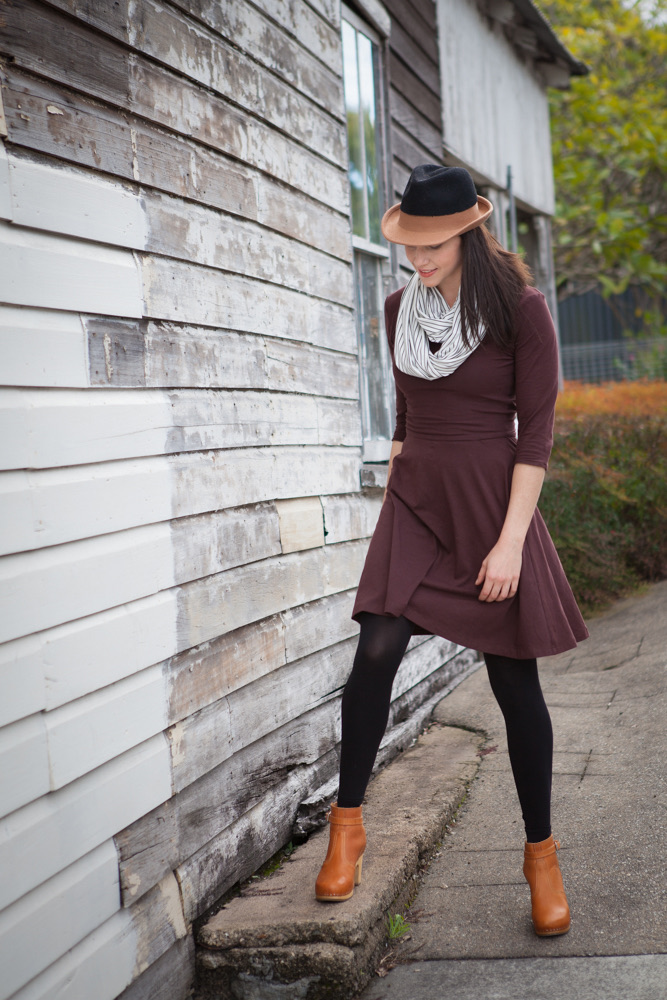 Even if I was a little slow to cotton onto the fact that a 'skater dress' is an actual type of dress, here it is…the Lady Skater! When I first saw
Kitschy Coo's
Lady Skater
dress pattern doing the rounds, I'm sure it was like 'Oh yeah, Skater hey, cute name'. But it was only when it came time to make my Lady Skater for the tour, that I did a Pinterest search for 'skater dress' (hoping to see some finished versions of the actual pattern) and discovered all of it's long lost 'Skater' cousins from different department stores. It was a skater-fest of all sorts and I was tempted to take this pattern somewhere wild and dangerous but then I remembered it's winter and time for mooching around being cosy and understated.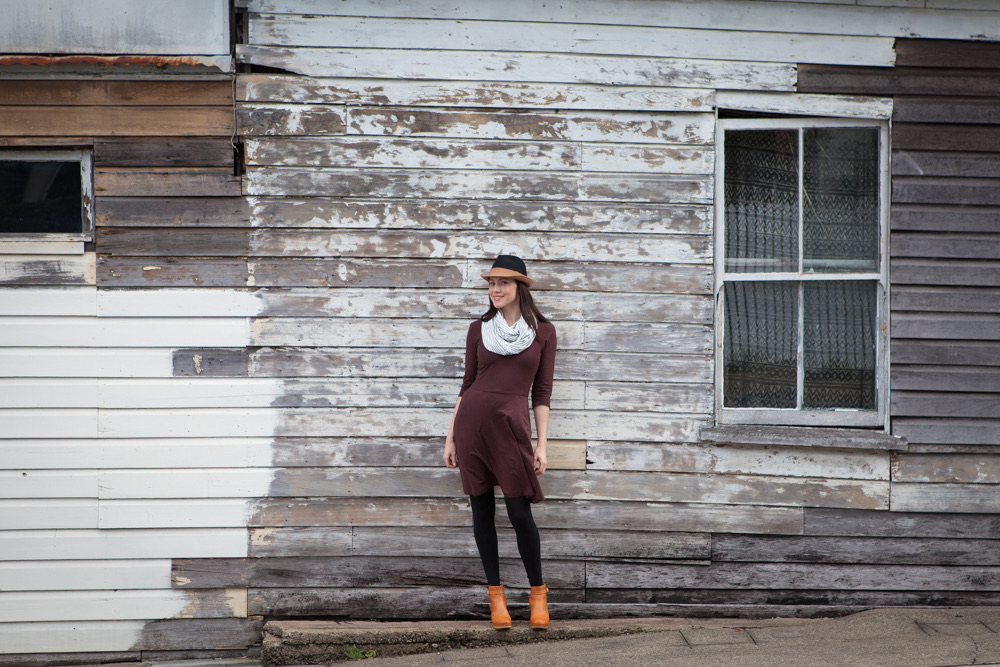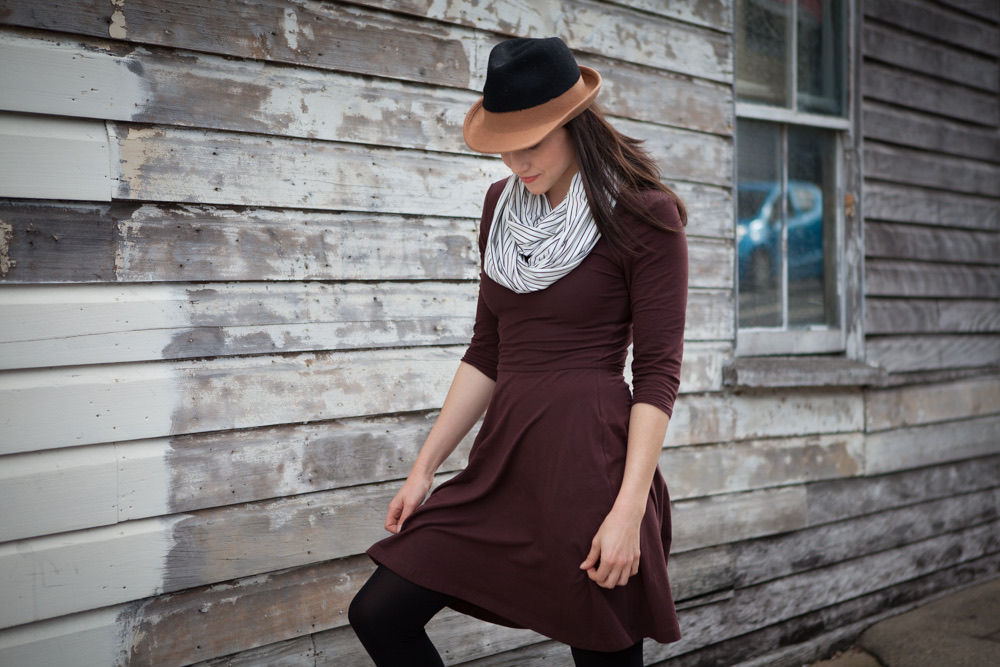 I knew I would probably
like
the
Lady Skater
, I just didn't know I would love it this much! Let me explain, I feel like
Lady Skater
is the dress equivilent of the girl next door. Friendly, unassuming, says hello over the fence…that sort of kid. She's no statement piece and that's exactly why we love her. A simple knit dress with fitted bodice, flared skirt and options for cap, 3/4 or long sleeves. Being more in the pencil skirt camp and not having worn this style before, I wasn't sure how I'd like it or if it would suit. So I made a safe winter version to go with boots and tights and scarves. That was a week ago and since then it's been worn to work, out to dinner, on the plane, to school pick up and everything in between. There was not the usual fuss over whether to go a print or a solid because lately I've been noticing that the hand-made items I wear the most are the simplest, plainest basics. I love a good print, I won't lie, but the print v solid ratio is getting out of hand and making for quite an 'unwearable' wardrobe. You've got to be in the mood for prints and some mornings they swarm at me!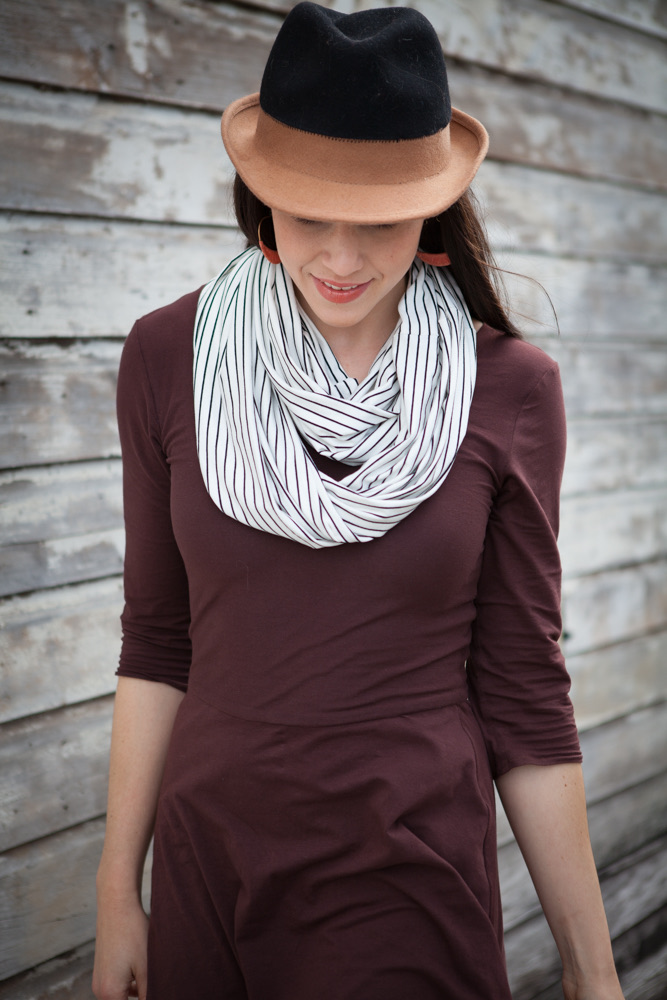 Given the situation I decided the best bet for making a Lady Skater that would get a lot of wear was one in a solid color, something rich and yummy and a good base for accessories. I'm not usually drawn to brown but there I was fondling fabric at work and I noticed this fabric, I've never noticed before. A random organic cotton knit with the tiniest bit of lycra, beautiful and soft and exactly the sort of thing you'd like to be draped in winter…a blanket of hot cocoa without the burn. This time I was a good girl and obeyed the sizing charts. I made a size four with a couple of mods: 2-3″ added to skirt length, 1/2″ sheared from bodice length to sit on the waist and sides taken in at waist about 1″ each. I didn't have any clear elastic in the stash and used regular elastic for the shoulder seams and waist band. Sleeve length is something I mull over probably more than is normal. I always go for 3/4 or just above elbow sleeves, it's a comfy spot for a sleeve to sit and where cap sleeves cut you off at the widest point in your arm, 3/4 sleeves are universally flattering. These sleeves were meant to be 3/4 but fabric got eaten and now they're elbow length.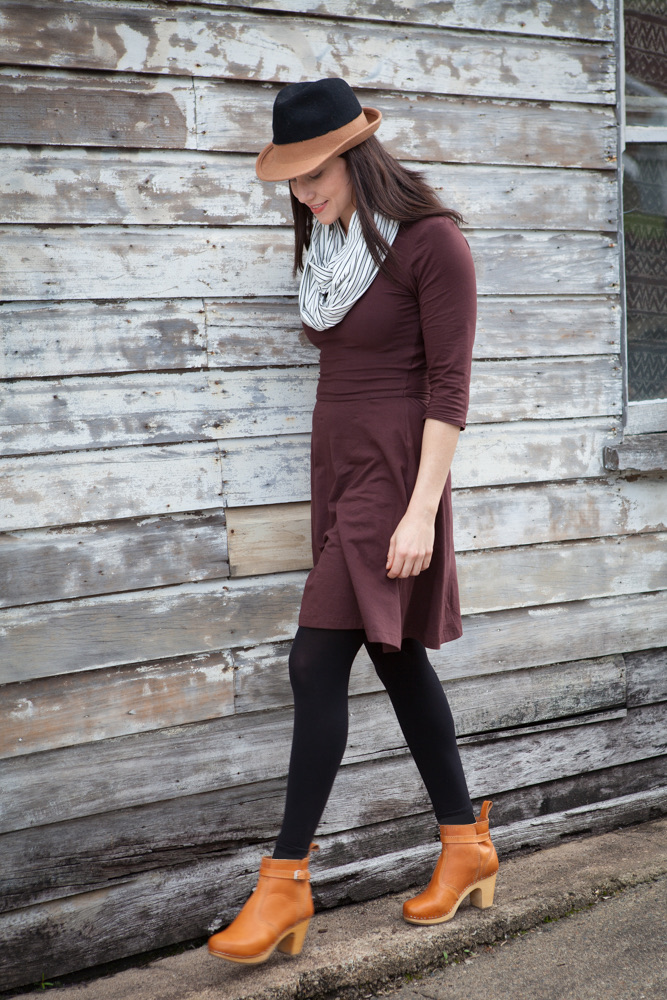 Okay, something that's making me a little cray cray…after all this time (well not that long) of sewing knits only now I'm having a hemming situation! Until I started sewing leggings and other things that require a neat looking hem but one that 
also
has to stretch over a body part, I would just do two rows of straight stitch at 3.5 (like for kids tees). On the leggings I tried out a twin needle for the hems, which looked nice but now I'm finding the stitches are breaking when they get stretched over an ankle. Currently I am hemming parts that need to be stretched, like these sleeves, with one row of stretch stitch. Which apart from not looking that nice, keeps eating the fabric. So, given the amount of stretch sewing going on these days I'm seriously considering investing in some sort of cover stitch device…any thoughts?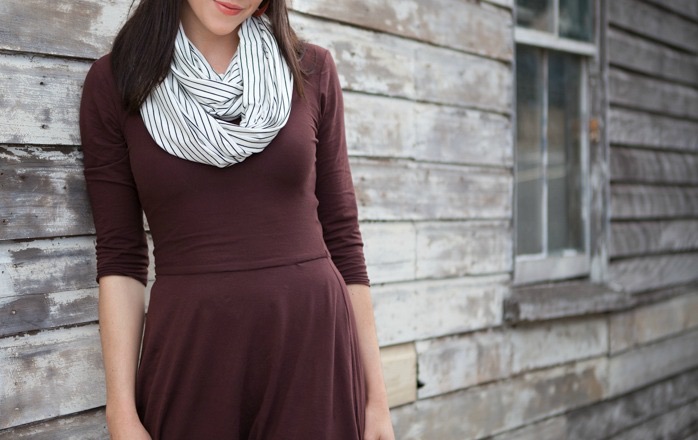 The ultimate test:
would I double dip the Skater chip
? Why yes, yes I would. I love it and from all accounts a dress that loves your right back. I'd be temped to make another version in the exact same style. Or turn it into a maxi, a peplum top or some
amazing peplum pencil dress
. A perfect base with endless styling possibilities…I bashed out this infinity scarf in about half an hour to go with my skater, using
this tutorial
from
True Bias
. And on the way to this derelict house I accidentally bought this woollen hat…I blame the skater also!