How old is too old to play dress-ups and make-believe? Somehow, I don't think you should repress these kind of things or they might return with greater zest! Honestly I'd happily spend my days sewing wiggle dresses and scouting the streets for interesting locations to get into character. Though this time there is a purpose to all this hamming up… 
Julia Bobbin's Mad Men Dress Challenge.
Where did those six weeks go? Today is the
big reveal
so head to Julia's for a vintage swoon fest.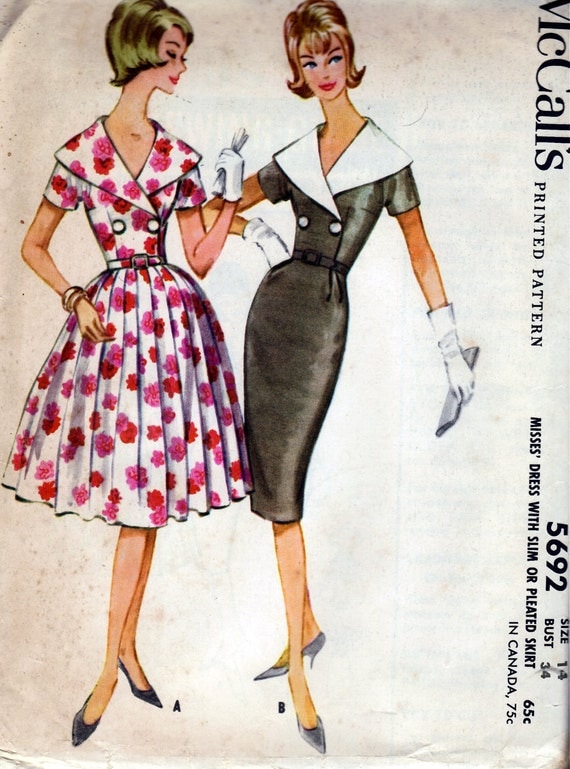 So here she is: a historically correct, wiggle dress made from this vintage pattern. As it was my first dealings with such a beast, I had no idea what was in store. I'm pleased to report that firstly it came with a nice old person smell. And secondly, there was nothing wild and outrageous about the construction, or instructions. Everything was pretty much the same as today's patterns. Except for features like this collar. It's gigantic, and um…reflective. Where ever you go, you get studio lighting on your face. Nifty!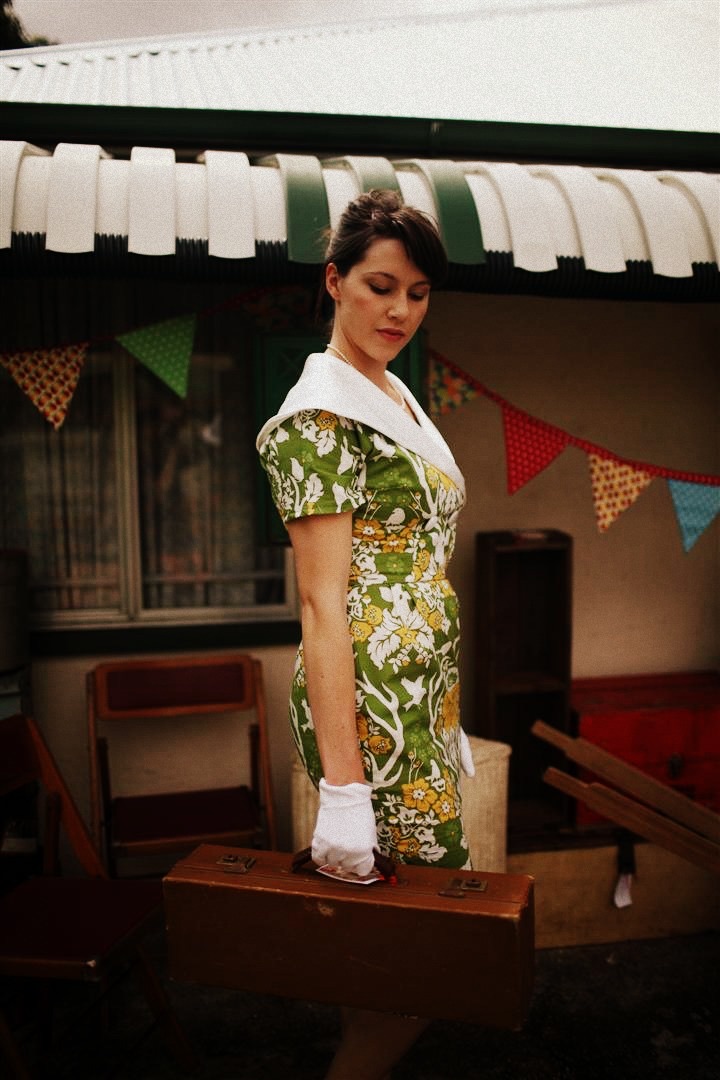 Fabric
: Cotton 'Deer Valley Antler Damask' in Taragon by Joel Dewberry, from
here
. I really thought that lining up this design would be a challenge. Have a look at the picture of my behind, don't be shy… there's a seam right down middle-back of the skirt. Hard to tell?! A pat on the back for Matchie Matcherson. Maybe this print has magical liner-upy qualities… I didn't even try and match it at the waist and it
still
works.
Adjustments: Moved hem from calf to knee length and once again sheared it into a wiggle shape at the bottom.
Notions: Self-cover buttons with collar fabric.
Location: An older suburb, brimming with rickety fences and antique shops with ready-to-borrow props out the front (see suitcase).
Vintage Accessories: Nana Alma's gloves from the 60's, mum's necklace and, including me, it's a three generation outfit. Naw.
Rather than choose just one inspiring Mad Men dress I went for the oh so fabulous wiggle silhouette. Though of all the ladies I feel this number, with it's shape and colours, belongs to Joan. So while it's unlikely to make it to very wearable status it's still nice seeing it hanging in the closet waiting patiently for a Mad Men themed party. What a challenge! From scouting for vintage patterns, finding era appropriate fabric and playing dress-ups, it was thrills all the way. I feel I've brought a little piece of history to life! This must be where sewing gets nerdy.
…I'll leave you with some Mad Men-esque drama from the 'trailer'.