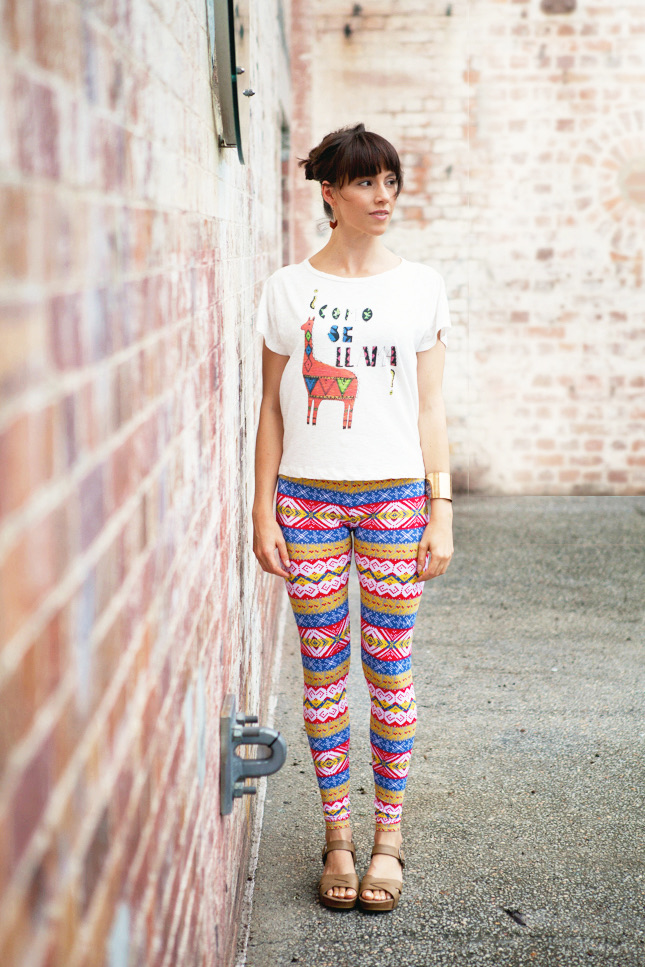 …hot like these? Don't ya BABY don't ya?!
A terrible attempt at pop culture reference aside, I'm smitten with my new hand-made printed leggings. It's taken a world of self control not to just go and buy a pair since I've wanted in on this trend for a while. Or more accurately, since I grew out of a great psychedelic pair I rocked as a seven year old. I've been searching for some suitable legging fabric, tribal, preferably and with a four-way stretch. I
did
have this swimsuit lycra (from
here
) set aside for the day when the stars would align, the sewing gods would smile down and I would transform it into a magnificent bustier, high waisted bikini with boning. With my magic sewing wand. That I don't have. So no hard feelings it didn't happen this summer and is probably a few more seasons and a tad more garment experience off. Leggings on the other hand, for an hour and a half and no perspiration later, they're slinking out the door in all their tribal glory.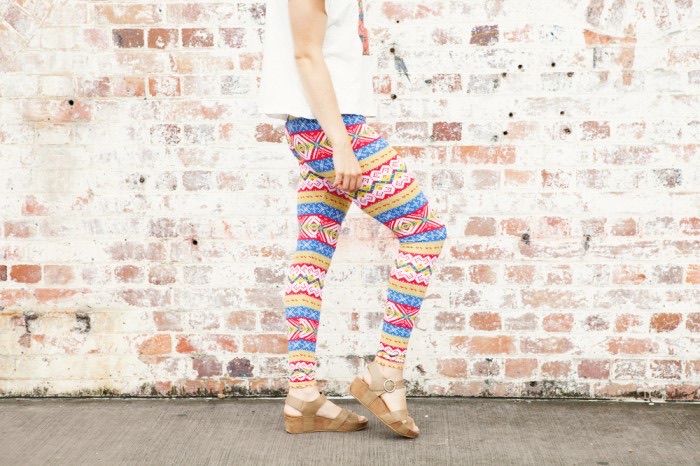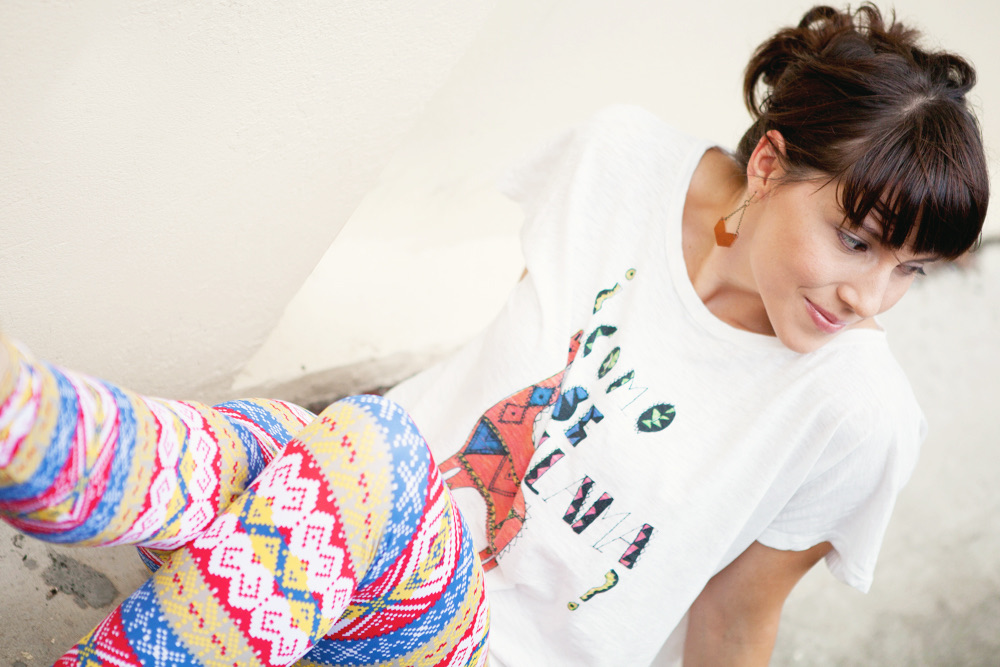 I'm holding 
Pinterest
responsible for my slightly less hazy idea of what's going on out in the fashion world these days. And I can't get enough of what seems to be a perfect balance of fun / feminine: Peplums, geometric prints, tribal, leggings, high waists, blazers, peterpan collars, neon, maxi skirts. I'll be sad when any of these go out of fashion again. If 'you're dabbling in DIY fashion, it's a pretty exciting time too. Thanks to an ever-growing choice in sewing patterns and designers, making clothing that are 'as good as the shops' is not just a fantasy. Coveting some printed leggings of your own? Here's a start….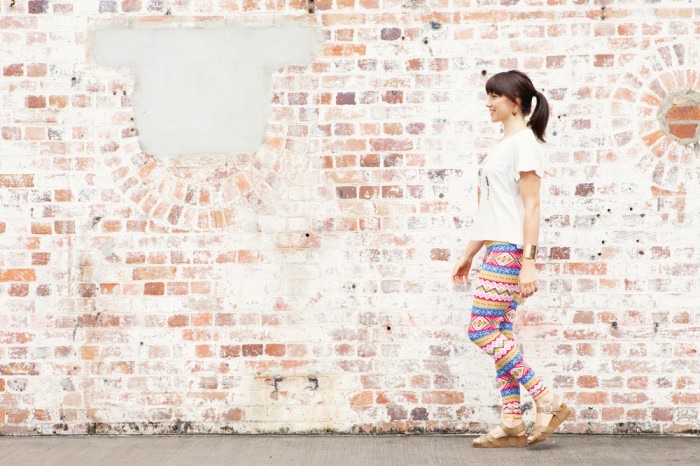 Since I feel kind of bad flaunting this fabric from a store with no online shopping on the other side of the world to a good chunk of you, I've decided to be nice and share my current hotspot for some seriously random and wonderful printed stretch fabrics. This
shop
, happened upon by accident on Etsy, will probably be fished out now. But it's okay because I stocked up a few days ago…mwhahahaha! When selecting fabric for leggings you want something super elastic, which is why 4-way stretch is good. Baggy knees are no-ones friend. If you don't mind lycra next to your skin, swimsuit fabric makes for a great pair but there are others that will do the job too.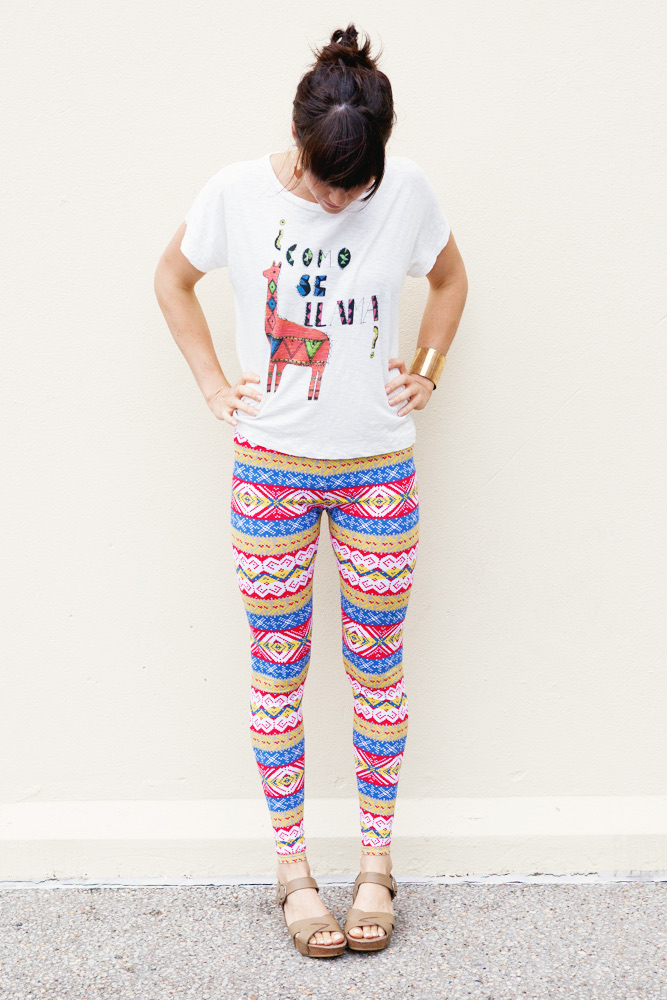 I chose
McCalls 6173
and whilst I love the final result I won't be recommending it for the sizing alone. I cut out what I though was my size according to the measurements and before I'd taken the scissors to the fabric, looked down at the pattern pieces and realized they were gargantuan. So, I thought, I'll just sew the next size down and hope for the best since I am fundamentally opposed to muslins. Only, after trying them on, I proceeded to take, no kidding, a further 2″ off each leg seam from crotch to ankle. It became a fun game. Try them on, take them in, try them on, take them in until eventually they clung like a legging damn well should! Too harsh perhaps? Okay, I did like that the pattern has side seams only on the insides of the leg, good news if you're trying to match up a print. A bonus point for you 6173.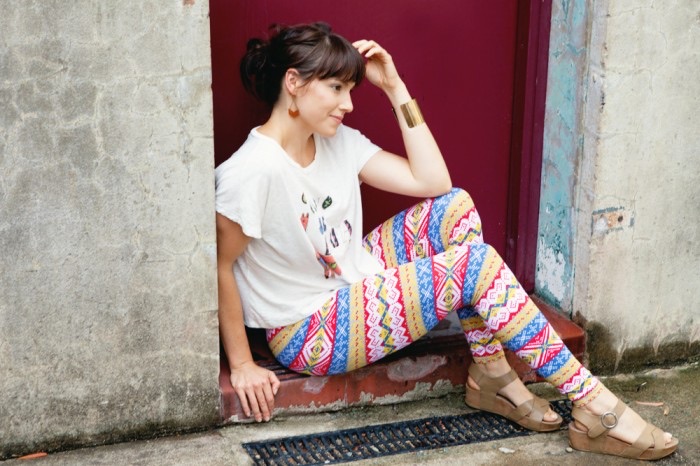 Nope, nothing else to add…I think we've covered every angle.