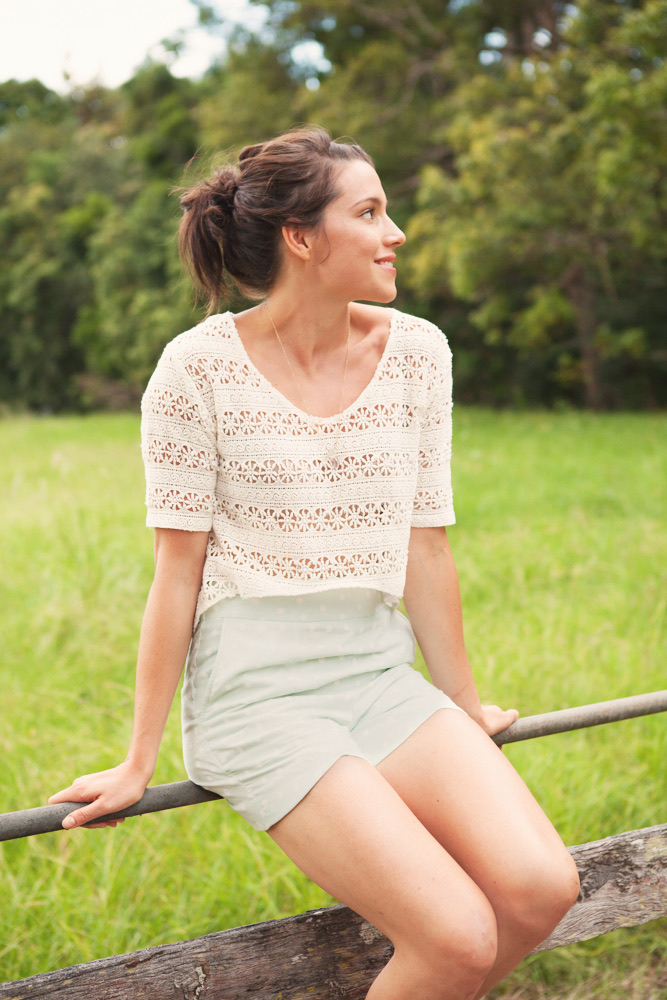 As promised… a woven Briar! Completed and awaiting it's shoot now for close to a month while the weather got it's act together and stopped pissing down every time I'd attempt photos. And since I don't usually like wearing hand-made stuffs before they're photographed, in case of hand-to-mouth co-ordination issues, it's just been mooching about on my desk missing out on summer. So nice to finally get her out for a romp! I'm sooo happy with how it turned out, there's something about wearing lace that feels so effortlessly feminine. I imagine it being something my mum might have worn in the 70's. And oddly enough despite being full of holes, is actually pretty hard to see through. That's what I tell myself, anyway.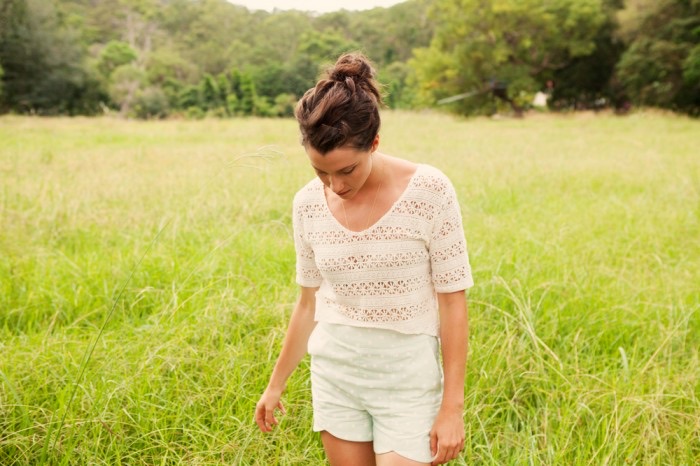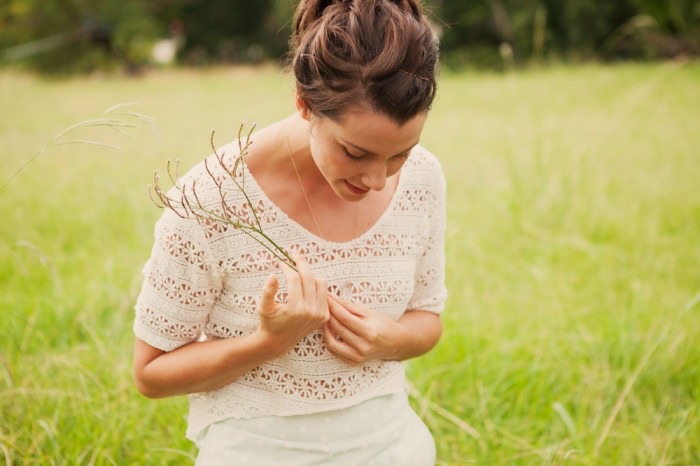 Pattern
Briar
by Megan Nielsen
 Fabric Guipure lace. Every time I say or hear it, it's different. Lets sound it out…. Gooo-eeee-poooo-reee. Pretty sure that's not it. Anyway, this is the lace and there was only 90cm to play with!
Sizing a woven version was no drama. The fit is slouchy and dart-free, so I just assumed I could up-size and hope the underarms would be forgiving.. and it turned out a really comfy fit all over. The lace has a bit of give anyway, which probably helped so it'd be interesting to see how it goes in a regular woven.
Mods A pocket-less version with above elbow sleeves.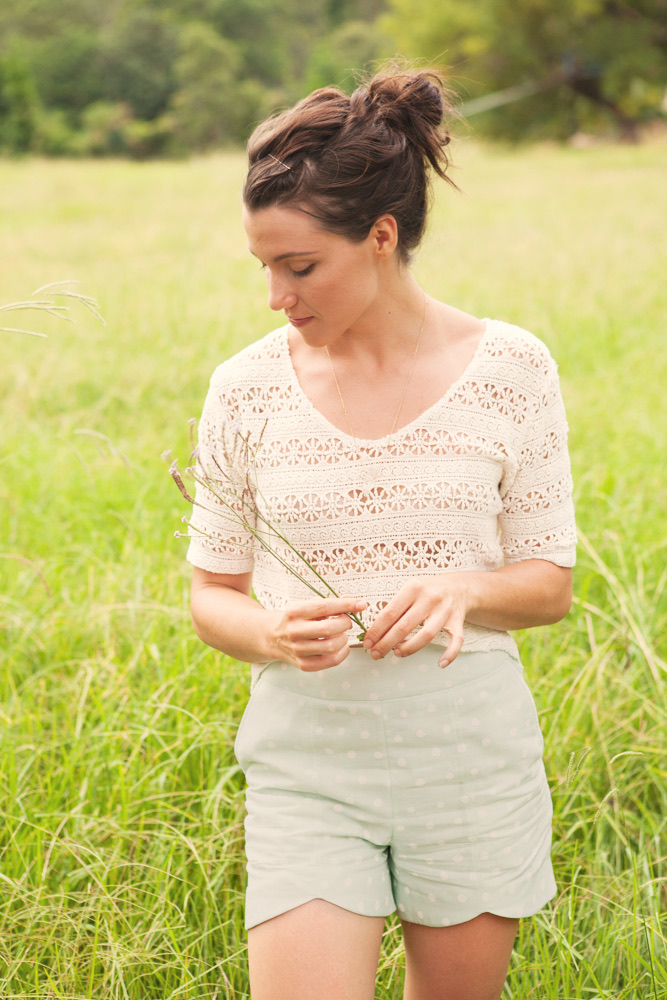 Like sewing air sums up the experience here. I skipped the 'how to sew Guipere lace' bit, sometimes you just want to jump in, right? So like a true rookie I was going to bind the neckline and hemlines but you could see it through the holes and wasn't pretty. I went for fold over hems instead but then every few inches, two holes would line up. And it was all 'WELL I CAN'T STITCH AIR NOW CAN I?!
I showed it who's bosslady and filled in the holes to an extent by serging the edges to beef them up a little before folding the hems over. I'm yet to come down  from the high of this idea and when I glance at those neat little seams I'm sure I look nauseatingly smug.
More genius ideas Using cotton stay tape to stabilize the shoulder and side seams was another one (what can I say, I was on fire). Now I can officially say I'm still no lace expert…but after this round it looks like Sophie = 1. Gooeepeery Lace = 0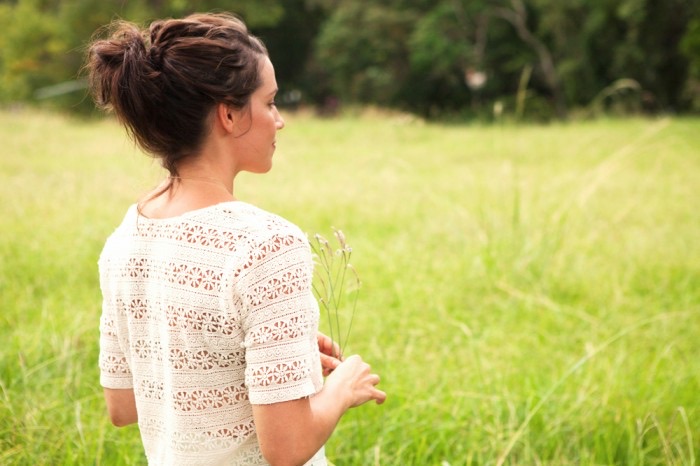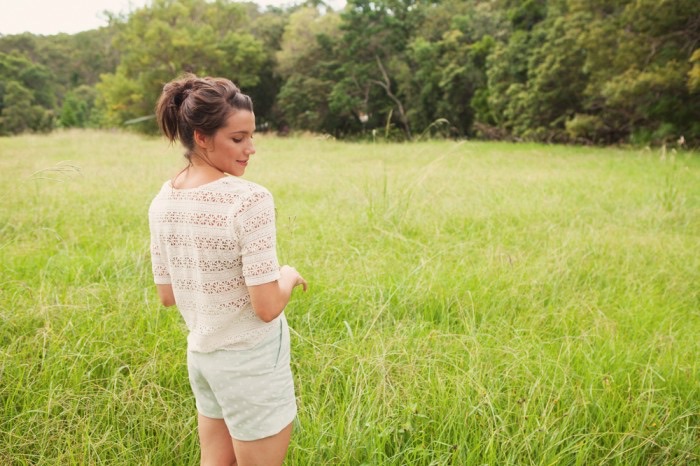 You may have caught me right in the middle of a fully fledged love affair with shorts. It's like we've just met or renewed our vows or something. I never realized how impossibly cute they could be. And sooo practical. Nor guessed that I'd want to be wearing them every day. And sewing / wearing fancy stuff is something I like as much as the next person but sometimes you just want to chuck something on in the morning,  knowing you've got your ass covered, so to speak, whatever the day brings. Shorts are it!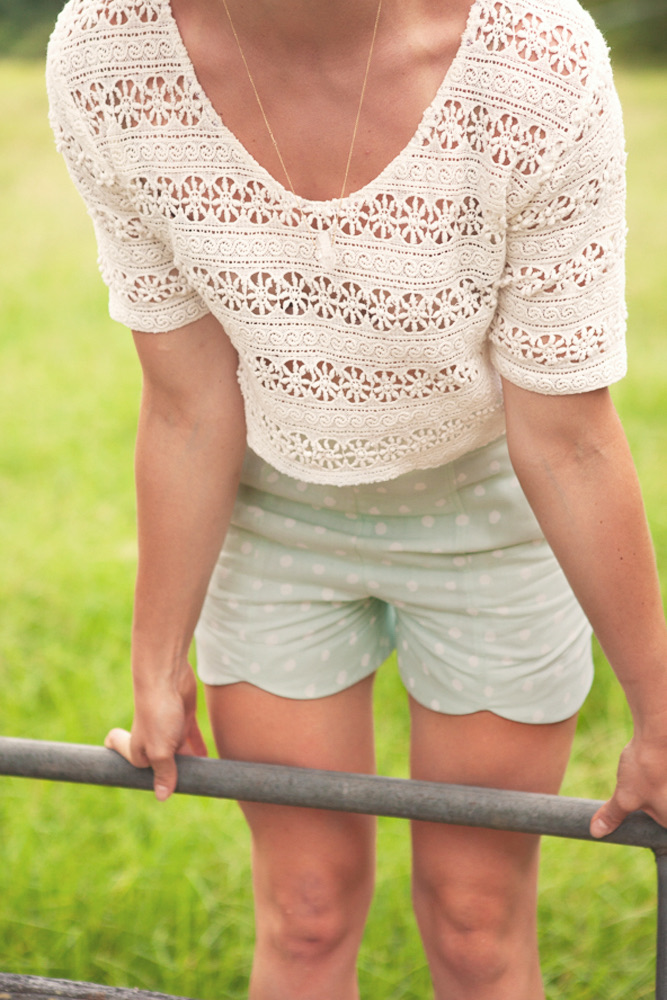 Fabric
 A beautiful soft
Nani Iro Double Gauze
.  I tacked a silk cotton voile to the main front and back pieces, but not the pockets, before construction to make the minty colour richer and the need for flesh coloured knickers less critical.
Sizing
 Upon advice from
Poppykettle
and
Cloth Habit
I sized down, cut a small and the fit is perfecto. The side zipper makes them super flattering and comfy too.
Mods
 Quite a few but nothing brain-straining. It looked like this: 1cm off back sides only and hem facing accordingly. A wedge out of the back piece at the sides, because like 
Poppy Kettle
, I found too much fullness around the thigh but strangely only in the back pieces. And as per usual I put the invisible zip in twice. All these little tweaks paid off in the end, now they sit sit right where I want them, on the waist, and I can wear things like a cropped Briar without feeling exposed.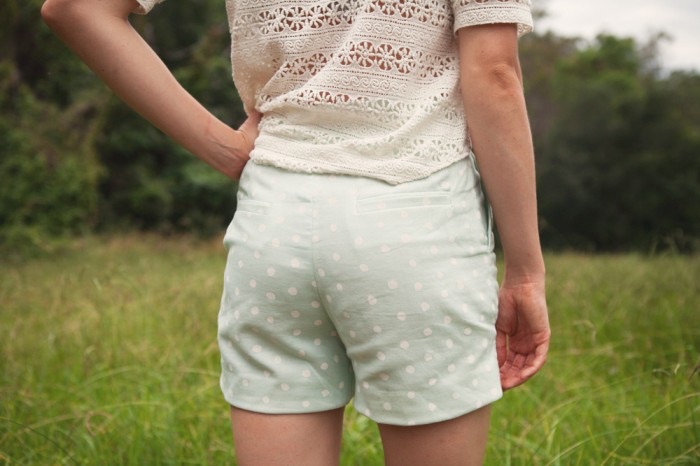 Welt Fockits I'm not being rude. They're just fakies. It's a long story. I made a booboo somewhere in the marking, abandoned the idea of a pocket bag and hand-stitched the hole shut instead. At first I was sad that my pockets were fockets and nearly f$#&its but then I thought, you know what, they're neat from the outside and I never stick things in back pockets. Who wants more bulk in the boot anyway?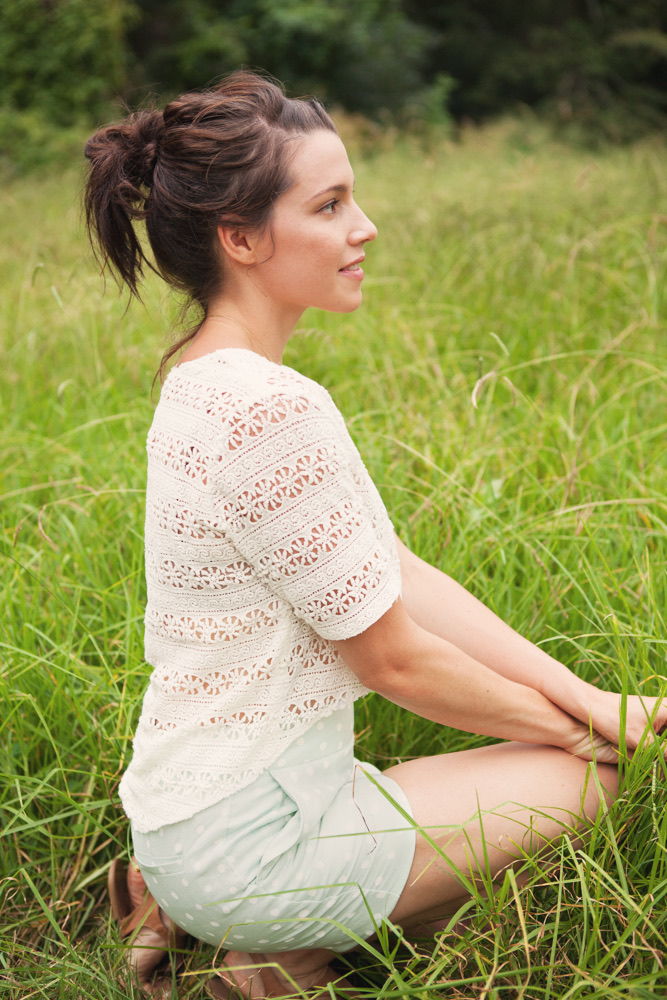 Don't be fooled by the seemingly serene, at-one-with-nature expression. The whole time I was wondering when I was going to get gobbled by a python. Or dragged off into the bush by a giant tick. Okay, maybe a slight exaggeration, but I did know of a snake that ate a puppy not too far from where we were shooting. I didn't know him personally, the snake, that is. But close enough. Can't say I'm especially fond of all our biting, slithering, blood-sucking wildlife!