Just in the last week there's been a cool change in the air and it's got me in the mood for autumn sewing. Which is great timing, seeing as I just finished this rust jersey skirt which I was supposed to be wearing last winter! So you've already had a sneaky peak at this tribal Briar on
Kelli's blog
 and it was made especially to go with this skirt, due to killer color / pattern combo. The skirt is high-waisted, which looks cute with cropped tops but I wanted a little more coverage for winter and gave it a peplum. Yes, still very peplum happy over here.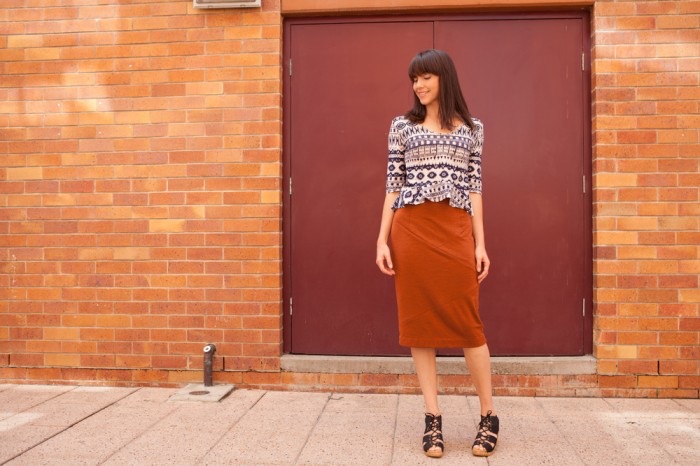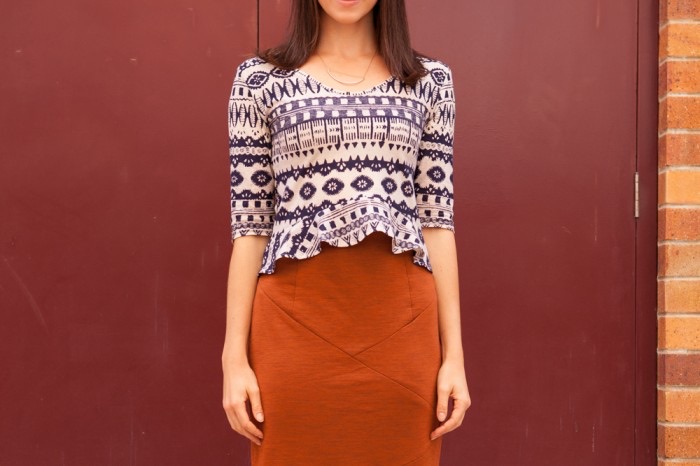 A quick recap on the top half…
Fabric
// A lightweight cream and navy cotton jersey from
here
.
Mods//
I took inspiration from
this top
by Free People, I like the slouchier shape overall and the loose peplum but with fitted sleeves and thought it could make a cute Briar variation. Changes made were:
-Adjusted the curved front and scooped back to be a shallower, less dramatic high-low hem.
-Drafted two verrrry rough semi circles for the peplum. By quite literally standing my measuring tape on its side, molding it into a semi circle and measuring out approx 4 inches for the width all the way around. So lazy and so efficient.
Verdict// In love. Deeply.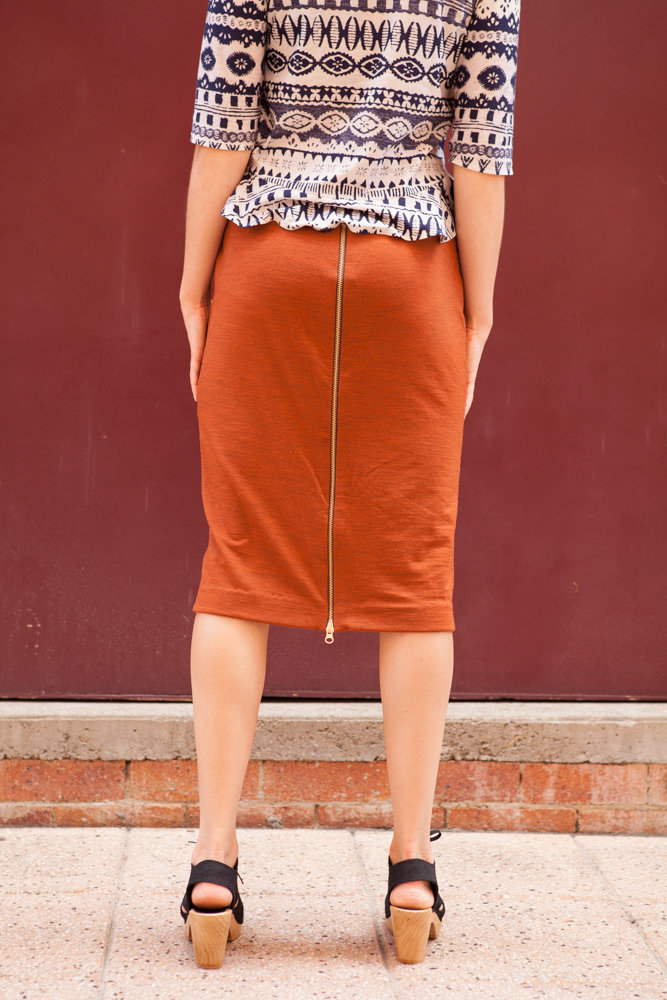 Okay, this humble pencil skirt has just become one of my absolute fav hand-made pieces, like everrrrrr. First of all, the fit was spot on straight from the pattern. No adjustments. And like a good lover it hugs, not clings. It finishes exactly where a pencil skirt should, just below the knee. And it's got GEOMETRIC shapes in front and an EXPOSED zip in the back!! There's nothing else to say except
Burdastyle
, you did good, real good.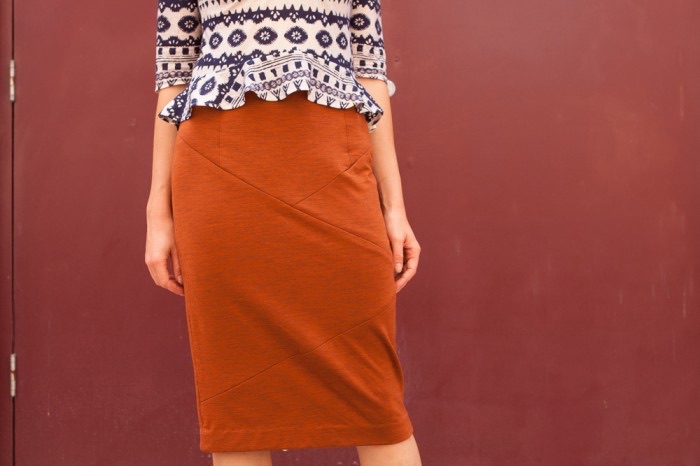 Fabric
// Rust merino jersey from
here
Notes// This jersey is on the lighter side so to make the whole thing sturdier and more like a double knit weight, I cut each piece twice and tacked them all together to treat as one piece before sewing. And that was after I printed the pattern, lovingly taped all it's pieces together and added seam allowances. It was an effort but there was a lot at stake here since this amazing rust color goes with nearly every blouse fabric in the stash and most tops in my wardrobe. It kind of HAD to work out!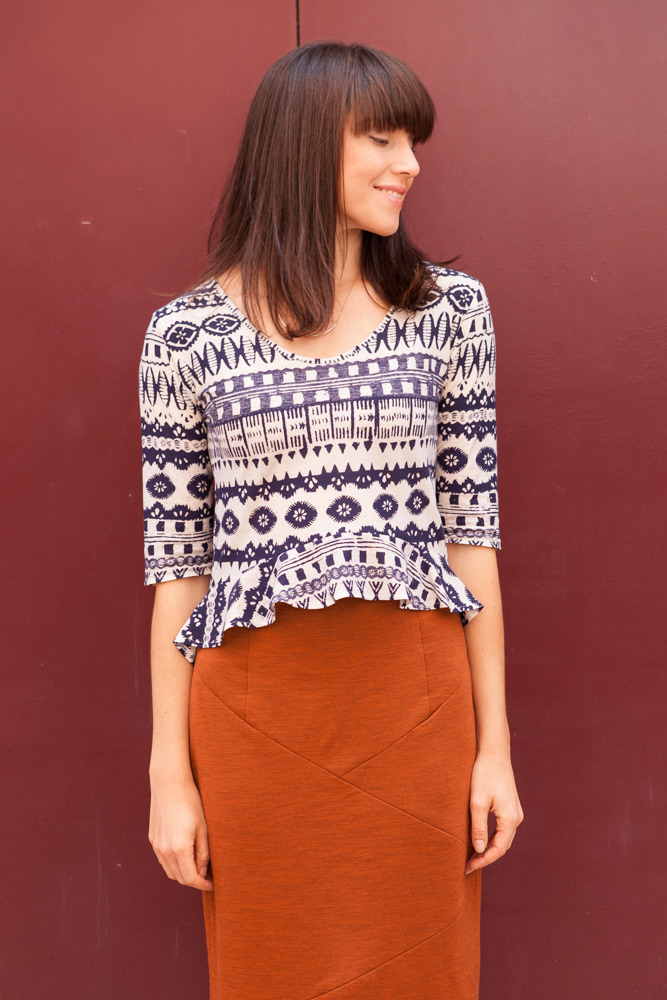 Construction
// Those of you who've worked with a 
Burdastyle 
pattern before would know what I mean by their less is more approach to illustrations and diagrams. Being a visual learner it usually drives me insane but strangely this skirt was one of the most straightforward sews yet.
Beware the zipper
// The amount I spent on zips and zip postage here is too embarrassing to disclose. Not helped at all by the fact that apparently it's un-Australian to stock 27″ brown, two-way, reversible, brass coiled separating jacket zippers. I had to order mine from 
here
. Which would have been fine except that it was all Goldilocks and The Three Zippers. The first, a 28″ (suggested size) was too long, the second a 26″ too small, and the third a 27″ just right. Sewing = the biggest test of commitment ever.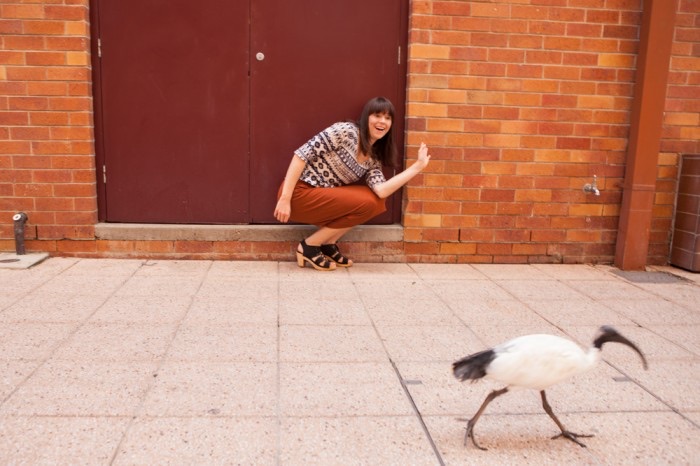 Annddd…that be me waving to an Ibis. I tried to coax him back but he didn't want a bar of it…maybe it was my 'special' face?