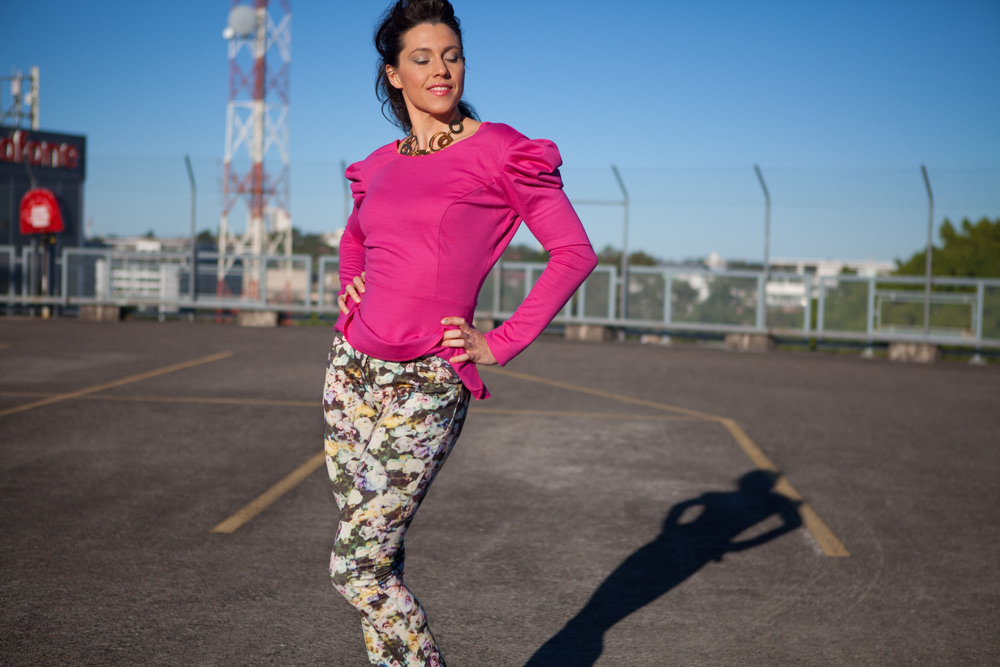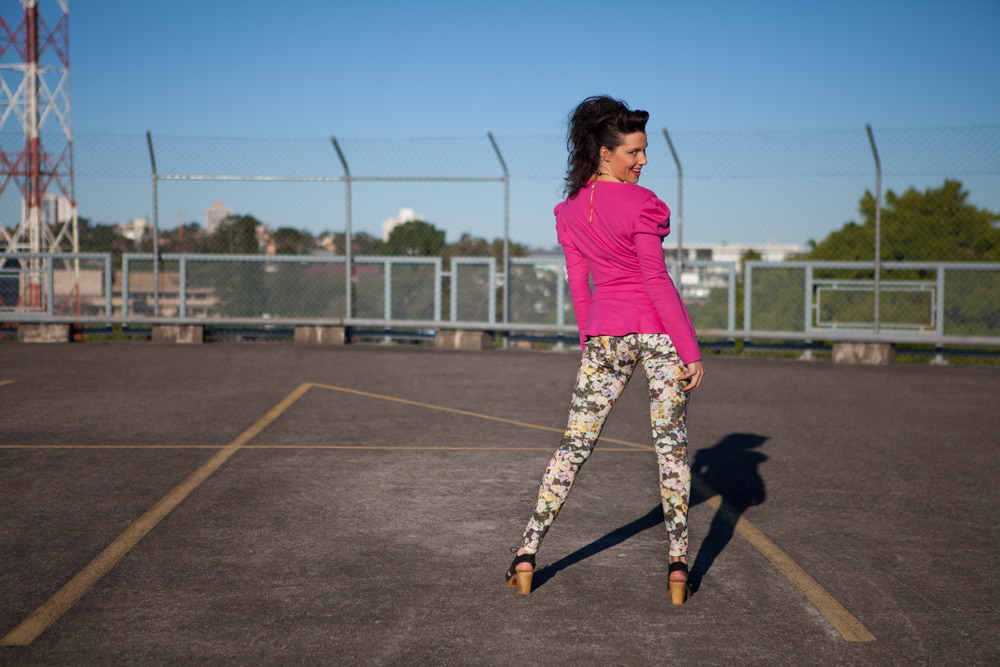 Well this was fun. I'm beginning to think there's been a lack of dress-up parties around here because I really 
really
enjoyed
80's week for Project Sewn
. Like, a little too much. Okay, if you must know….it's the big hair. Maybe it's the Leo in me, but secretly, I'd love to sport a huge mane all the time. It was never going to be hard finding inspiration this week, I mean lots of rad things came out of the 80's. There was me…hello! Followed closely by printed pants, peplums and epic shoulders. It felt like the real challenge was going to be creating an essentially 80's outfit, current and modern enough to wear again for non 80's themed occasions. So I took my inspiration from more recent takes on 80's trends which, I think we'll agree, have come a long way in the wearability stakes.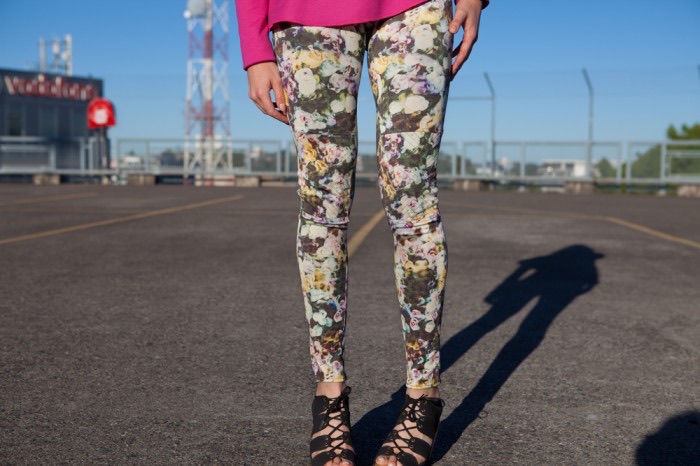 These are not leggings. Do you read? NOT leggings! Just making it known we are not in the presence of an elasticated waist here. So for the purpose of Project Sewn and the fact that I was about to cut into this delicious
floral ponte knit
, I just bit the bullet and attempted my first ever pair of 'real' pants with the whole shebang…zippered fly, front pockets, back yoke, back pockets, belt loops, and waist band. I've been avoiding pants for a while now, it's just seemed easier to buy some that already fit. But the ponte was amazing to work with and totally forgiving when it came to getting a super snug fit. They feel like a legging on, but with all the details of a pair of jeans. And I cannot tell you how good it felt to cut into something meaty after all that silk.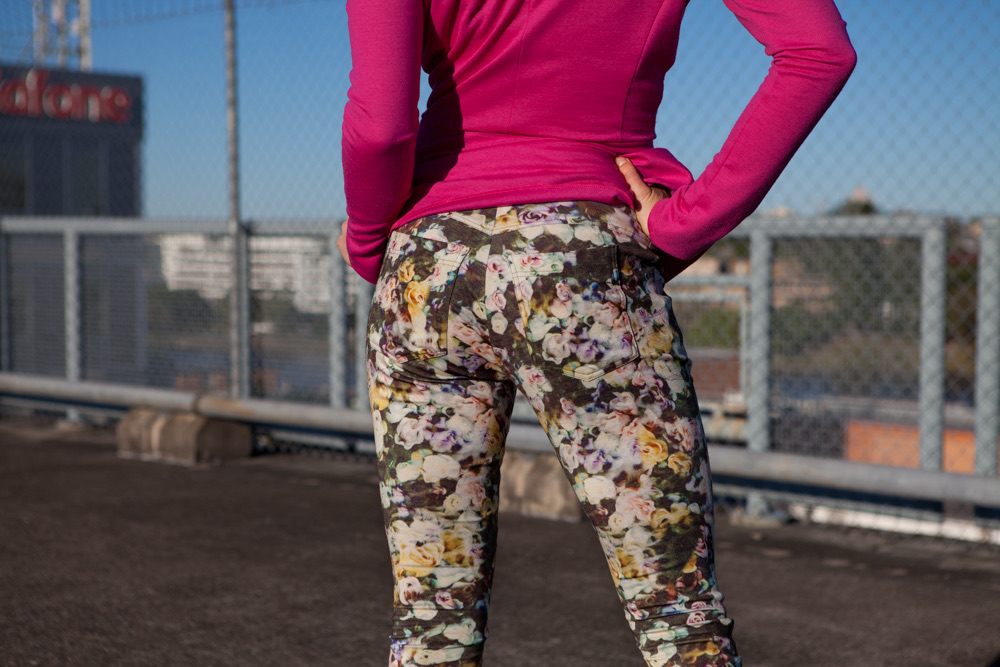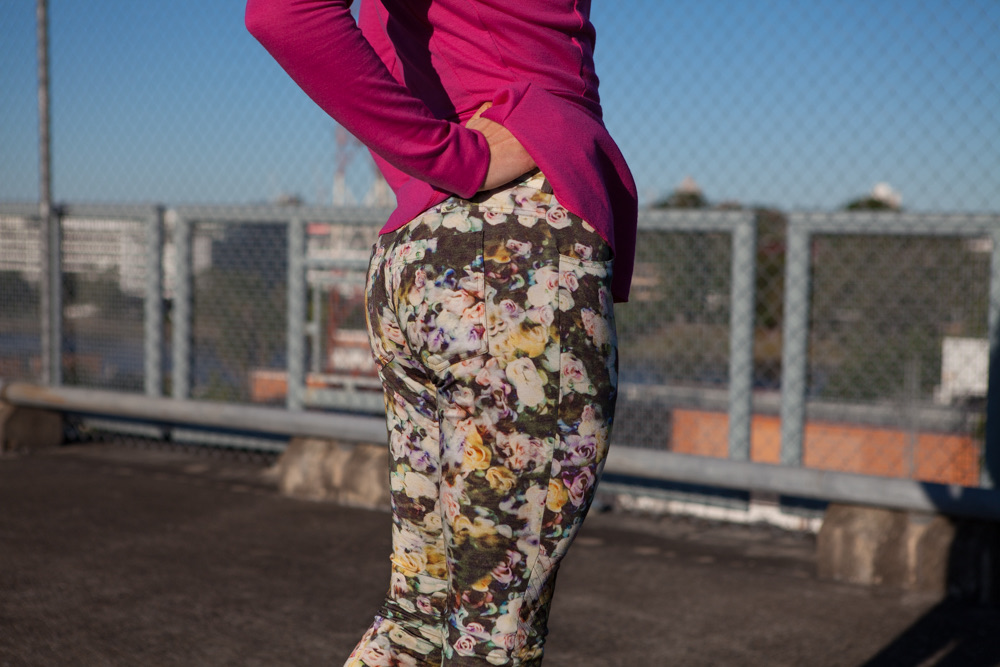 It was a toss up between
Burda 7214
and
Burdastyle skinny pants
 until I realised how un-fun it would be trying to put in a zippered fly for the first time without lots of pictures. So I went with
Burda
 since they are more generous with diagrams, and made version A with mods. I sized down (sewers intuition), took in the sides and tapered the lower leg for a skinny fit. Next I shrunk and moved the back pockets which started off bigger than a butt cheek (so unflattering) and took a huge wedge out of the centre back. I couldn't figure out why they would make the 'knee band's in the original pattern wrap all around and half way up the thigh. I adjusted the size and moved them to sit on the knee, where they should. But not before quilting chevrons into the top. Had to sneak in a triangle somewhere.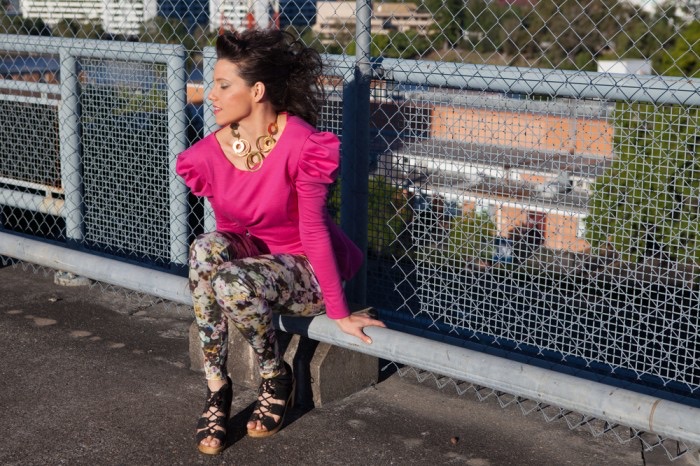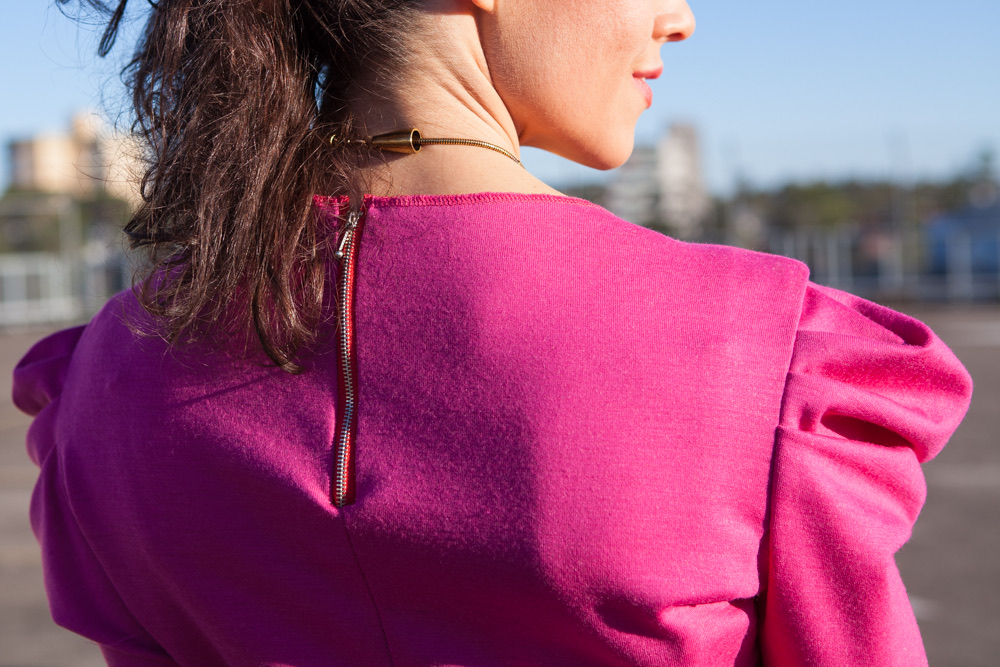 For the top I used a merino double knit and I'd be lying if I said I wasn't sewing with the weather in mind. Winter has snuck up and long sleeves were a good call. I started with
this
princess seamed pattern, drafted some suitably 80's sleeves from a top of mine and added an chunky exposed zip, for some punk. I really do love peplums and just assumed they were some cool trend of the new millennium. I didn't realize they were an 80's original. It's one of those trends you either love or hate but being under-endowed in the hip department I like all the extra volume they add.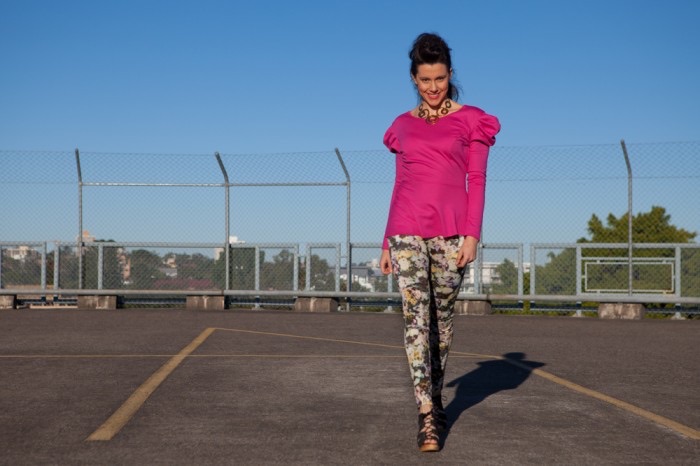 I guess 80's week wouldn't be complete with at least some melodrama. My machine decided to have it's first ever break down mid way through this top. Leaving me with abandonment issues and no choice but to finish the rest with the serger. Including the exposed zip. Did you know that was even possible? I didn't and if I hadn't been sewing a knit I'd have been royally screwed. There was literally no time left and it was either try the serger or turn up for photos with half an outfit. Which might have been taking 80's raunch too far? So there you have it. An 80's get-up with two pieces I'll definitely be wearing again as separates. Probably with smaller hair. Now before you rush off, this is the last week of voting before finals week, only the top three go through eeek! If you think my 80's ensemble is deserving then run, don't walk over to Project Sewn and vote…