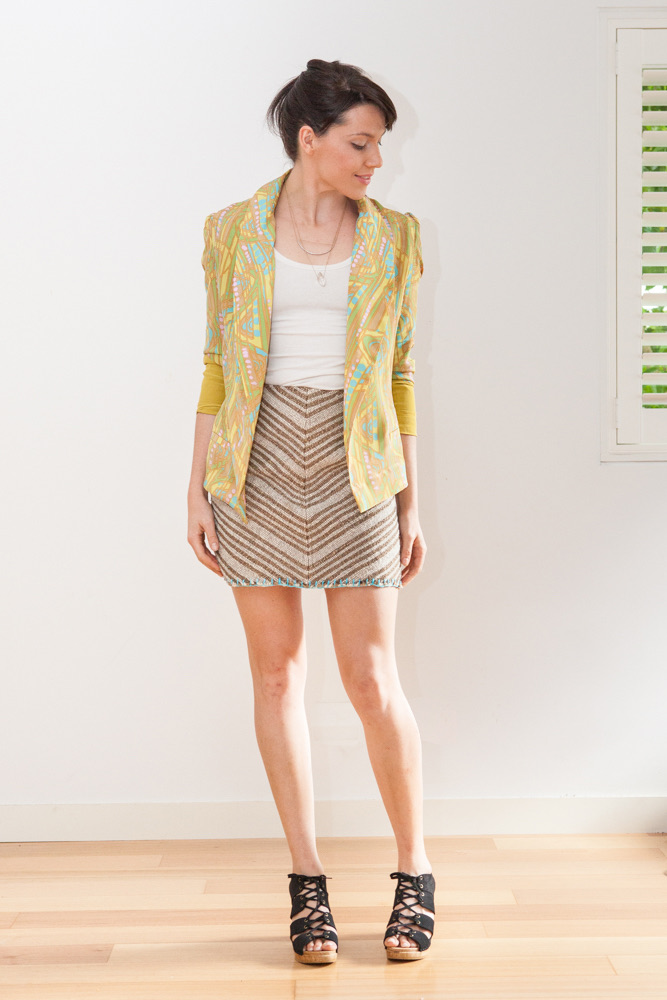 It's here! It's here! I'm so excited to have made it into the 
final week of Project Sewn
and the butterflies in my belly are procreating at a fast pace. If these past few rounds weren't intense already, things amped up to whole new level with this sew. I hooray-ed. I cried. I sewed up late, early morning, ate pizza for breakfast and let the dishes pile up. I'm fairly sure Archie had more tuckshop lunches during this one week than I had in the whole of primary school!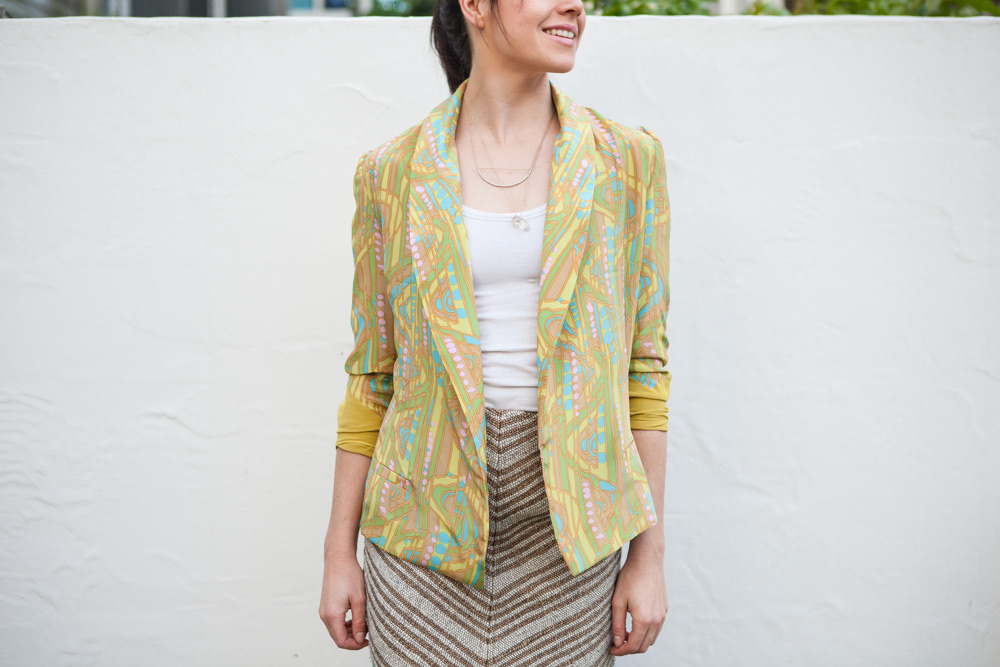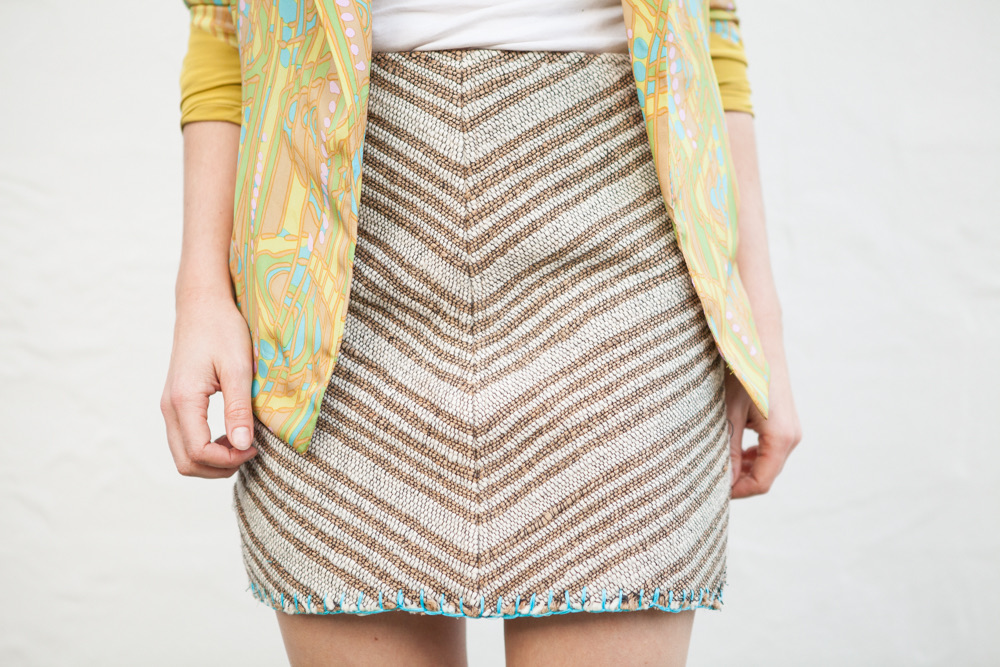 The final
Project Sewn
theme was 'Your Personal Style', which I have to say is something I'm putting more thought into now that I'm trying to smash out a hand-made wardrobe. Color is my big love and I find it fascinating how some can lift your mood or make you look flat and especially how different colors suit different skin tones. When I'm not holding the stash up against my face in the mirror, I'm being drawn to pretty prints, patterns and geometric designs and fabrics with interesting textures. Now, to sum my personal style with a totally lame catchphrase it would be a Geometric, Minimalistic, Texture-Fest!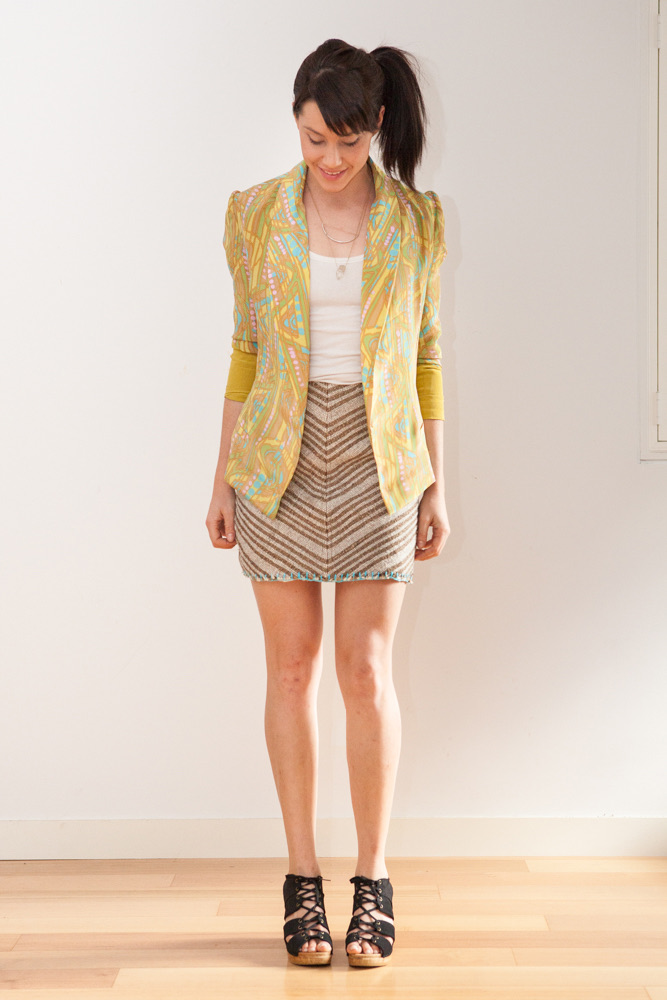 So being the big one and all, I just pretended I had much longer than four days and went for it! I've had an idea in mind all summer long for a four pieced, chevron mini skirt made from this hand-loomed cotton. Hand-loomed sounds fancy but it's really just a heavily woven, gnarly sort of texture, probably meant for home dec and not minis. It feels really rough and raw and straight away I saw it looking lovely paired with something smooth and silky. I had the weeniest 45″ x 17″ remnant (basically the width of the skirt from waist to hem) out of which to cut four panels, with the front two chevron pieces being cut on their sides and taking up more room again. There were less than a handful of scraps left.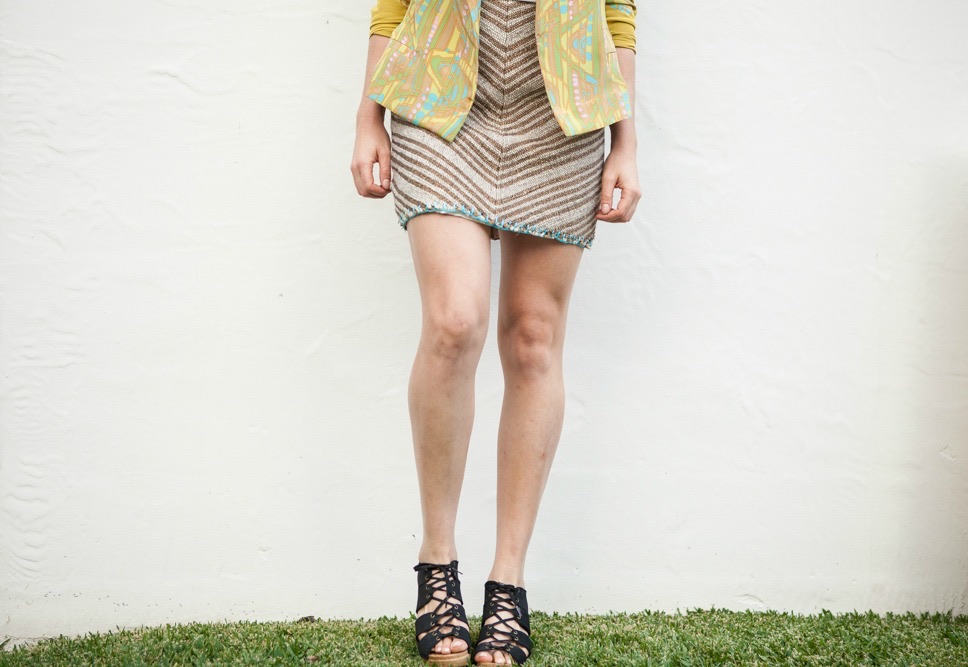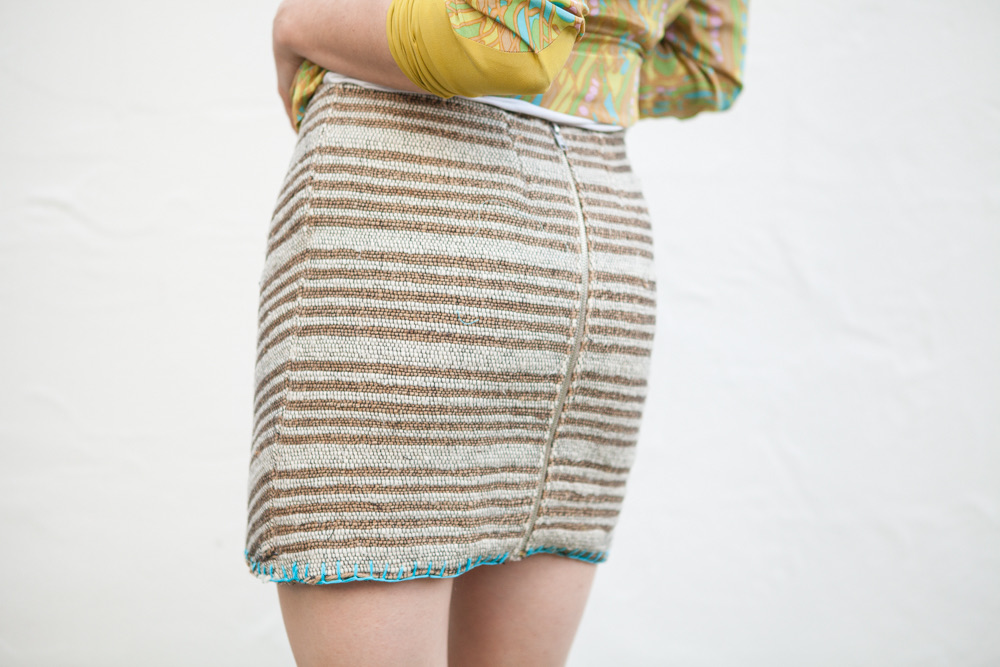 I drafted the pattern for this skirt based on the shape of one I own. Beaming! I started with the chevron first. It took a few goes to line up the stripes, especially tricky with a 2/8″ thick fabric. The front seam was doing some weird pucker thing, so I attached cotton stay tape. All the seams had to be pressed open, and sewn flat against themselves to sit flat underneath the silk lining. The back darts were an afterthought and made the fit so much better but in future I will remember to add them pre-attaching lining. Painstaking! I wanted a 15″ metal coil zip and could only get a 16″ which left enough room for the top seams but er, not for any hem at all. I couldn't fold it over, or attach bias tape so I had to turn it into a feature and blanket stitch a hem with a cute contrast thread. Which made for a neat feature in the end!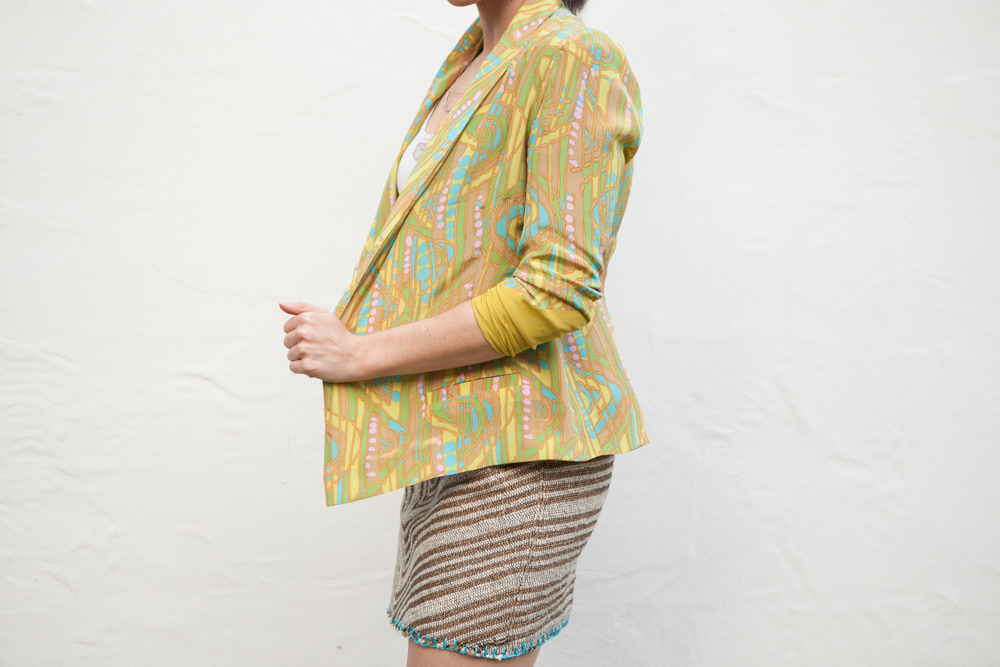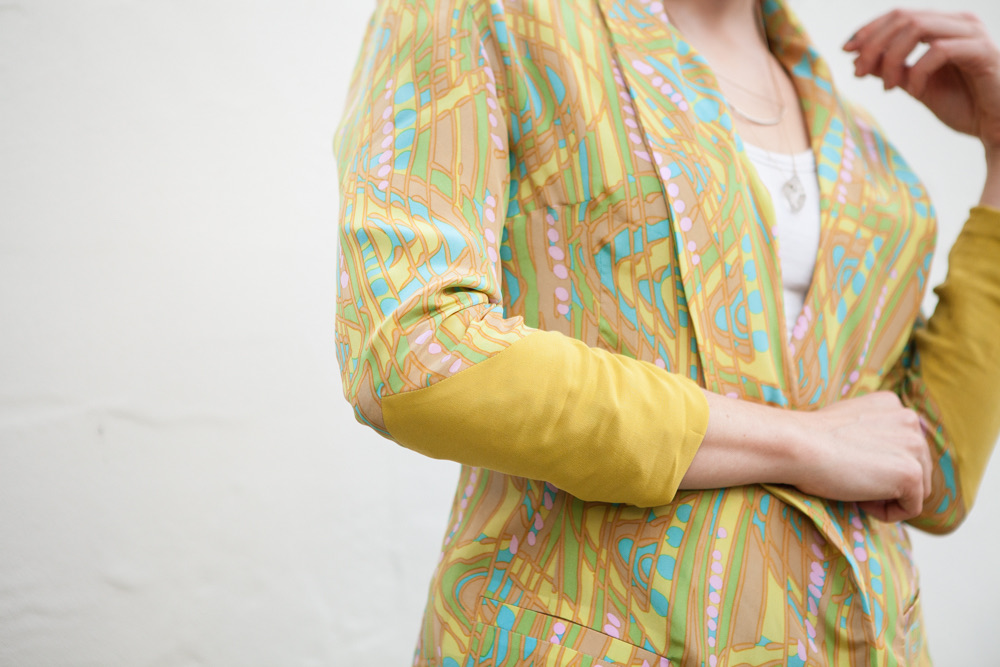 Well, this little blazer goes down as the hardest thing I've ever EVER sewn. I didn't realize blazers were the sort of garment you'd learn to sew over a month, calmy, methodically and probably in something sturdy. Not slippery silk. But jumping in, blissfully unaware of what I had taken on was a good thing. I was worried about sewing welt pockets with silk, but they behaved themselves. Plus they're faux so the welt is real but there's no pocket bag. The main fabric one of my fav pieces in the stash, being a geometric print and in tones that make me swoon! I tried out the
Ralf Pink pattern
for a casual 'tuxedo' jacket that hangs loose without buttons. It's a really nice style and I think it would suit a whole range of fabrics. It's fully lined (I found a chartreuse crepe de chine) with welted pockets and two pieced sleeves. Which I made use of and color-blocked.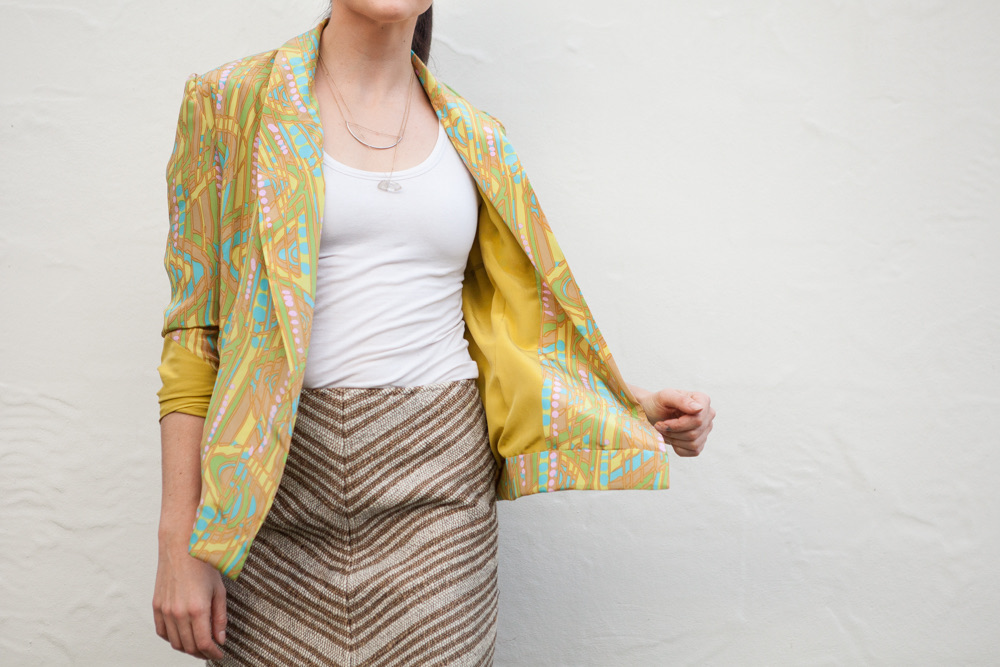 It was a good move to tackle the skirt at the start of the week while I had energy and motivation and leave the blazer with it's nice set of instructions till later. By Sunday, I was at the end of my tether and blowing things out of proportion. I literally had one seem to go on the blazer and felt like I never wanted to see it again because one particular section wasn't sitting flat. I had my meltdown, made a few calls, got a few pep talks and dealt with the beast seam! I was so close to finishing and totally exhausted and really all it needed was a good press. Edge of your seat sewing drama people, complete with waterworks!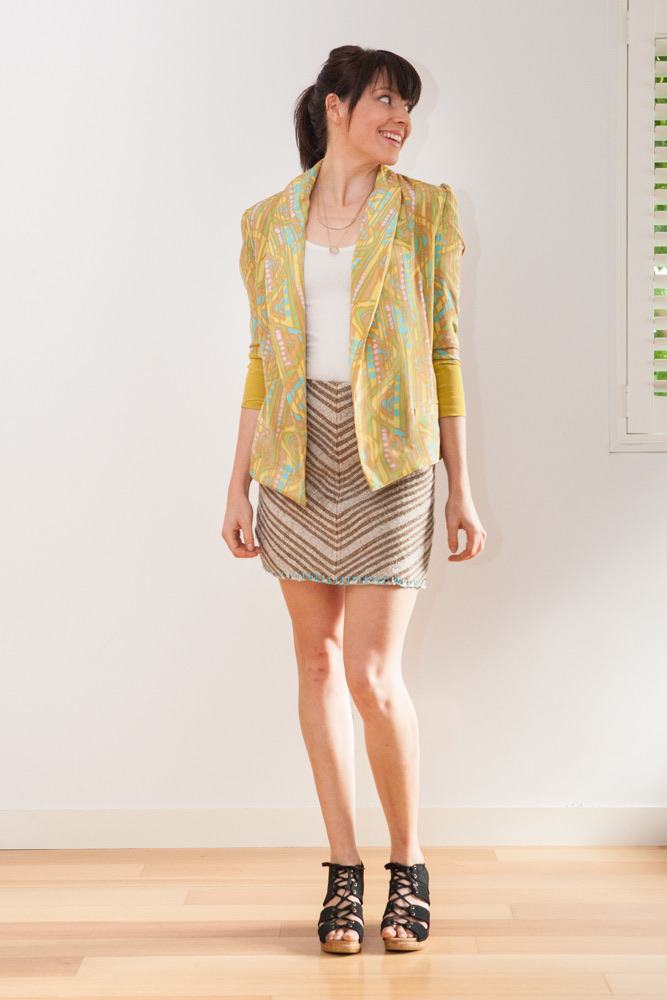 So there you have it, print, pattern, geometrics and delicious colors makes this my ultimate outfit! Oh. My. I hope there is some sort of prize for including a triangle in 3 out of 4 outfits? Thankyou for all your encouragement and for voting me this far…now is where it counts! Best of luck to Andrea and Jess! The final week of voting is now
open at Project Sewn
…