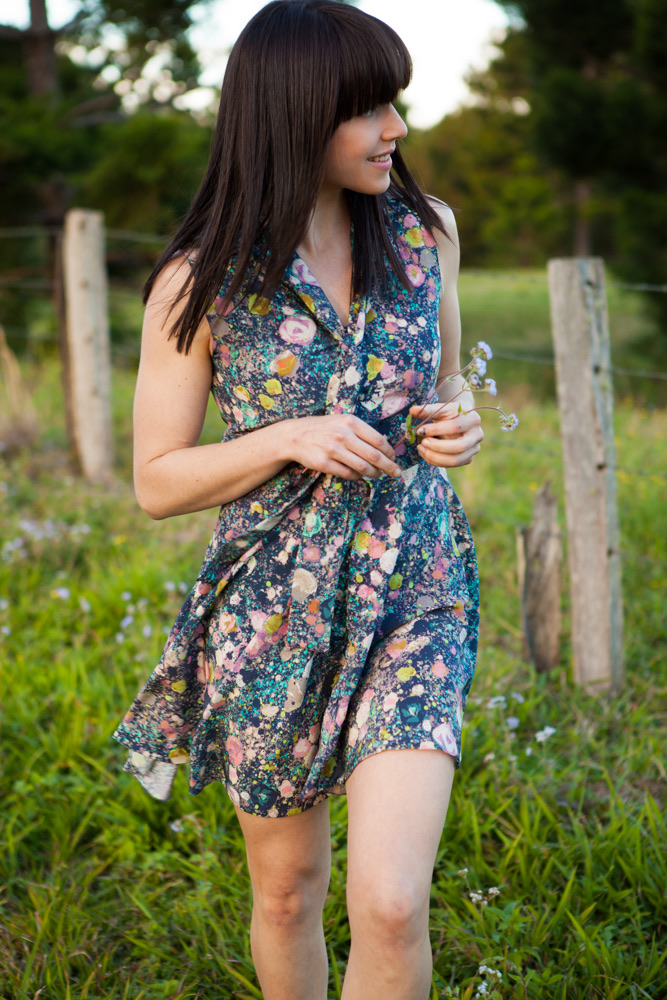 I'm excited. More than normal. For a little over a month, myself and this sewing blogger you know and love have been 'getting bossy'. We've been sewing behind the scenes, in our various hemispheres and today we get to reveal our Sew Bossy outfits! So just who da what is Sew Bossy? Only the funnest, coolest idea ever to grace the blogosphere, by these two crazy ladies, Closet Case Files and Oonaballoona. You can read about it here. But basically how it works is you team up with another blogger who sews, from anywhere in the world and then exchange, via mail, all the components of a complete outfit. Pattern, fabric, notions, words of encouragement etc. It's a risk, I mean, you could absolutely love what your Sew Bossy pal sends you…or you could not. But either way you HAVE to make it. That's the bossy part! So you just have to trust and know that if you adore the hand-made style of your Sew Bossy counterpart ( see here and here) then it's highly likely you're going to love what they choose for you. And that's how I waged that whatever Andrea from Four Square Walls came up with would be awesome sauce!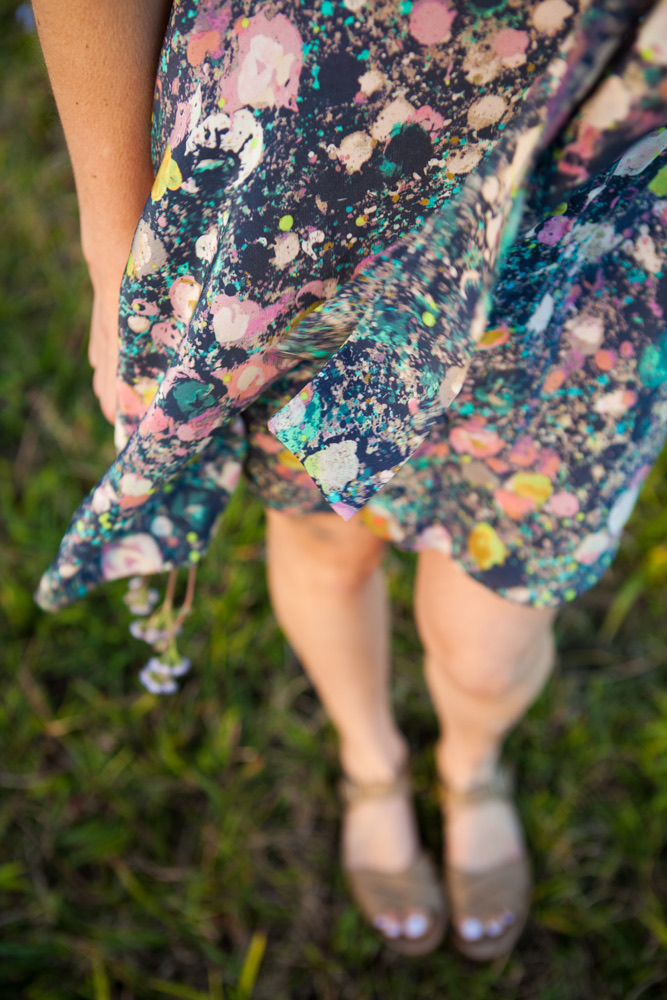 Okay, so this was unimaginably fun. Getting the package in the mail; better than Christmas. Opening it up to find seriously one of the most beautiful fabrics I've ever laid eyes on; I may have squealed. Andrea, you did good girl, real good. I would have chosen this fabric for myself, except that I have never come across anything like a multi-colored, splotchy silk print anywhere. When we were setting up the
Sew Bossy
exchange
Andrea
asked if there was anything in particular I needed in my closet or wanted to make. And I really wasn't very helpful in saying 'hmm I love dresses, but mmm I do need separates'. So, she's not just a pretty face and paired up the wonder-fabric with
La Sylphide
, by
PaperCut patterns
. It's a cute on-the-waist, button down, tie-front dress which happens to come with blouse / skirt options.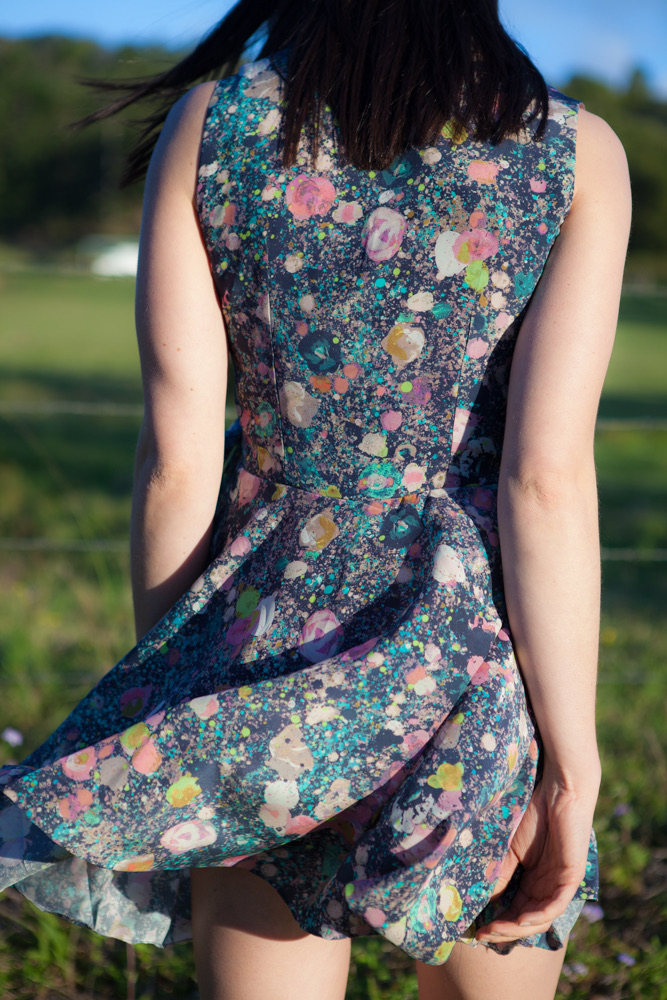 I was majorly tempted by the skirt but in keeping with the spirit of Sew Bossy (which translates to me sending Andrea a complicated looking dress + a tape-together pattern) I went the dress. And though I like the few full sleeved versions I've seen around, I knew I'd get more milage out of a sleeveless version. Then it could be paired with tights, boots and cardis in winter and be cool and floaty in summer. Now, something shocking happened during the making. I had a change of heart re- muslins. Yes, it's rocked my world too that I maybe enjoyed the process of making muslins for the bodice here, just a little. Three in total. Why so many? First I cut an XS and it was too tight everywhere. I pre-judged the pattern to have lots of ease. It didn't. And because I cut not traced (bad girl) I had to estimate where the next size up would be, hence muslin no.2, which pleasingly did meet in the middle, unlike the first.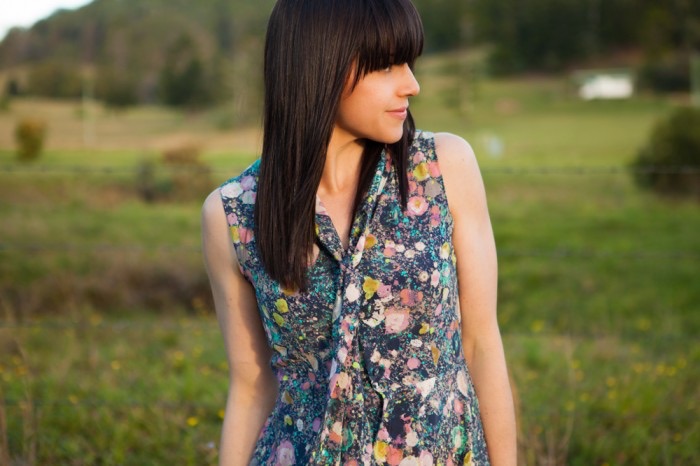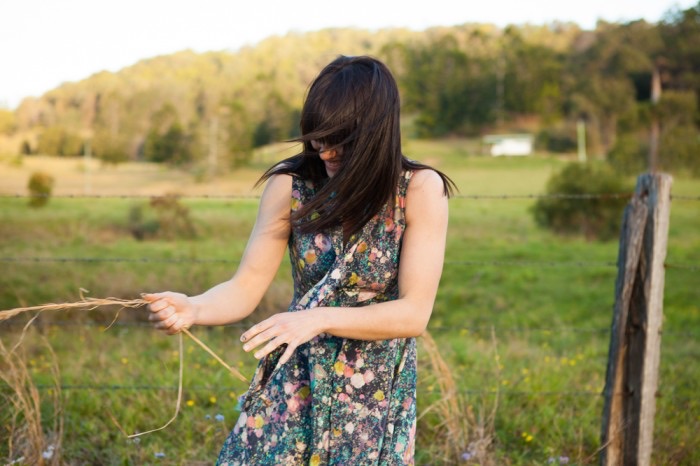 To get a really good fit some things still needed tweaking. For instance, from somewhere I picked up that to make something sleeveless its not just a matter of chopping off the sleeves, the actual shape of the armhole needs to be changed. I inspected muslin no.2 in front of the mirror and could see a wedge of fabric between the front bodice armhole and the bust point that if I pinched out would give a really nice shape to the armhole / bust section. I also took a little width out of the shoulder. On the back bodice there was also excess fabric, from top to bottom (which is more to do with the shape of my back than anything) so I pinched out a wedge 1″ wide at the neckline, petering out to nothing at the bottom. I made the new adjustments to the actual pattern, which is a first, and busted out muslin no.3; a superb fit and the reason why I now will make muslins, happily. On special occasions.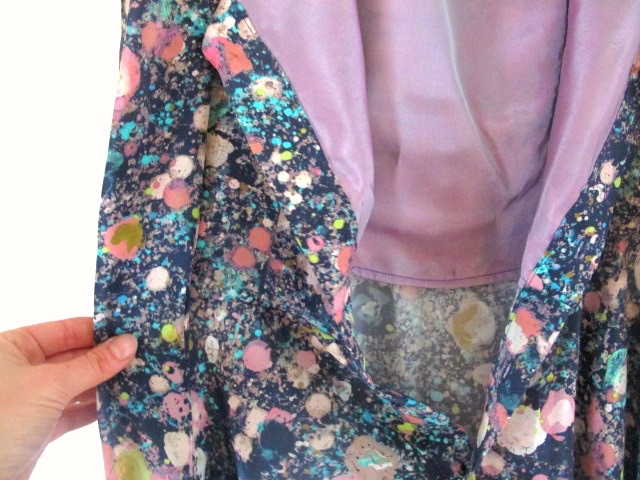 In honor of the dreamboat fabric, I had to make La Slyphide as pretty on the inside as the outside and line the bodice. Going mostly on what I remembered from this dress and a refresher from this tutorial, it was not so hard and the finish is lovely. Oh but dramas! Now after wearing it, I can see the silk I chose for lining is so fragile its starting to split at the darts! Since lining the bodice eliminated a whole bunch of seams to finish, I decided to french seam those that were left, the skirt sides and the waistline. Apart from looking pretty, french seaming meant I didn't need to buy purple over-locker thread. I didn't really want the buttons to be a feature of the dress so I used tiny self-cover buttons, which are pretty invisible. Apart from fiddling around with the bodice the only other mods were adding 1″ to the skirt length. It's pretty short and I could have even added more but the quarter circle skirt ate the fabric up. La Slyphide was such a pleasure to sew. Even when I sewed late at night, the ratio of sewing to unpicking was still considerably better than normal, which I'm putting down to a very nicely put together pattern.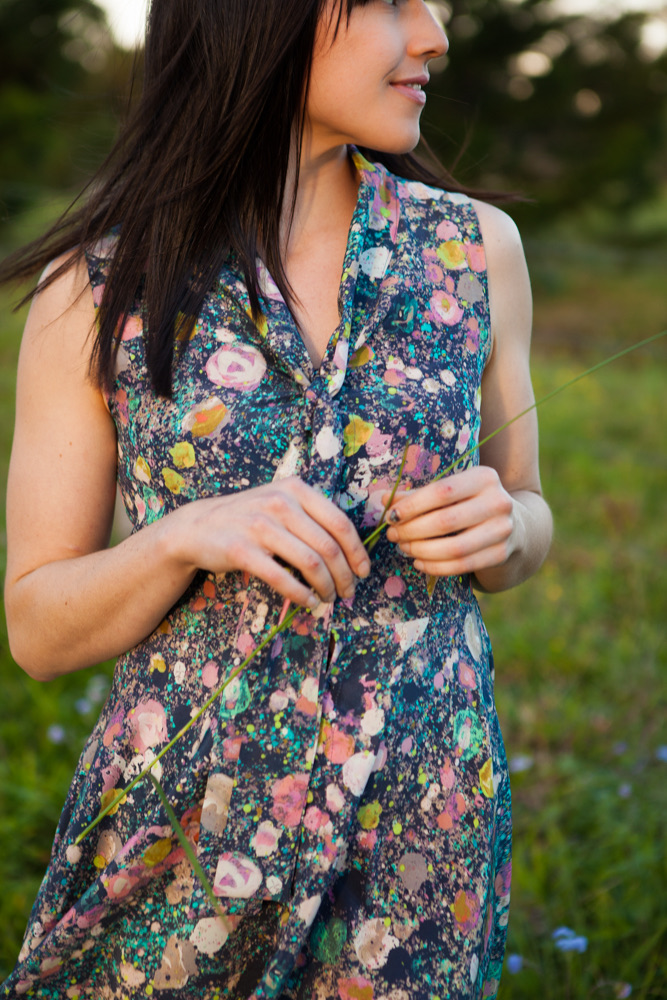 The most surprising thing to come out of Sew Bossy for me, was how fun and refreshing it was NOT to be in control of what was going to arrive in that package! Complete and utter trust feels pretty good and I think I actually like having someone else dictate what I make / wear…so long as it not my mum (hi mum!). Now this is only half the story, the rest is over here at Andrea's place. And if you are even half tempted to do your own Sew Bossy exchange… don't think, just do! All the details here.