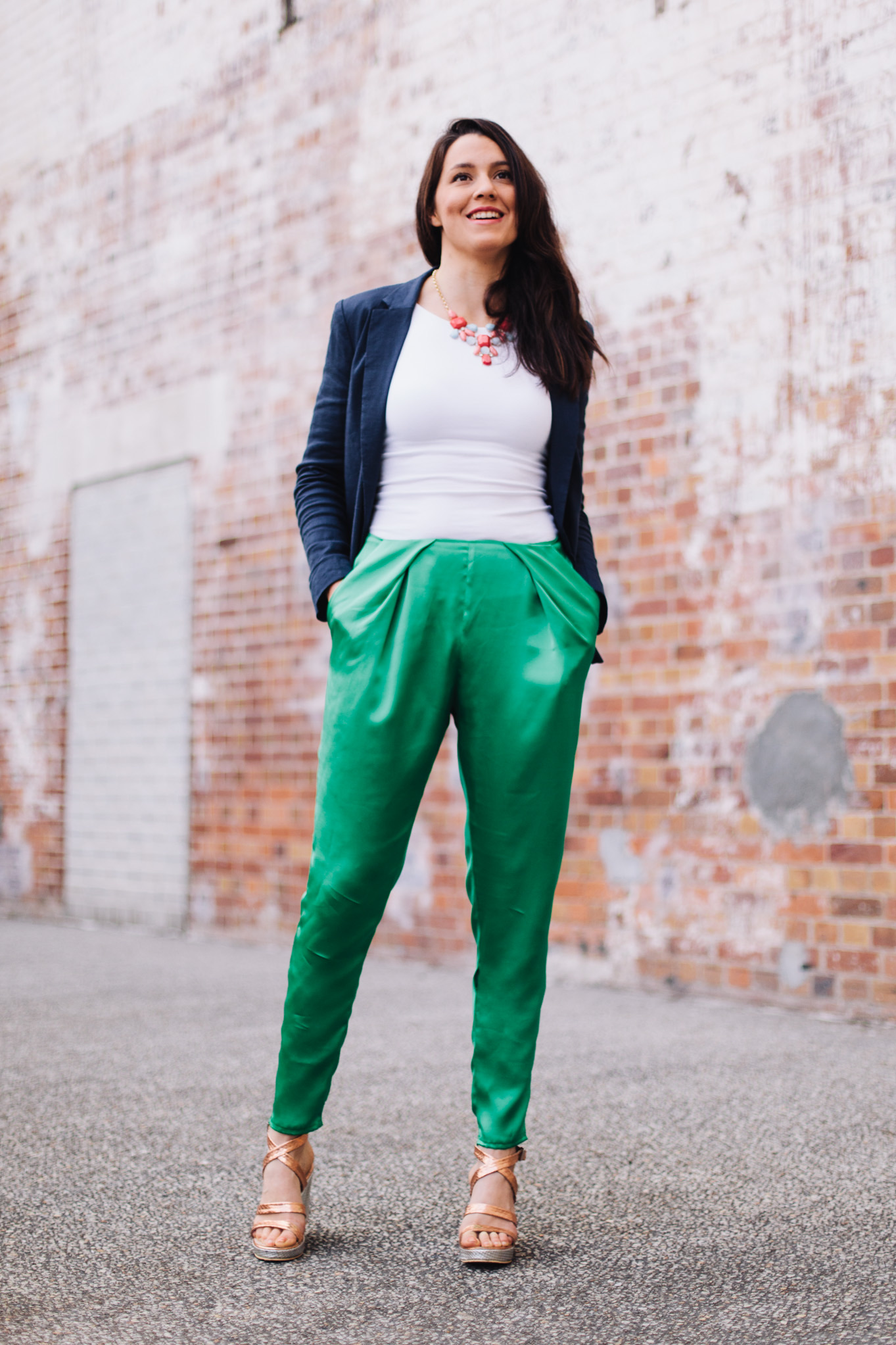 I'm a leetle bit excited to announce Ada Spragg will now be collaborating with Britex Fabrics which means from time to time, I'll be guest posting alongside a whole bunch of talented sewista's. This week, I shared a pure-inspiration post to DIY yourself a pair of gourmet pleated silk pants. And hopefully to take some of the fear out of sewing silk, especially the ones with bad reputations, like silk charmeuse. As this is a sponsored post, Britex provided this jaw-droppingly beautiful 'gleaming emerald green silk charmeuse' from their selection of silk solid fabrics (now on sale). I've been wanting to sew a pair of pants like this, with pleated details and a tapered leg forever. When Style Arc recently released the Antoinette pants pattern complete with pleats, hidden pockets, invisible back zipper and that elongating leg, I knew it was the one!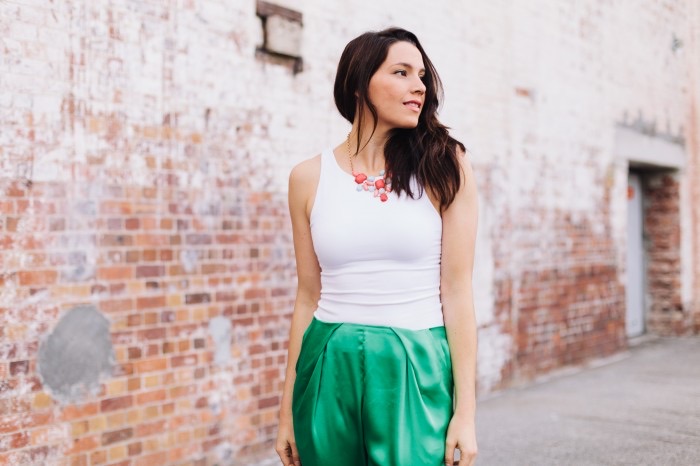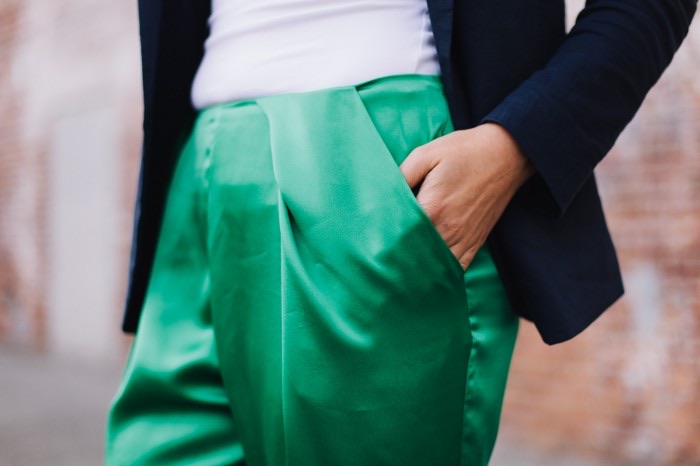 Let's talk about Silk-o-Phobia, because it's out there and it's real. Having never sewn silk charmeuse before, I was quietly fretting about the fact that my first attempt was going to be a pair of pants with pleats & zippers & facings (go hard or go home, right?!). Would the silk be slippery and hard to pin and sew? Would it like being pressed into pleats and folds? How would silk charmeuse handle an invisible zipper? How would I handle silk charmeuse if it didn't handle invisible zipper? All questions you might be asking yourself too before sewing with silk. Well, I'm pleased to report, without any special silk-handling talents, we made it. First of all, the silk charmeuse was a lot easier to manoeuvre than I expected. I imagined it would have the weight of a silk satin, but it's super light weight and quite delicate. Being silky like satin on the right side, I thought it be would slippery and awful to work with but it pinned, sewed and pressed totally fine.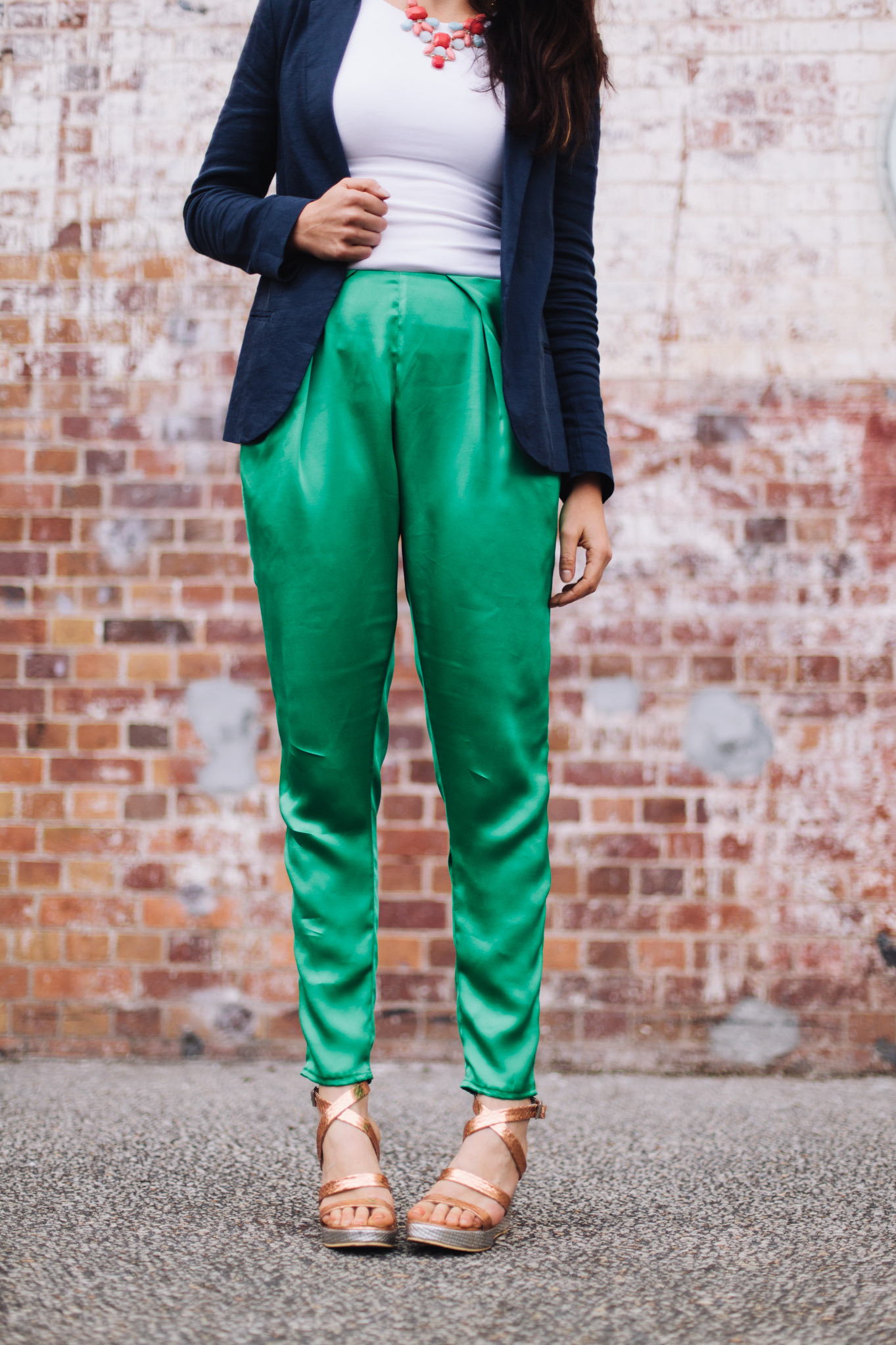 The only issue I ran into was with the easiest part of the garment: the leg side seams. I was like after I sewed them (with a fine needle and regular straight stitch in case you're wondering) the seams were quite tight, almost puckering. I'm still not entirely sure what the problem was. Maybe because I was using a generous 6/8″ french seam (instead of suggested 3/8″ allowance) in attempt to get a closer fit since they were slightly too big after the first try-on. And because of the shape of the leg pattern pieces, which lie diagonally on the fabric (not quite on the bias) it may have changed the fit and shape of the leg pieces slightly. Hmm, not suresies but it's not a biggie, I pressed and stretched the seams, and pressed again which released some of this extra tension.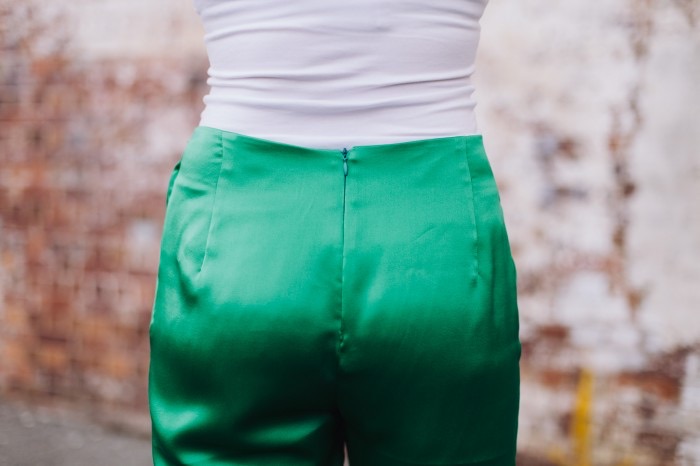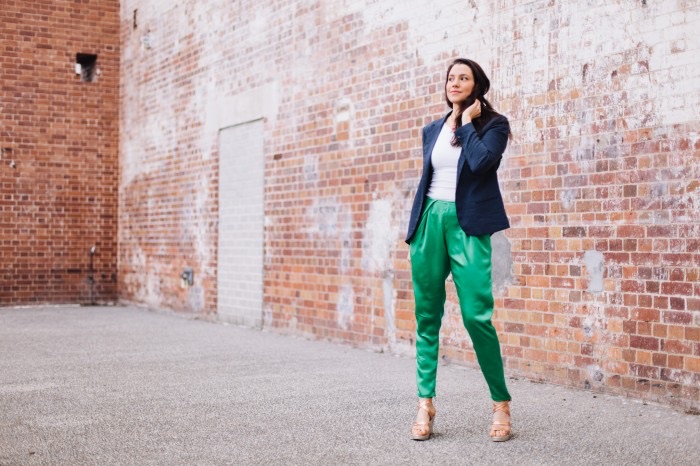 Being silk charmeuse, I had a hunch that the only way it and the invisible zipper were going to get along was the area had some extra reinforcement. I cut two narrow strips of fusible interfacing and added them to the seam allowance where the zipper was inserted, which worked beautifully and is a good tip to remember. As for the fit, well I mentioned I tried to take them in a little by eating up extra fabric from the side seams with french seams. I measured a size 10 and bought the size 10…Style Arc only sell individual sizes, which you pay the same price for as you would for a pattern with all sizes included. Make of it what you will but if you were to get into the habit of ordering the wrong size pattern as I did once or twice, then it starts to add up. Style Arc were totally accommodating and sent me the correct size on one of these occasions, even though the mistake was on my part (when the sizing gamble goes bad) but the other time I was just too embarrassed and copped another round of pattern and postage $. So, where all this is going is, the 10 is a fraction too roomy but I have a feeling the 8 would be too small. They're meant to sit on the waist, but even after my strategic French seaming, they've ended up sitting just below waist. However, the crotch depth and leg length are spot-on so I don't think I'd dare order the 8, but next time would have to take them in further.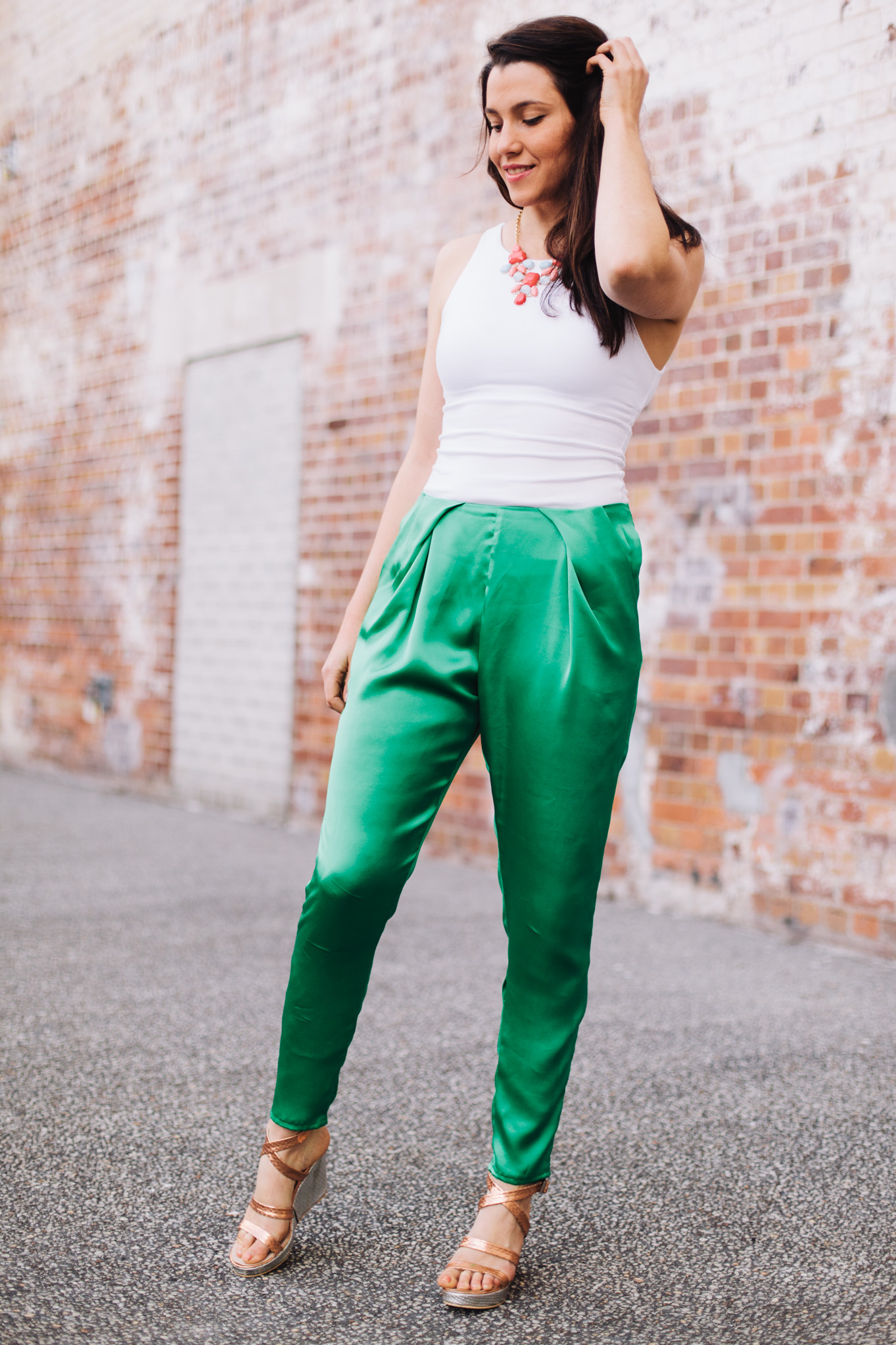 Construction wise, I just shut my eyes and plunged into the pleated section, which is made up of not one but TWO pleats: an inverted pleat and a knife pleat. A who-da-what pleat? Yep, my thoughts exactly. But Style Arc very kindly added a couple of extra diagrams to the (normally sparse) instructions this time, which made it all very user friendly and quite pain free. To mark the pleats in the charmeuse, I stabilised the area with extra pins which helped the fabric stay on grain. It probably would have been easier had I not been using broken off chunks of tailors chalk but my chalk pencil wasn't leaving a strong enough mark. I ended up squinting hard at the pattern illustration to see if the main knife pleat was meant to be pressed in place or just left to drape. The markings on the pattern are kind of like a huge dart which would have indicated that you would press. I tried it with one side and it looked kind of fugly so I smooshed (technical term) it back flat and left the other side alone.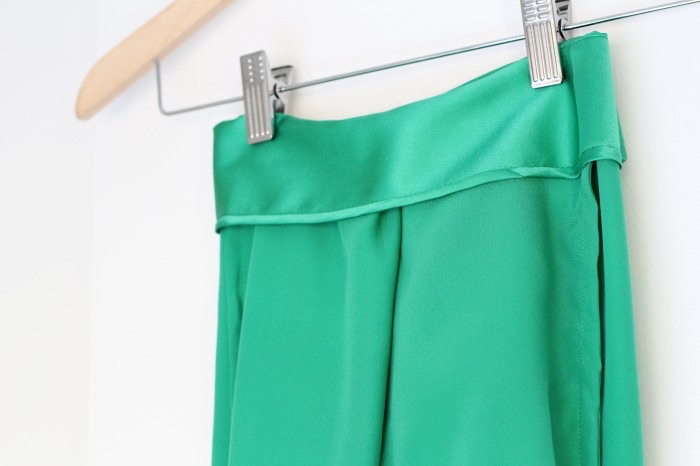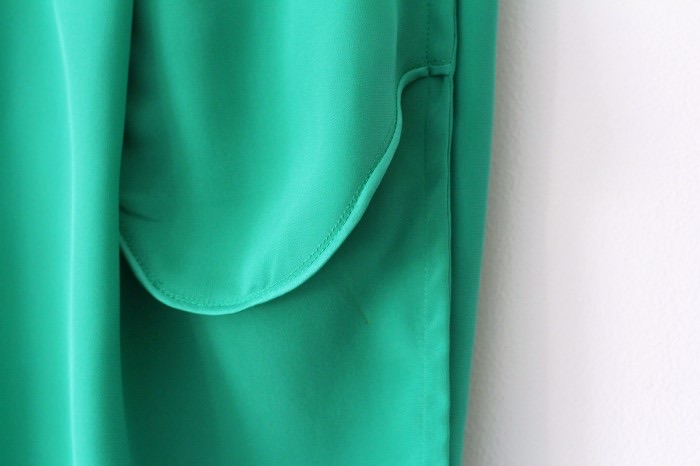 To honour this dreamboat fabric and give it the royal treatment it deserves, I knew it needed to have as good looking innards as the outside. French seams are one of those techniques I used to avoid like the plague but Jen's tutorial took all the fear out and now I use them whenever possible. Yes, they absolutely do take longer but if you've got a fabric that's co-operating, they are actually fun / satisfying and worth the extra time for super lush finish on special projects.I also relish being able to sew a whole garment up on one machine for a change! Along the same ilk, I finished the seams of the pockets and waist-band with some self-made bias binding, another simple technique that can add that special something to your hand-makes.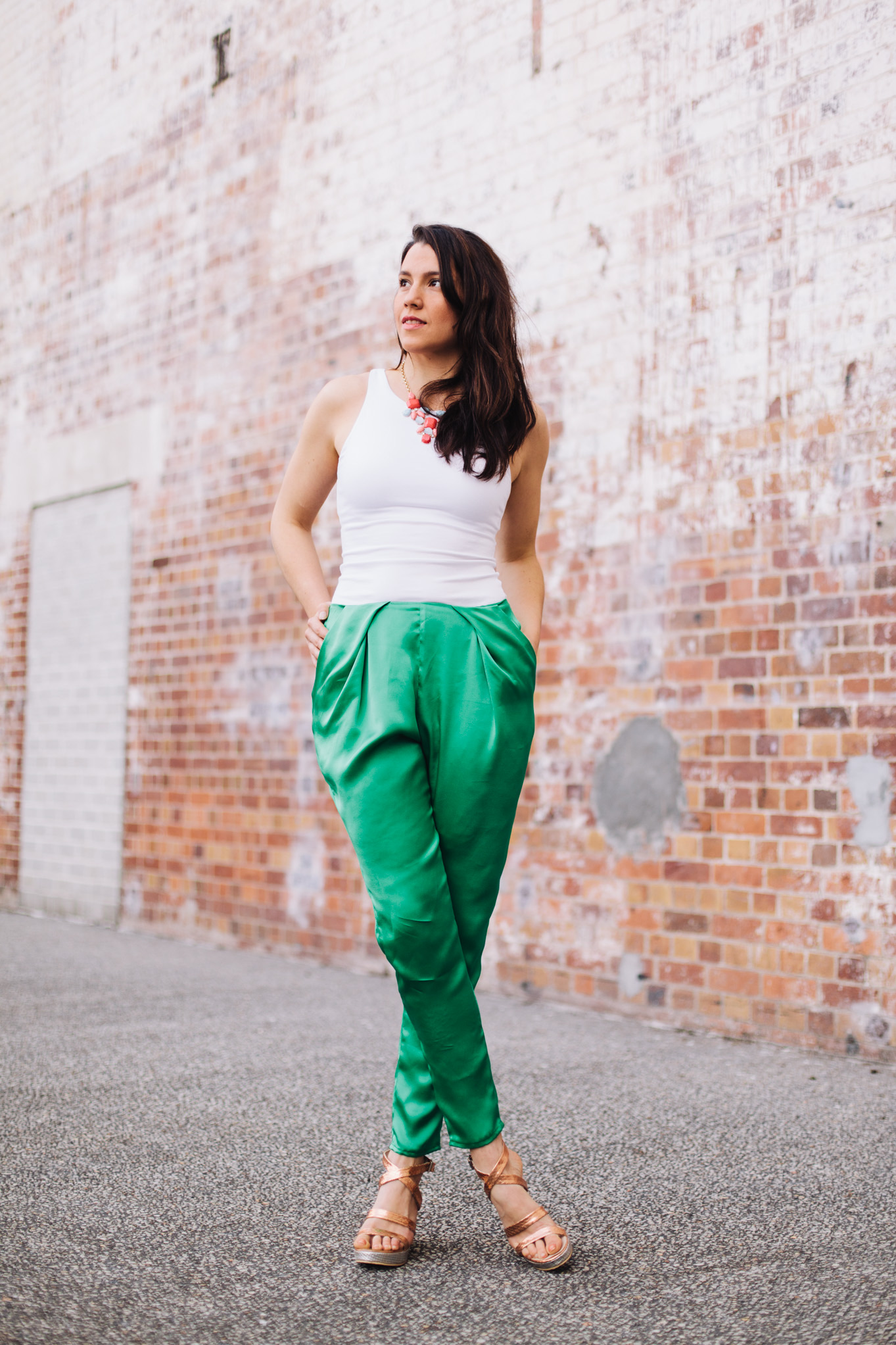 I loved this pattern so much, it's now back in the queue to sew up in a print (hello you pretty ikat silk, you) or another solid for everyday wear, which trust me, is not as glamorous as these pants would have you believe. Overall, they're not perfect but I am immensely proud of them as a first attempt at charmeuse and pleated pants!