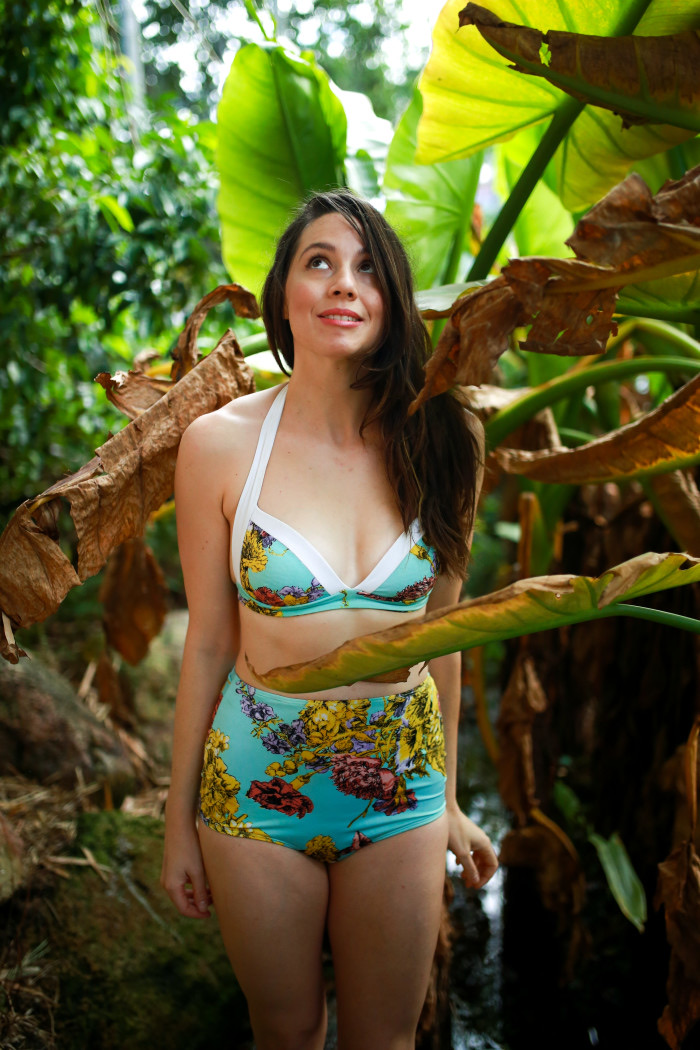 So I just popped off to Bali for the weekend, to shoot my latest hand-make because that's the kind of life I lead didn't you know? Ugh…I wish! I guess one of the 'perks' of being physically grounded, at least for now, is I have to live out my travel dreams through my hand-made wardrobe. Which means getting creative with photography locations. So, no, I am not in the steamy jungles of Bali, or Ecuador, or Madagascar but I did have to brave a whole host of wildlife, including Khaki-Breasted Groundsmen (they were on the lookout for the 'Boobie' Warbler, I believe), at this very public city garden / pool scape. It looks like I'm having a great time, doesn't it? Hanging out, here, in nature, with the frogs croaking and the mosquitoes singing. I love nature, really I do…DA FUQ just touched my FOOT?!!! The things I do for you, honestly.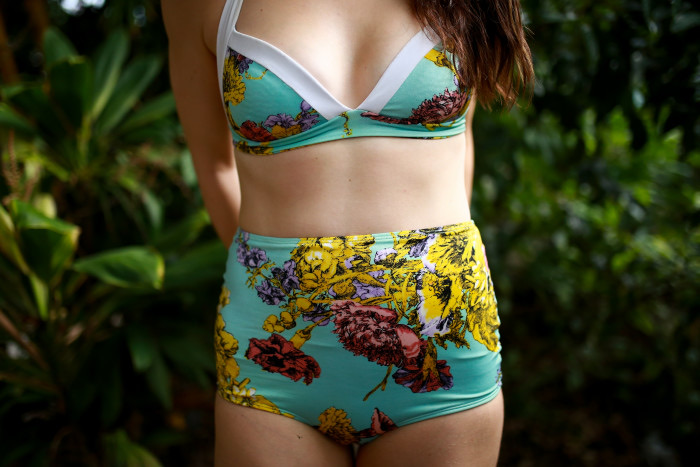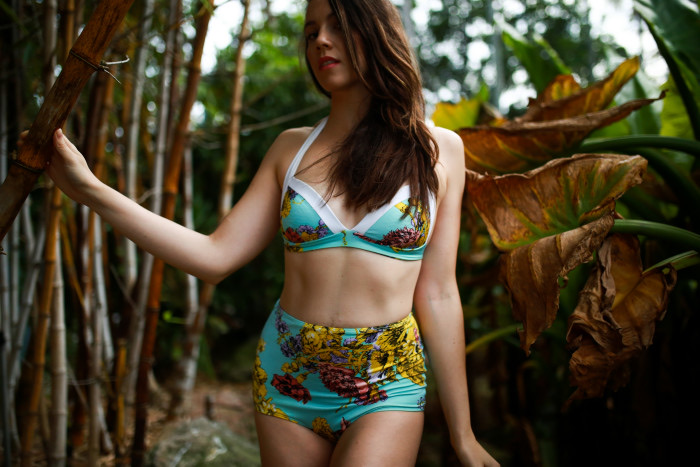 As anyone who's DIY inclined would know, the day before New Year's Eve really is the perfect time to think about sewing a bad-ass printed jumpsuit for the occasion. Until you realise that actually, as your first NYE in 5 years (longer?) sans kiddies, you over-looked the whole NYE plans part. And then you're horribly depressed and the only thing that would possibly make up for a fizzled NYE would be to welcome New Years Day via stand-up paddle board, in some killer hand-made bikini, whilst you sail past the hung-over souls, wiping sand from their eyeballs; a picture of vitality and hand-made awesomeness. The. Only. Way. So, I abandoned the jumpsuit, got cracking on this bikini and along with another NYE plan-less friend, rose early and had a perfectly serendipitous day of paddle-boarding, beautiful weather, delicious food and substantial feelings of smugness!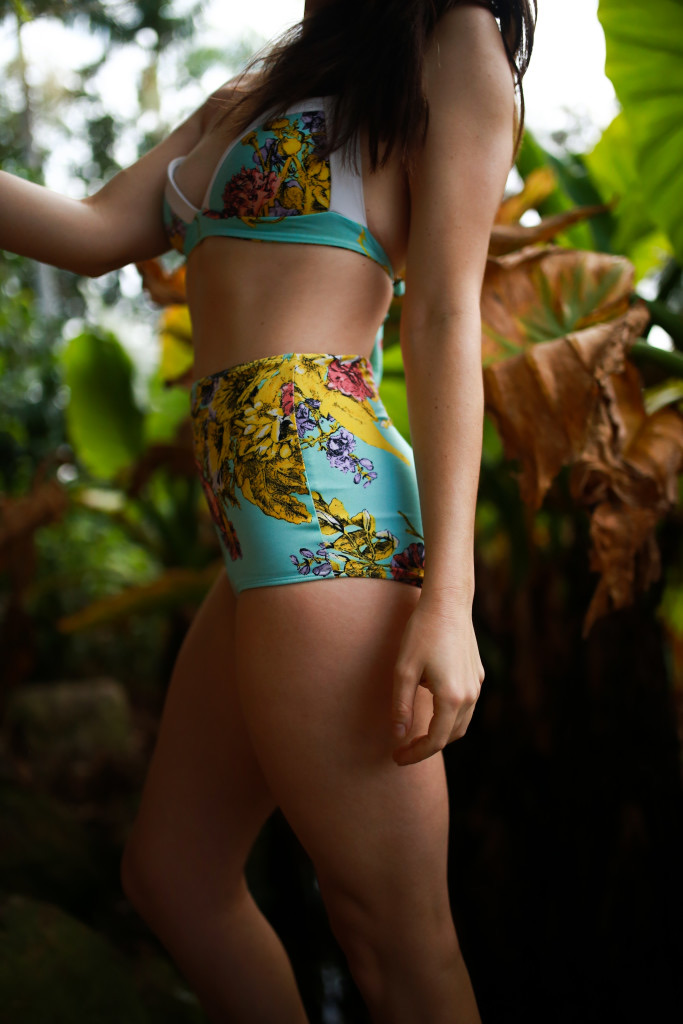 That was January and I've been dying to share this bikini with you ever since! Though, a warning, this post should probably be treated as inspiration only. On every other level it's uh, not very helpful. Really, you'll see. I've been pining hard for a high waisted bikini since forever ever (see evidence here). Are high waists flattering? I think so. Apparently not, according to one male source, unusually passionate on the subject of high waist bikinis now I think about it. Short of starting a movement to have them banned on all major beaches in three states, he was not a fan. Personally, I do like the shape and after having kids, I feel more comfortable and secure when I've got from belly-button below covered but I know not everyone loves them. What are your feels?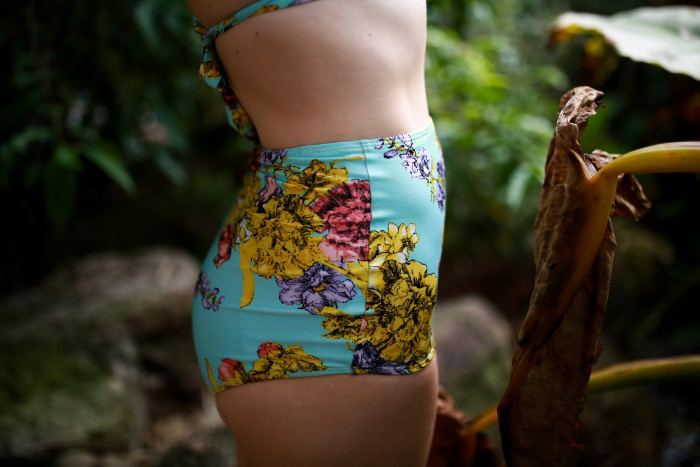 There are a few options out there for bikini sewing patterns, but not too many. I think swimwear patterns are still a relatively un-tapped niche, heads up pattern designers. There's the much loved Bombshell swimsuit by Closet Case Files which has a high waisted bikini bottom option. Named patterns have just released the Beverly bikini, which is really cute though I'll probably be raising the waist. There's the Soma swimsuit by Papercut with a variety of one piece and bikini options. A handful of basic swimsuit patterns by commercial companies. And that's it really. I would really like to see a pattern released for a long-line bikini top with proper cups, moulding and underwire, something like this or this.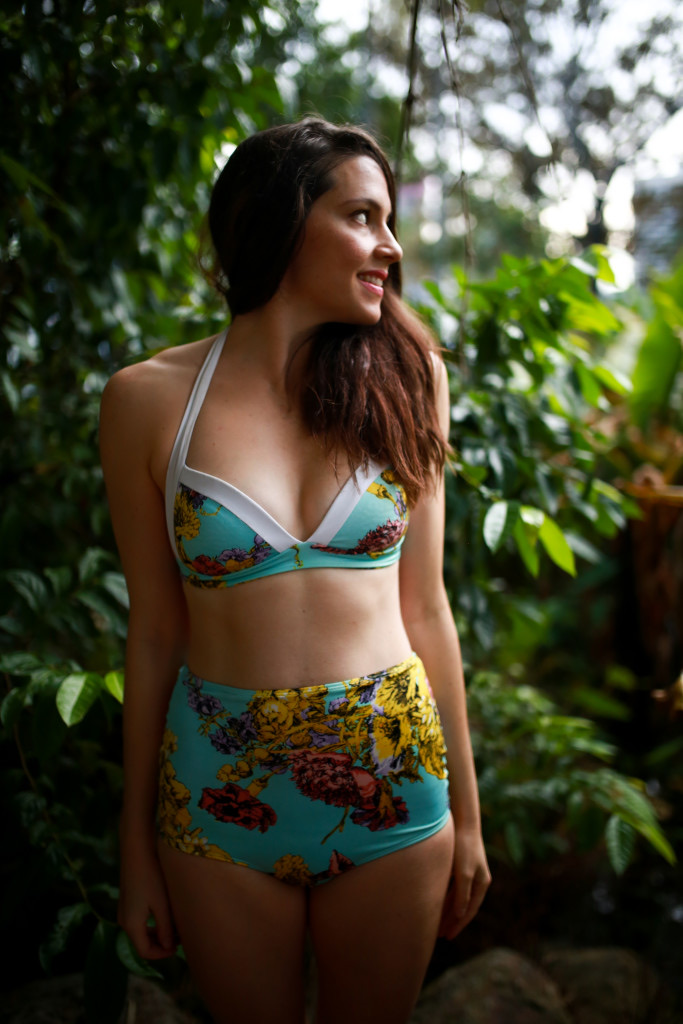 For me, and I'm pretty sure most women, regardless of cup size, support is paramount in a bikini top. I decided to experiment by taking one of my old RTW bikini tops which I know has an exceptional fit and gutting it. I pulled the entire thing apart, including the foam moulding in the cups,subbed in a new fabric, this dreamy swimwear lycra by Zimmerman from Tessuti, where there used to be black, keeping the white for the cups and straps. Then I stitched it all back together and voila, new bikini. I'm sure if ever decide to study pattern making then dismantling clothing would be a good way to learn. It's like a puzzle, seeing how everything goes together and in what order and which techniques are being used in the fashion industry, compared to home-sewing.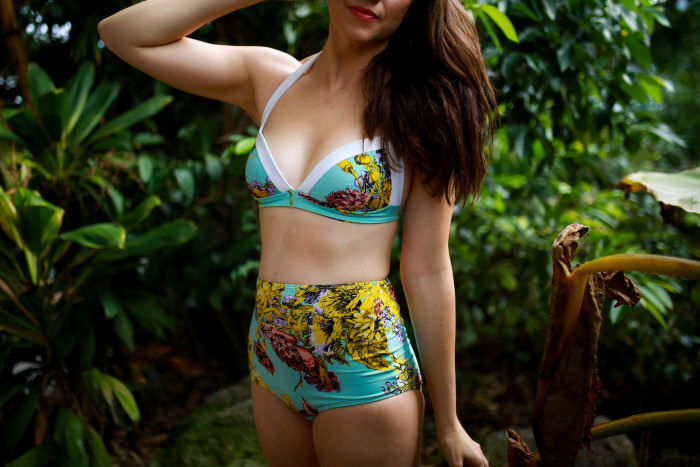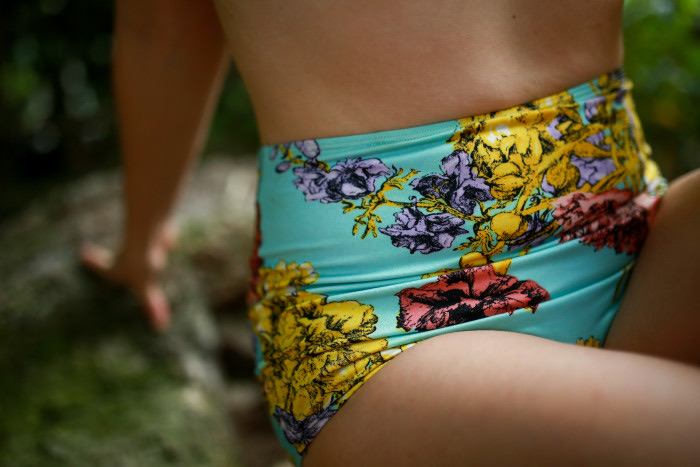 For the bottoms, I went the same route, cut up a RTW piece, traced the pieces, extended the waist to be a high waist, added a lining, added elastic for the legs and waist and cover-stitched it all in place. See…unhelpful! But okay, should you want to make something similar, there are options. Again, there's the Bombshell high waist bottoms, the Soma bikini bottoms or just go the route of extending a regular pair of undies or bikini bottoms to be high waisted. At least then you know the fit is good and snug. You especially want your leg elastic to be snug if you plan on taking your bikini away from the poolside into the surf or you will spend half your time un-plucking wedgies and the other half pretending French knickers was exactly what you were going for, thank you.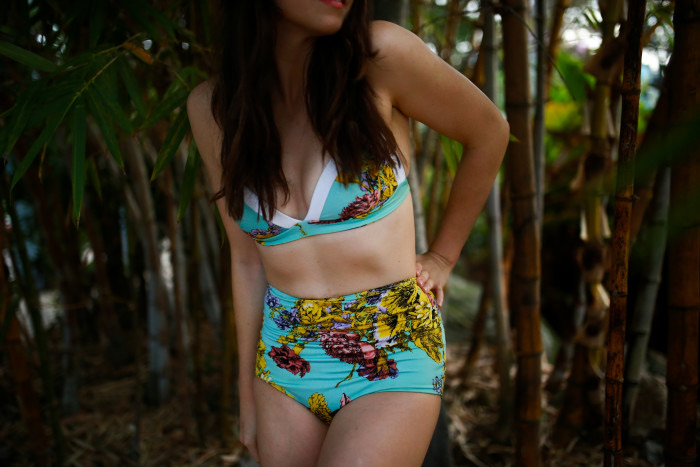 Photography by Annie Jane Imagery