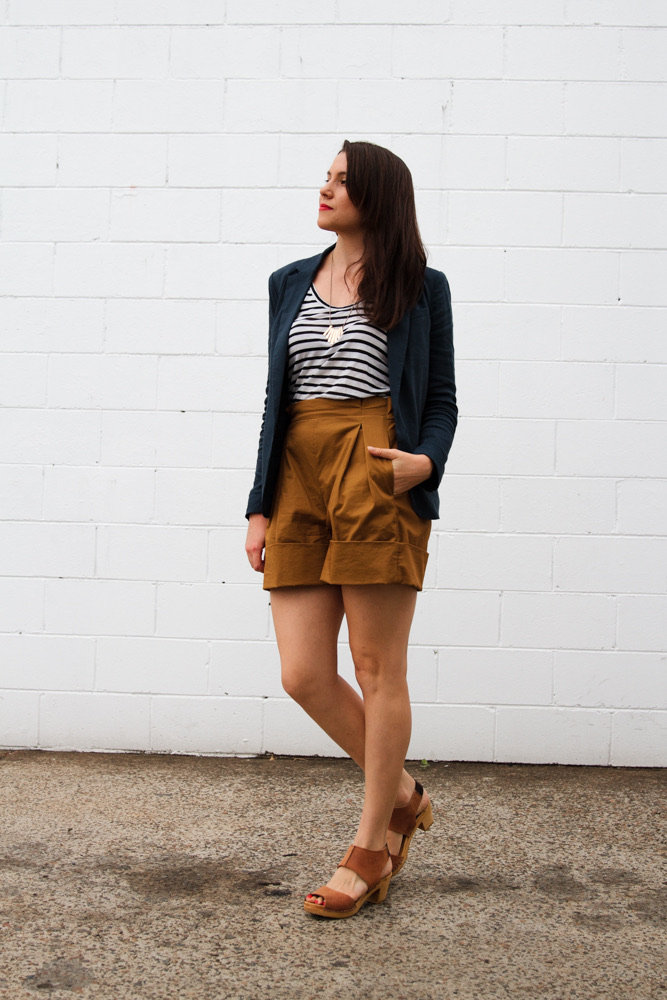 Now, I'll try not to be offended if no-one remembers at the start of the year I declared 2014 year of The Perfect Pair. No, not a boob job! That's next year (jokes). Just the year to sew up as many pairs of shorts as possible from this list, in the hopes of unearthing the perfect go-to pattern. All part of the larger plan to sew more 'fiercely attractive, mum-friendly clothes'. As it happens to be July and this is my second pair, you can see it's obviously going swimmingly lol. But good ground has been made! I now know that Burdastyle 7195 is NOT my perfect pair of shorts. Okay, so it's not all bad. It's just not all good. I'm not 100% convinced they are flattering and this has everything to do with where they hit on the waist and the rear view. My backside has sufficient volume, thank you, why add more? Sure, an elasticated back eliminates the need for a zipper which makes them 'easy'. But there was just so much potential here: pleats, cuffs, cute waistband details…they even looked great on the pattern cover! But the back, ohhh the back. I'm having a poofy-puffy-pants-party and you're invited.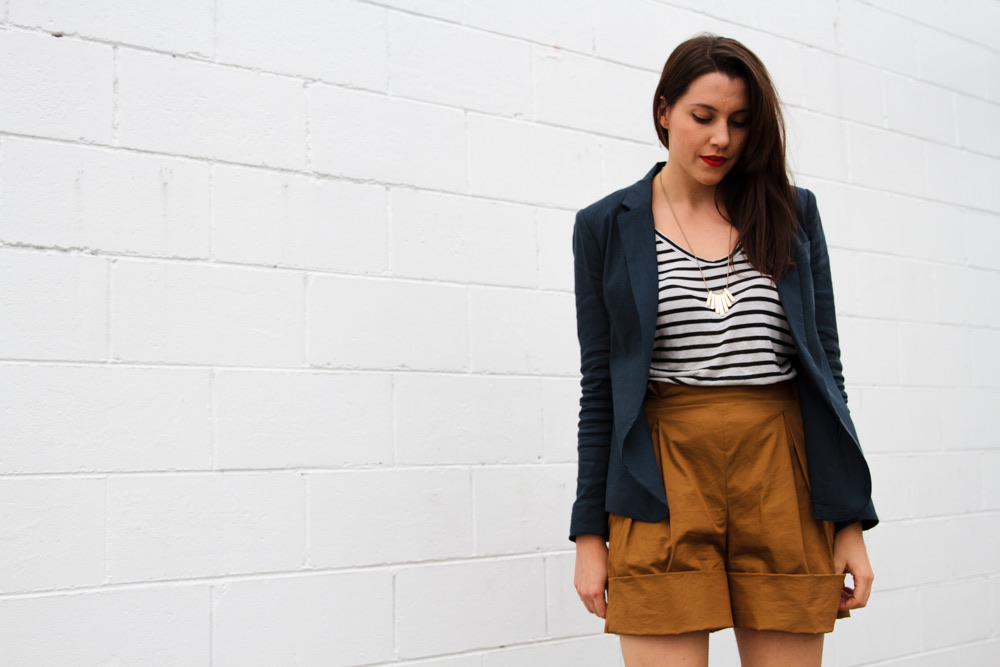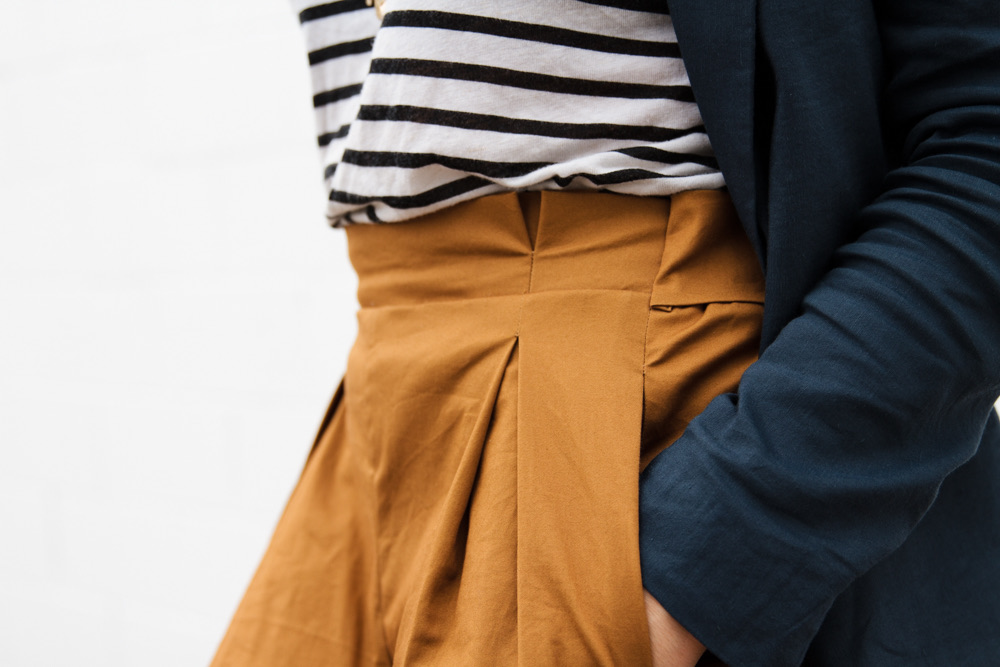 The fabric is a nice plain-jane bottom weight cotton twill (with stretch) in an interesting (SOLID!) color. I bought it with plans to sew something or other to go with the rest of my print-heavy closet. And I really thought that they would be the PERFECT PAIR! But alas, we are in love-hate. I love the pleats, the cuffs and the high waist… in theory. However, and this is going to sound weird, the band hits at this awkward point above my waist, where instead of supporting my post-10lb-baby tummy (which can actually look three months pregnant when I relax..amazing huh?!) like a good waistband should, it makes my tummy just want to chillax and hang out under its little ledge. What's a little stomach muscle separation between friends, ey? Combine it with front pleats and a tendency to carry any extra weight through the middle (where I store my acorns for the winter) and I feel it's all a little too 'bulbous', borderline uncomfortable, for my liking.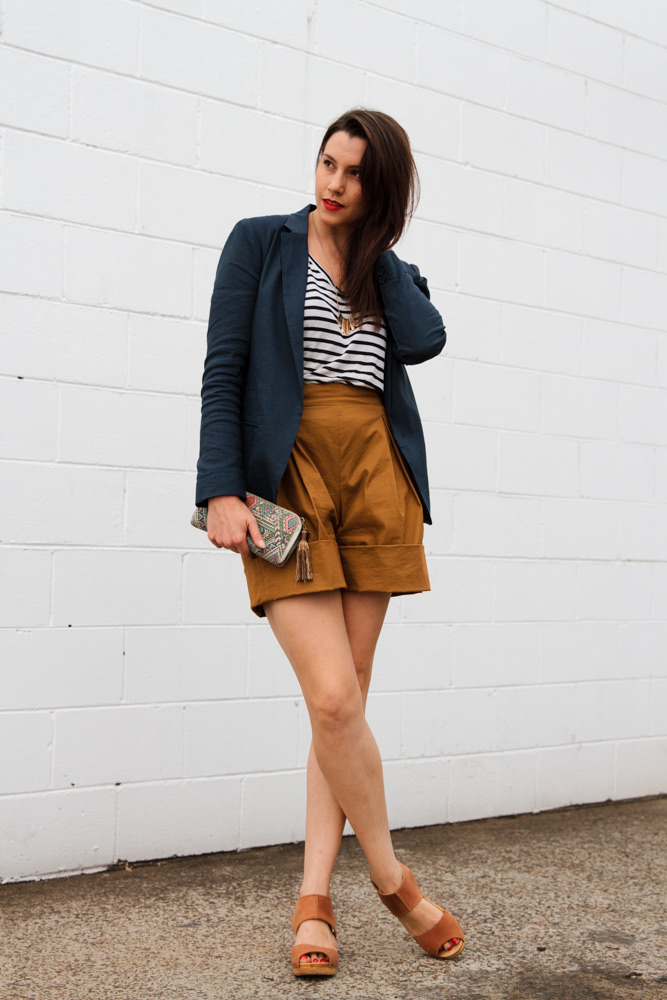 Guys! Do you believe in sewers intuition?! You know, that feeling in your gut when yes you measure size A but you're going to cut size B anyway. Maybe there's nothing woo woo about it and its something you get better as judging as you go along and begin to notice differences in sizing between pattern companies. In Vogue patterns I never size down and this has served well so far. Out of the other big 'four' I often size down and end up getting closer to the fit I want, first go. Which means I've never really had to hone my tweaking and fitting skills. Instead I play the size gambling game. Much more fun! And with good returns mostly, except for when I run into crotch depth issues and its resulting camel toe. Times when I actually probably needed the length of that larger size. Anyway, for this pair I took one look at the pattern pieces, correctly gauged them as being gargantuan and sized down from a 12 to a 10.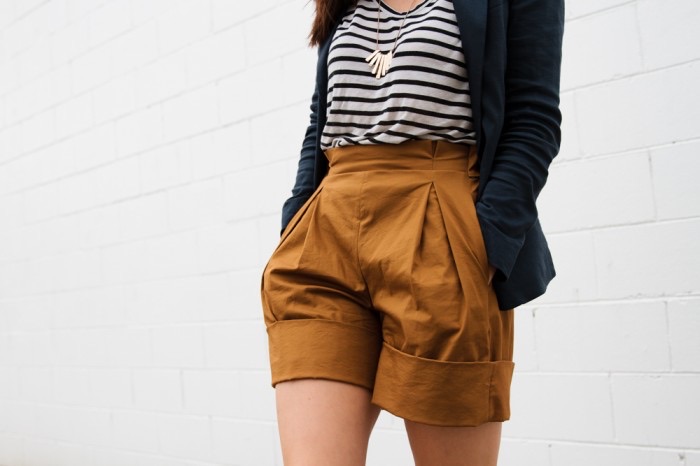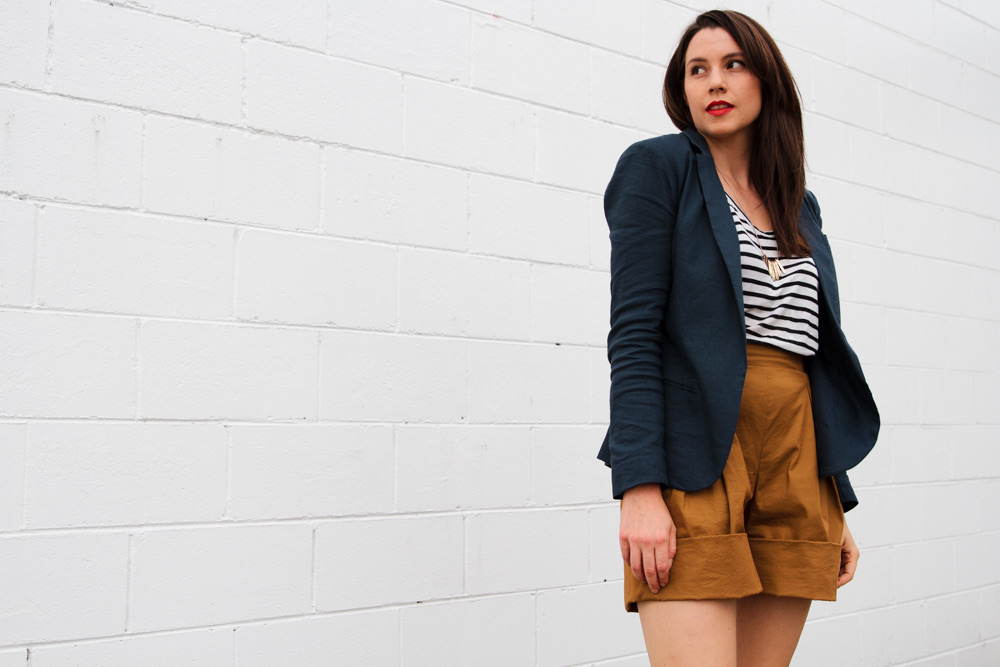 There quite a few neat little features of the pattern worth noting. So, there's the pleats, which extend up into more pleats in the waist-band. And then there's actually a waist tie, which is supposed to be tied at the front, where it hides all the best details of the pattern. I've been tying it at the back where it makes the perfect 'paper bag' for the gathered waistband in all its glory, coming up…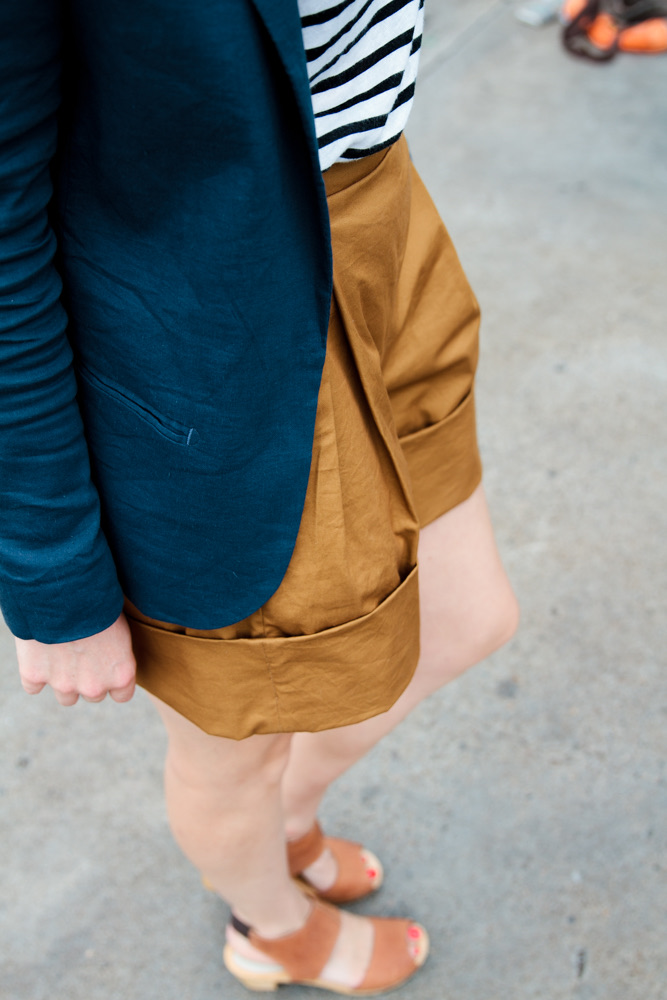 In spite of all, they've been getting some wear. And I do love the big cuffs! Which probably saved them from the naughty corner. The color also goes with a lot of things I've already made. Funny, now that there's more sewing than buying going on, its totally changed my approach to shopping. I feel like I now shop more for pieces that will compliment things already in the hand-made closet. Pieces that go with everything but I'm not necessarily interested in making, at least for now. Like a navy blazer!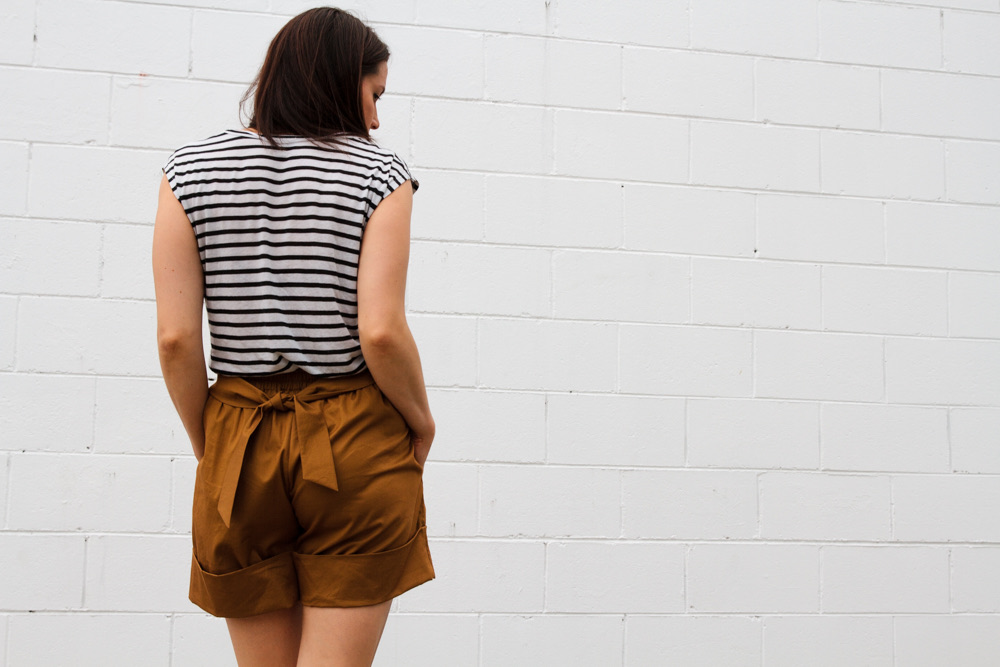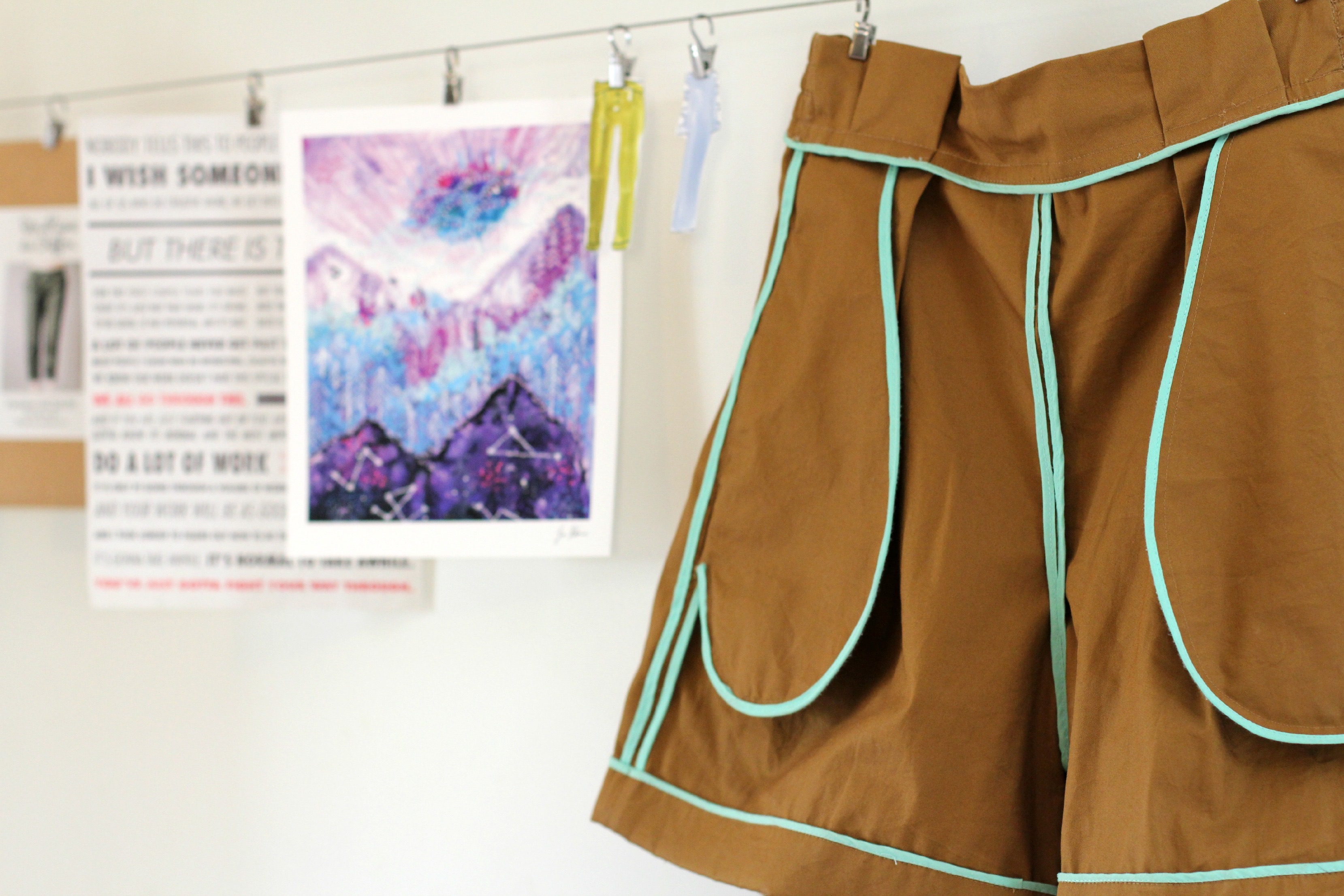 Well, all that extra fabric at the back had to go somewhere. And looks like my bottom has eaten it for lunch! Hmm, there's not really much else to say here so let's move onto the insides. Last week I admitted a new found love for binding seams, as a fun, ok, rewarding, way to finish edges and pretty up the insides. So I couldn't resist adding some contrasting ( store bought this time) binding to this pair. It's a simple process but takes time.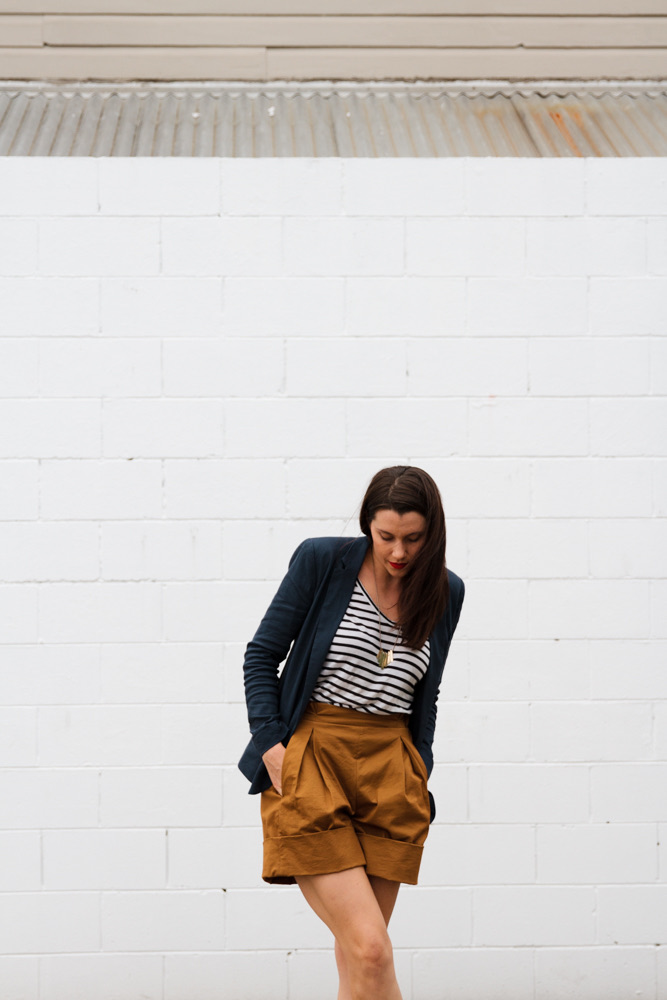 What are your feels? Have you had similar unflattering fit issues with gathered waists? Or post-partum bellies?!