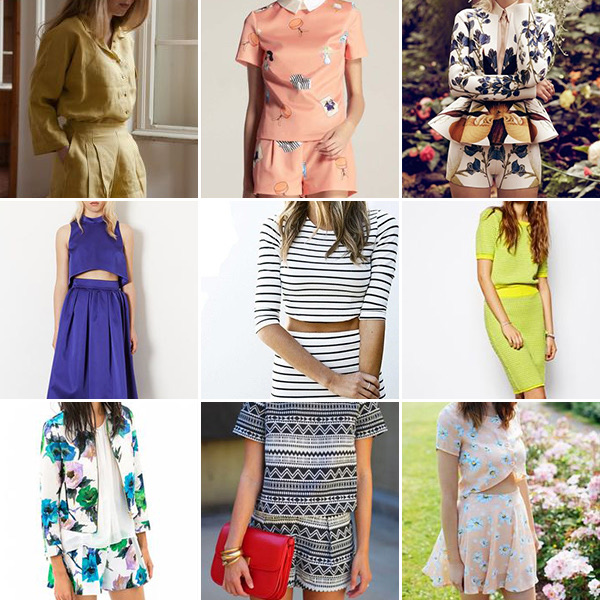 1. 
left
//
centre
//
right
// 2.
left
//
centre
 //
right
// 3. 
left
//
centre
//
right
Two piece sets, or 'Co-ords' is another 90's revival trend and a whole stinkin lot of fun. Twice as much to be exact. And what is fashion, if not fun and a chance to try new things, experiment and play dress up?! While this print on print resurgence is all looking a little 'Clueless', thankfully co-ords have evolved from tartan midriff skirt-suits into something hotter & more wearable. If you're a fellow print lover, this takes print appreciation to a whole new level! And I'm kind of hoping by the end of this post, I might have inspired some two-piece-set company…
If it's not fun, it's not fashion. Stick that on a t-shirt.
Sophie + monday night + glass of red.  
Apart from looking pretty, two-piece sets are actually kinda genius. In any closet. But especially a hand-made one. You know all those agonising decisions over whether to use that fabric you love almost as much as the humans around you, to make a top or bottom? Aha, make both! With some thoughtful planning, you end up with two wearable pieces in your closet which means, wait, let me do the maths…TWICE as many options. And yes, wearing them together is wild and dangerous but if you decide it's not for you, (after test-driving of course) you've still got two banging new separates!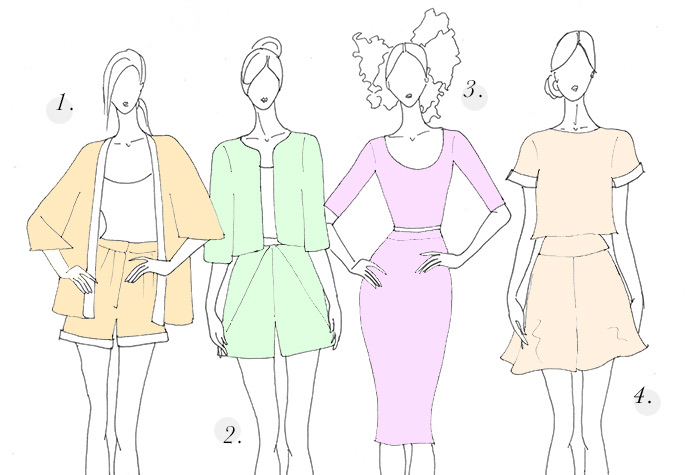 1// Kimono Jacket + Jimmy shorts 2// Veste Bernadette + Tap Shorts 3// Nettie Bodysuit + Mabel Skirt 4// Belcarra blouse +Tania Culottes
The other reason to get excited about co-ords is unlike most trends, it's not body shape specific. You can literally stick any top and bottom pattern you know and love together and voila, you gots yourself a set! I also like that you can make this trend your own according to your personal style. If hard edge, high fashion mid-riff bearing sets aren't your thing, co-ords also look perfectly set-acular in softer silhouettes and floaty fabric.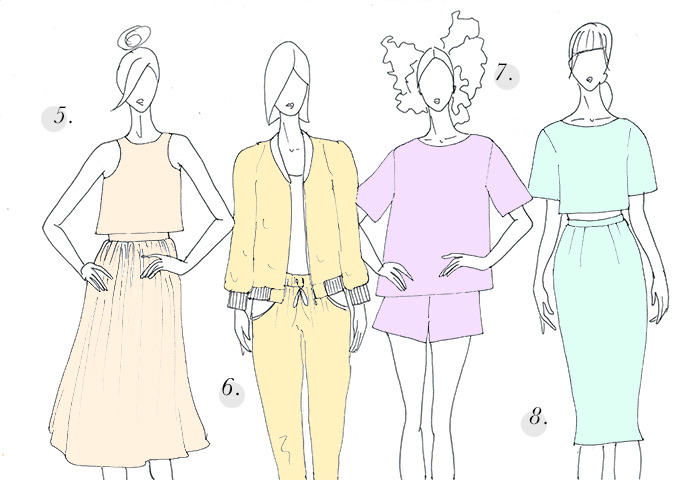 5//Hannah Top + Lumme Skirt 6// Rigel Bomber + Hudson Pant 7// Simplicity 1366 + Maritime Shorts 8// Simplicity 1366 + Charlotte Skirt.
Okay, you're almost convinced, I can tell. So, if anything goes and there are a million and one combinations, where does one start? I've conducted some heavy research (trawling Pinterest) and put together these examples of silhouettes that just work together as sets. Along with some corresponding sewing patterns! But of course there are many more options. The only rule, more of a suggestion really, is to not throw your own personal set of style 'rules' out the window in pursuit of two-piece fabulousness. Things you'd normally consider when sewing like what you love / loathe to wear, what suits and what you feel good in. That said, this could be the perfect opportunity to experiment with new shapes and styles.
 Hard edge, mid-riff bearing sets not your thing? Co-ords also work set-acularly in softer fabrics and floaty shapes.
Here's the thing, bloggy friends. I made one set. Then I made another. And another. And seeing as I'd be lying if I said that was going to be the last, all signs are pointing to a…TWO-PIECE SET-ACULAR! I'm hoping that some of you are, no wait, I KNOW that some of you are crazy enough to join me. If you still need a little more evidence / inspiration, I've been filling up a Pinterest board here. And, if you want to play along and post your finished sets / inspiration / progress shots on Instagram, the hashtag is #twopiecesetacular. Since nothing says fiesta like a grab button, here's one I prepared earlier…