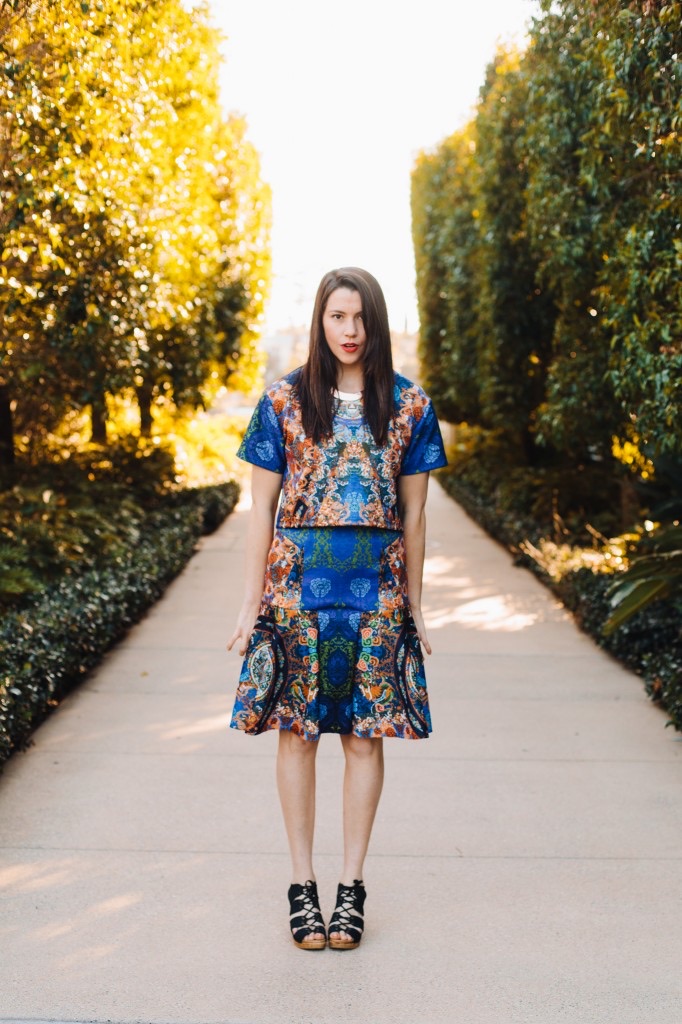 Oh me oh my! So I knew late August to early September would be a cracker, what with the three patterns to sew in preparation for workshops at The Craft Sessions retreat + this final two-piece + a tutorial in conjunction with Britex Fabrics. What it was supposed to look like was pulling it off with grace and flare and my-not-previously-mentioned superpowers, in the two days per week that my littlest has kindy, all the while bringing you regular posts here. What it actually looked like, during that time, was one broken arm, courtesy of my littlest, emergency surgery and a hospital stay where I must have attracted some sinus thing, timed especially for my flight which resulted in a mass-pattern tracing right up until an hour before I left. Life stuff and lots of it. Whereas last year I pushed and pushed, this year I'm trying to practice the art of letting things go in the interests of self-love and its resulting good mental health. Which I guess makes me two weeks not-so-fashionably late to my own Two-Piece Set-Acular. Ugh. Thank you for waiting. AND for your two-piece sets, which I cannot wait to share. There'll be a mass two-piece round-up hitting the blog soon, sooner than this set but I won't set a date in case someone breaks a femur.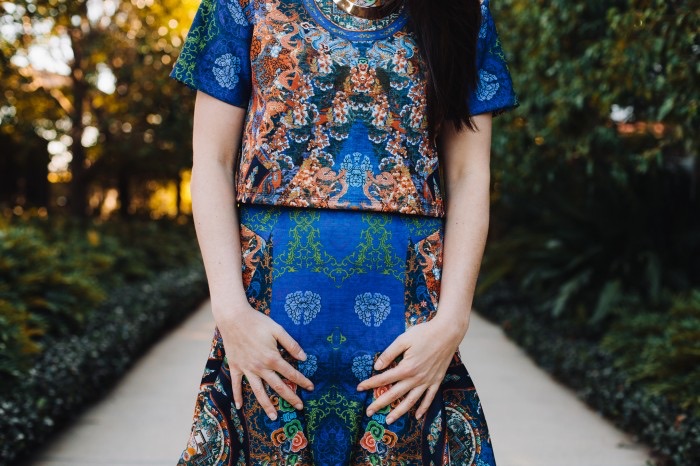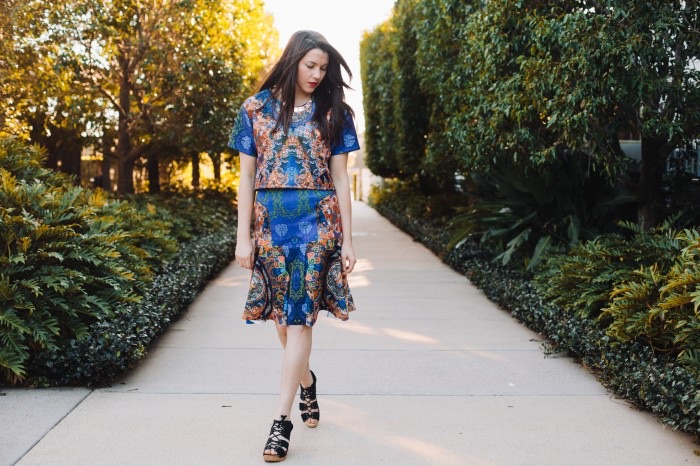 It's hard to pick favourites with your hand-made closet, but this here, is my favourite make this year! One, it's a two-piece, two, it's made from SCUBA (amphibious makes are all the rage) and three, both Simplicity 1366 (top) and Vogue 9031 (skirt) just worked. This is my second go at Simplicity 1366 (previously sewn here) and first attempt at this freshly released Vogue pattern. Just from the pattern cover, I thought it had potential. Okay, I lie…I knew it was going to be AMAZING! Hellooo?!  This shape + my shape + this shape + scuba = heaVEN! It works in the other direction too, equally there are pattern covers I look at and know will be terrible on me. But this fitted through the hips, flared out below silhouette is really fun! Kind of like a hybrid pencil / A-line I think it creates the perfect balance between clingy and, well, not clingy. There are four side panels made up of quarter circle skirt pieces that lend themselves to fabrics with volume, like scuba or ponte. I love it so very much I'm now dreaming up a second version in some solid fuschia ponte from the stash and / or a leather version, since the pattern is actually designed for a woven and includes some tips for using leather.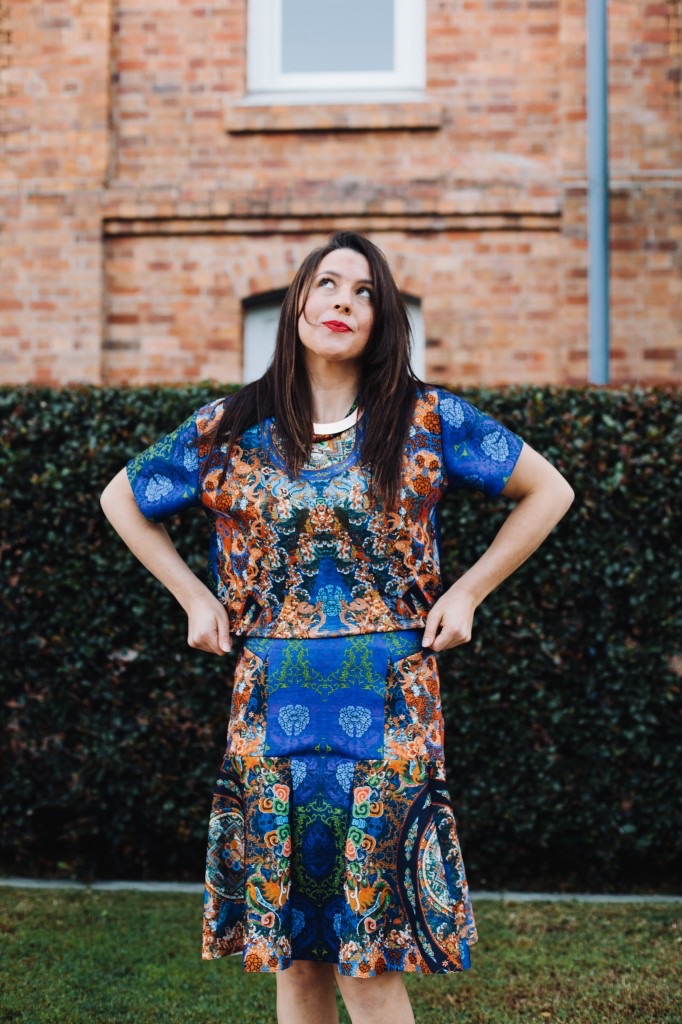 A fun sew on both accounts and I want to stress the fun part because, if you're like me and you harbour a lingering association between beautiful hand-makes and a certain amount of hard-labour / cussing, it's always exciting to be proven wrong! What made these pieces both so fun were several things: firstly, scuba (or neoprene) is, quite literally, wetsuit material and a dream to sew with. It is stable and meaty (yes I did just say meaty) and orgasmic to cut into. Cannot tell you how good it felt to man-handle a fabric on the back of several flimsy fabric projects. And speaking of man-handling, the other perk is scuba loves the serger. Now I for one have never sewn an entire knit project on the serger.  Didn't entirely trust the stitching would hold together. But with a fresh new serger to play around on ( a birthday up-grade) and being completely time poor I had a go…HALF AN HOUR, my friends, from start to finish. Even the skirt, which couldn't be sewn on the serger alone (lots of seams to be left open), slapped together in half the cutting time.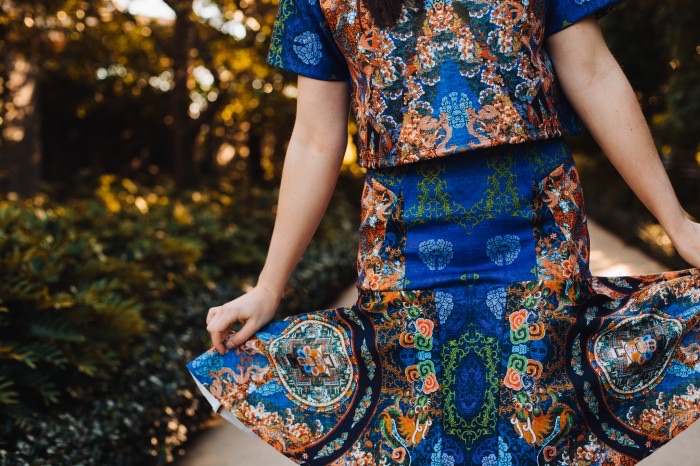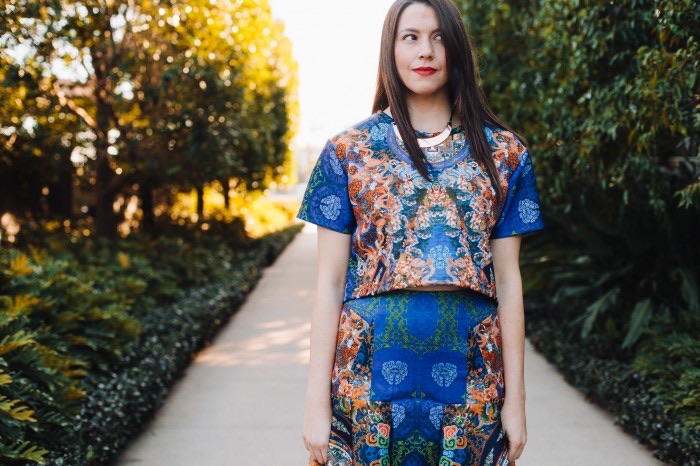 Ahhhh the cutting time…deserving of it's own paragraph! This beautiful intricate 'Chinese Dragon and Lotus' print scuba was supplied by Britex for whatever I deemed suitable. A two-piece set…DER! What I didn't pay attention to in the 'ideas stage' was the perfectly symmetrical nature of the print. If we include the time spent staring at the fabric and nudging pattern pieces around on it with my toes, in the cutting time then it took 12 hours. I got so frustrated the first night I tried to cut, I had to walk away, watch some consolation Sex And The City and return to it in the morning. Which turned out to be the best call ever! Okay so the cutting time turned out to be three hours and the challenge was not only getting individual pattern pieces to match their opposite but trying to get a total of five top pieces and twelve skirt pattern pieces out of  one full repeat and two 3/4 repeats of the design. The only way I could make sure things were symmetrical was to lay the fabric out flat (as opposed to doubled over) and cut each piece separately. For pieces marked 'on the fold' this meant, cutting one half, flipping the pattern piece over and matching up points in the design before cutting the other half….hence the three hours!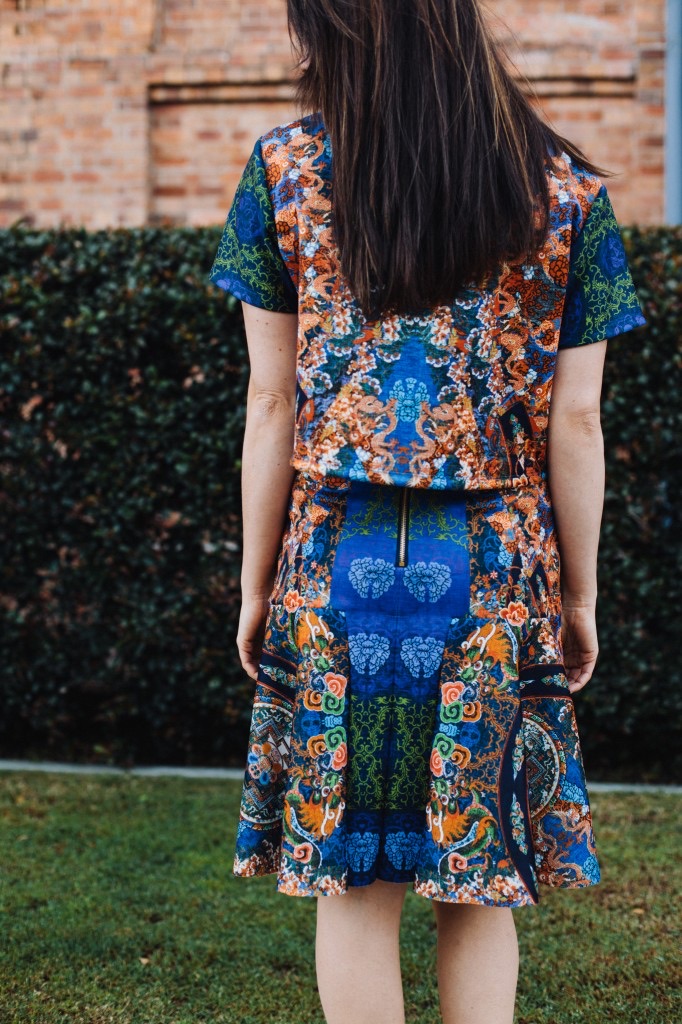 One of the other nice things about scuba is you can be really lazy with hemming. You know, make your unfinished hems a design feature! Vogue 9031 calls for the hem to be left raw. Considering the pattern is meant for wovens, I thought this was a curious ""feauture"", what with fraying and longevity and all. But for now I think the unfinished hem looks pretty appropriate with the Scuba although I may take to it with a coverstitch eventually. There are so many things to love about this pattern: the front and back are made up of intersecting pieces, which make for a super sweet feature and flattering lines. The waistband has a schmick facing finish, which I lurve! Size: I made my usual Vogue size, a 12. Mods: The 12 was good, but I ended up taking it in at side seams from waist to hips. Sew-tricky: At the risk of sounding totally masochistic I loved the challenge of getting those corner semi-perfectly square, where the side panels meet the front and back. The first one was great, the second was a little dodge, but by the fourth one I was sad there weren't any more. You can see at the front the fabric is pulling across this area a bit which I'm sure is to do with using a stretch here.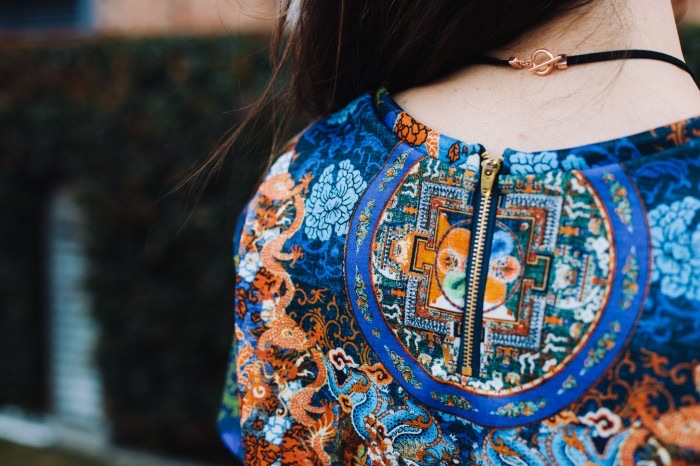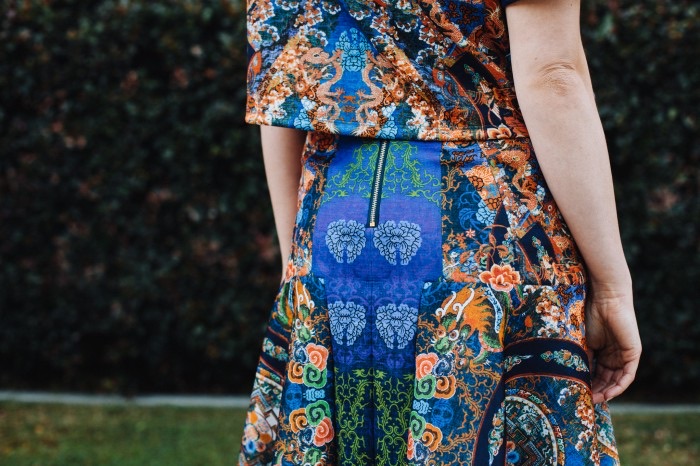 Simplicity 1366 is a great pattern on its own, but I wanted to modify a few things to make it more like a super comfy RTW boxy crop I have. I took the shoulders in a fraction, shortened the sleeves, raised and scooped the neck and added a binding / ribbing. Because it's a knit, it didn't need any sort of closure but I thought an exposed zipper would make a banging feature on both the top and the skirt. I started with the skirt, and followed this tutorial up to a point, which covers inserting an exposed zipper when there is a seam running through the middle. For the top, to insert an expose zipper, literally in the middle of no-where, I had a play around and am so very proud to come up with this working tutorial for inserting an exposed zipper into scuba. Maybe the Sewing Greats would cringe at my errr 'technique' but hey it's simple to follow and the result is pretty darn fine.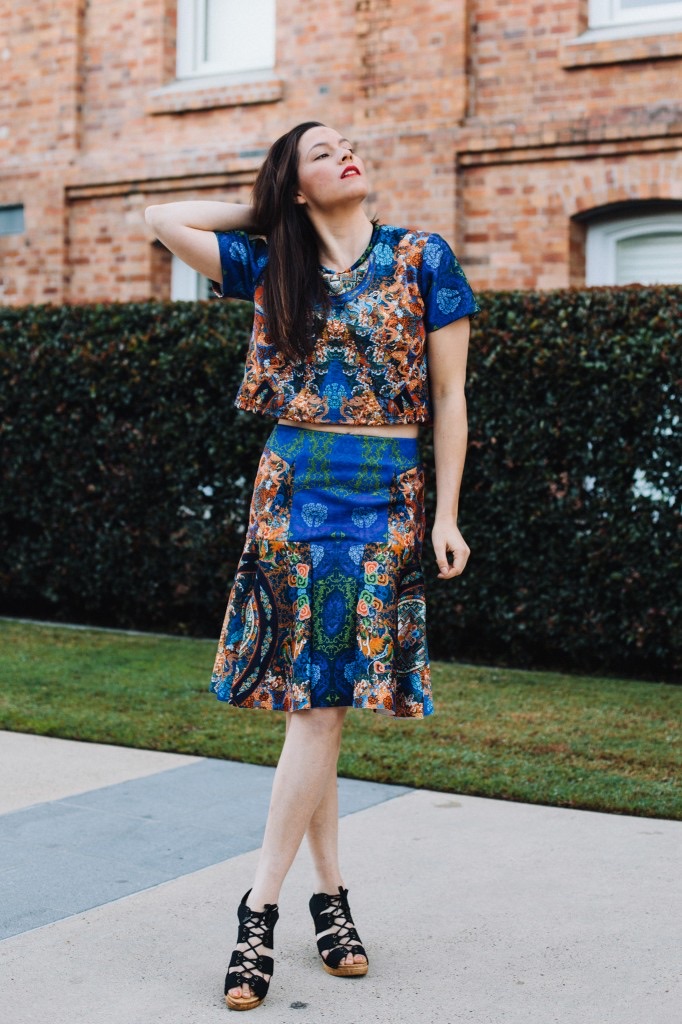 So there it is, the last of the two-pieces! It's been fun. If you're thinking about dabbling in some scuba sewing of your own then you should jump in! I've been collecting scuba sewing inspiration here and have included some links to Scuba fabric resources too.