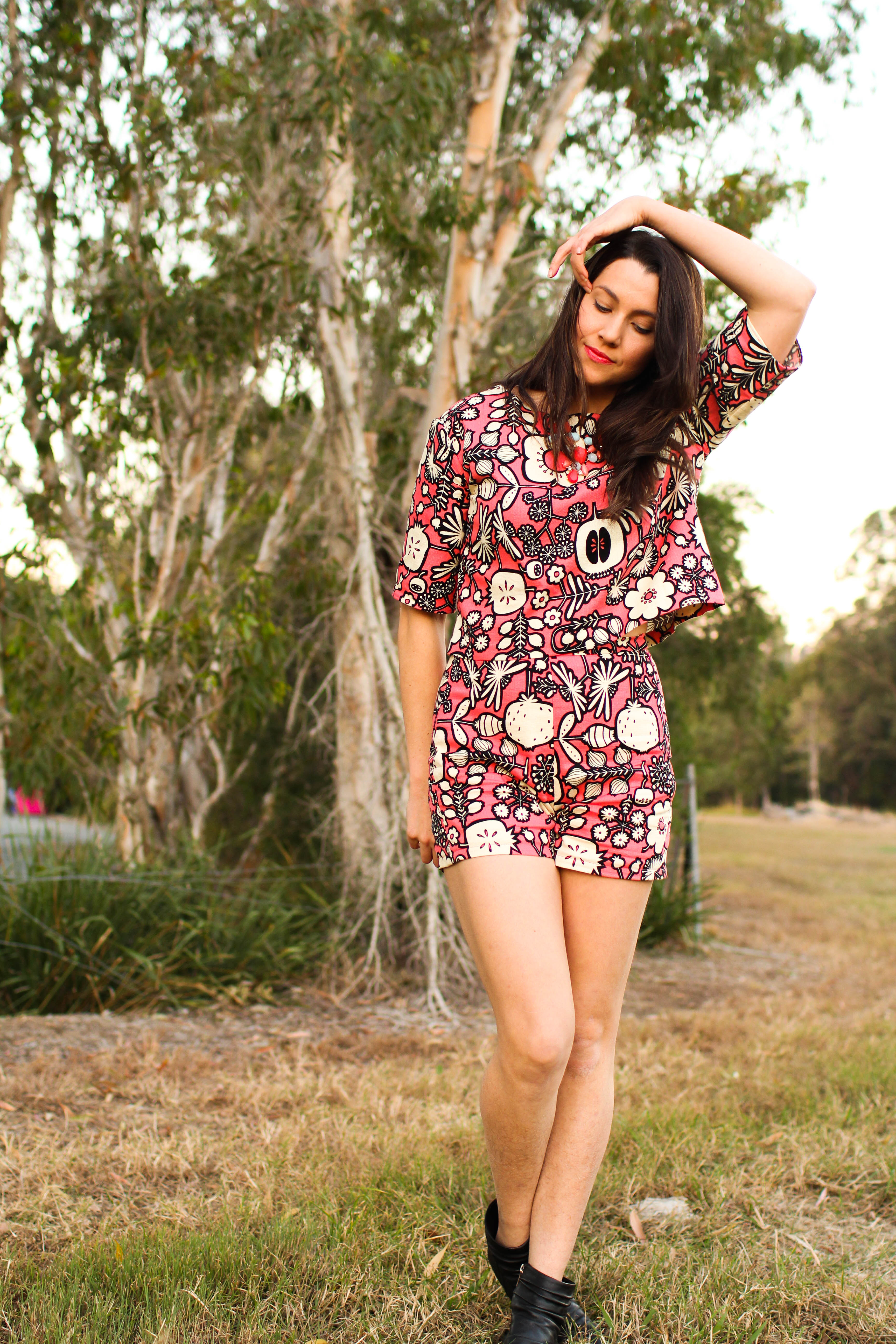 It's that time of year again! Shorts on The Line time! I'm mucho exited to be taking part once again in this month-of-shorts-appreciation hosted annually by Imagine Gnats and Small and Friendly. Today I'm sharing some shortspiration, which um, as you can see has turned into two-piece setspiration too. Now I, for one, am never shy of an excuse to sew shorts, however if you'd like to get involved and make yourself a pair, all the incentive you need is right here in the massive list of prizes (read: fabric $$$) up for grabs in the Shorts on the Line competition. Alternatively, if you're a lover not a fighter, just make yourself some damn shorts and share them on Kollabora!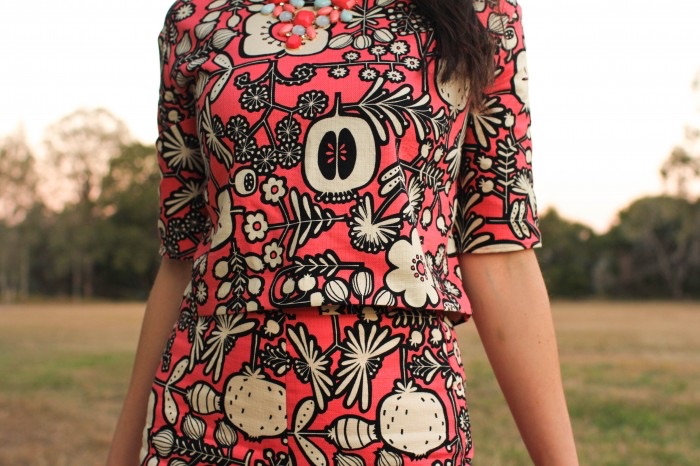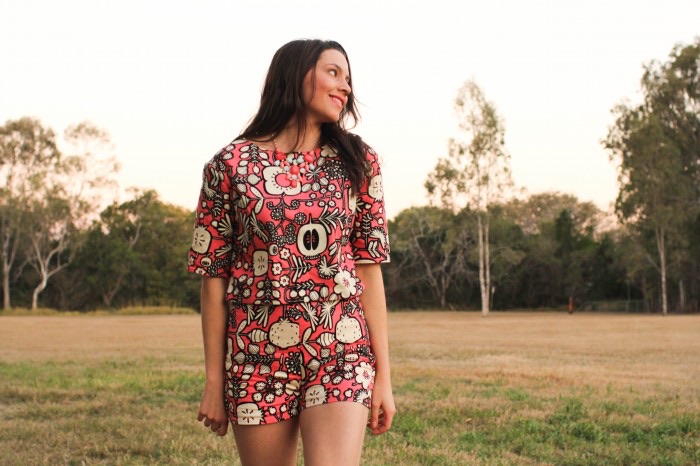 As 2014 is the year of finding and sewing the 'perfect pair', my list of 'shorts to sew' is a long and winding one. And a growing one. Just recently Tessuti Fabrics released their first shorts pattern, the Esther shorts, which they describe as a 'classic, vintage-style' pattern with a high waist,  invisible side zipper and narrow waistband. All I heard was something something, invisible side zipper, something something. Invisible side zippers are good stuff! With no extra bulk being added by a fly front, they make for a super streamlined and flattering fit and are my favourite way to enter and exit a pair of shorts or pants. I was sold, even before Tessuti offered up a copy of their Esther shorts pattern for review, along with a choice of some short worthy fabric from their eye-poppingly gorgeous selection…see confetti print, triangle print and beach scene bombshell fabric. Oh, and because the ladies at Tessuti are mucho generous and just generally awesome, they threw in an extra hard copy of the Esther shorts pattern for someone special! Which is all of you so I'm turning it over to Ronnie the random number generator. If you'd like to win, leave a comment and this time maybe tell me what you ate for breakfast (last time was lunch) and I'll announce the winner on Friday.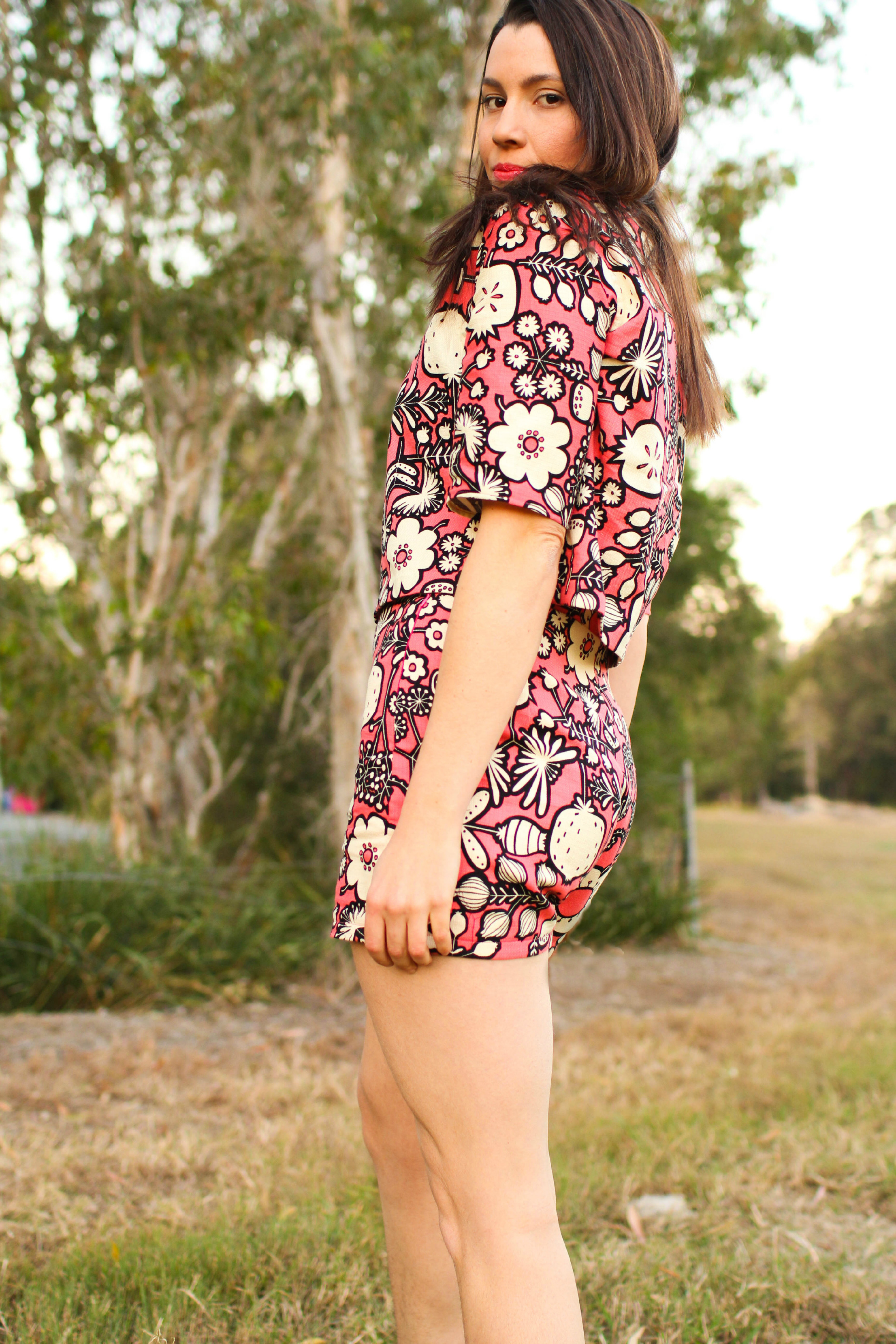 Unfortunately (or fortunately) the closest Tessuti is a whole state away so I chose a piece of this 'Niwa' Japanese printed cotton from their online store (they ship worldwide btw) for my Esthers. But back to the Niwa. It's comes in four pretty colors, this pink is still available here. The fabric itself is a soft, textured cotton and a good weight for shorts but with an open weave that said 'please don't thrash me'. So I listened and tacked a silk cotton to all the pieces for less risk of splitage. The construction and instructions were quick and user friendly but it was about half way through when I realised the shorts wouldn't be complete without a matching top. It is two-piece set month, don't ya know?!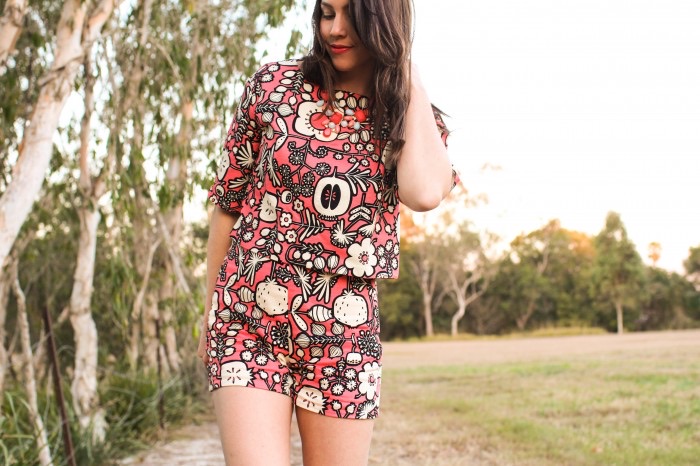 The top pattern is Simplicity 1366, aka, the boxy crop, and pattern I'm calling as go-to top half for two-piece sets. I just love the extra volume! Which I think helps to balance out the Esther shorts, being quite toit. For once I didn't know which size to choose, because I did want it quite large and boxy. I chose the larger of two sizes (12) but even now I think I could even have sewn one size larger and still been happy with the volume. This pattern is dead simple and potentially addictive since all you're dealing with is front, back, sleeves and neck binding. I skipped the neck binding and drafted a quickie facing for the neckline. And when I say drafted, I mean was feeling totally lazy and just hacked the facing straight out of the front and back pieces of the pattern itself. I'm sure it'll stick back together just fine for next time. And there will be a next time…curious to see how it sews up in something silky like the pattern cover shows and also in fabric with more density…like scuba!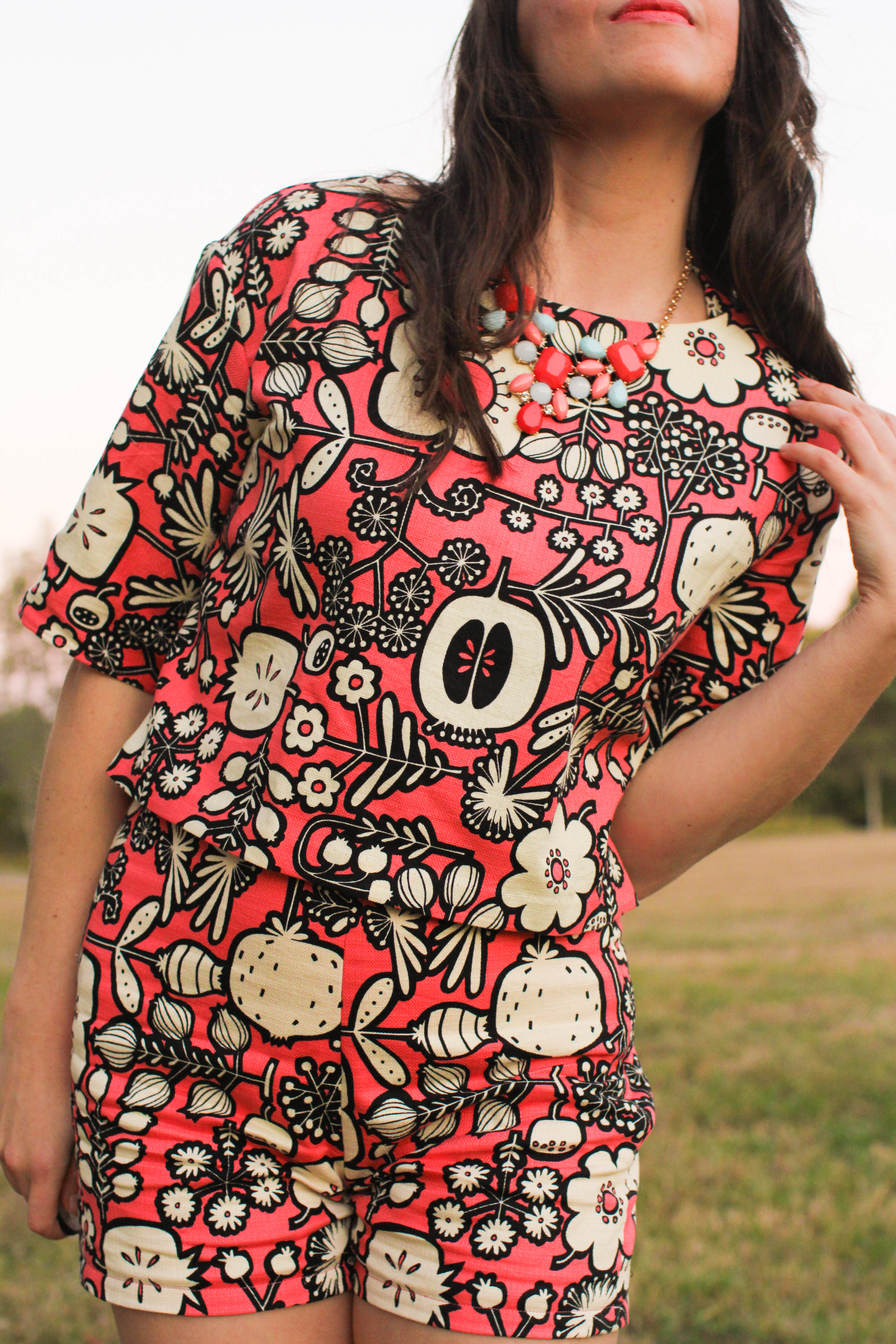 I had a few thoughts on taking photos this week which maybe you're interested in. And a massive breakthrough! This year I invested in a lightly pre-loved DSLR which I've been using for everything except my ACTUAL BLOG PHOTOS. Up until now it's been royally convenient to have someone else take photos of hand-made outfits for the blerg. All the while, knowing the time was coming when I'd have to break out the tripod, which I've been simultaneously wanting to try out and successfully avoiding for about 6 months. But somewhere between Friday and Saturday I realised I had no-one to photograph these shorts for Tuesday. And out of pure necessity, on Sunday afternoon, I found myself in a paddock at dusk, sandwiched between a carpark and a main road, with a camera remote I didn't know how to use, my brother's schmancy lens, my dad's tripod and a big fat cloud of doubt.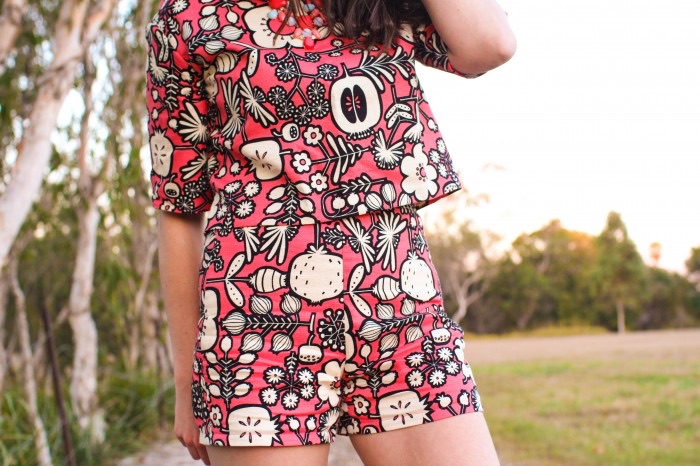 In the space of two hours I figured out how to use the remote, stick the camera on the tripod, manoeuvre the legs of the tripod ( like wrestling a newborn giraffe) and give it a 2 second delay. I couldn't work out how to take multiple shots on one press of the remote so it was all click. position. click. position. Not exactly free flowing and relaxed but that's the next assignment along with editing skills. And because I expected the photos to turn out sub-par, I took a LOT of photos. Surprise surprise in between ALL the bloopers and blurred pics (something ain't set right), there were actually quite a few passable / blog worthy pics. So I am officially mind blown, and more than a little bit proud for putting my big girl panties on /getting into the situation of having to do it solo or it probably would have been another 6 months before I ventured out.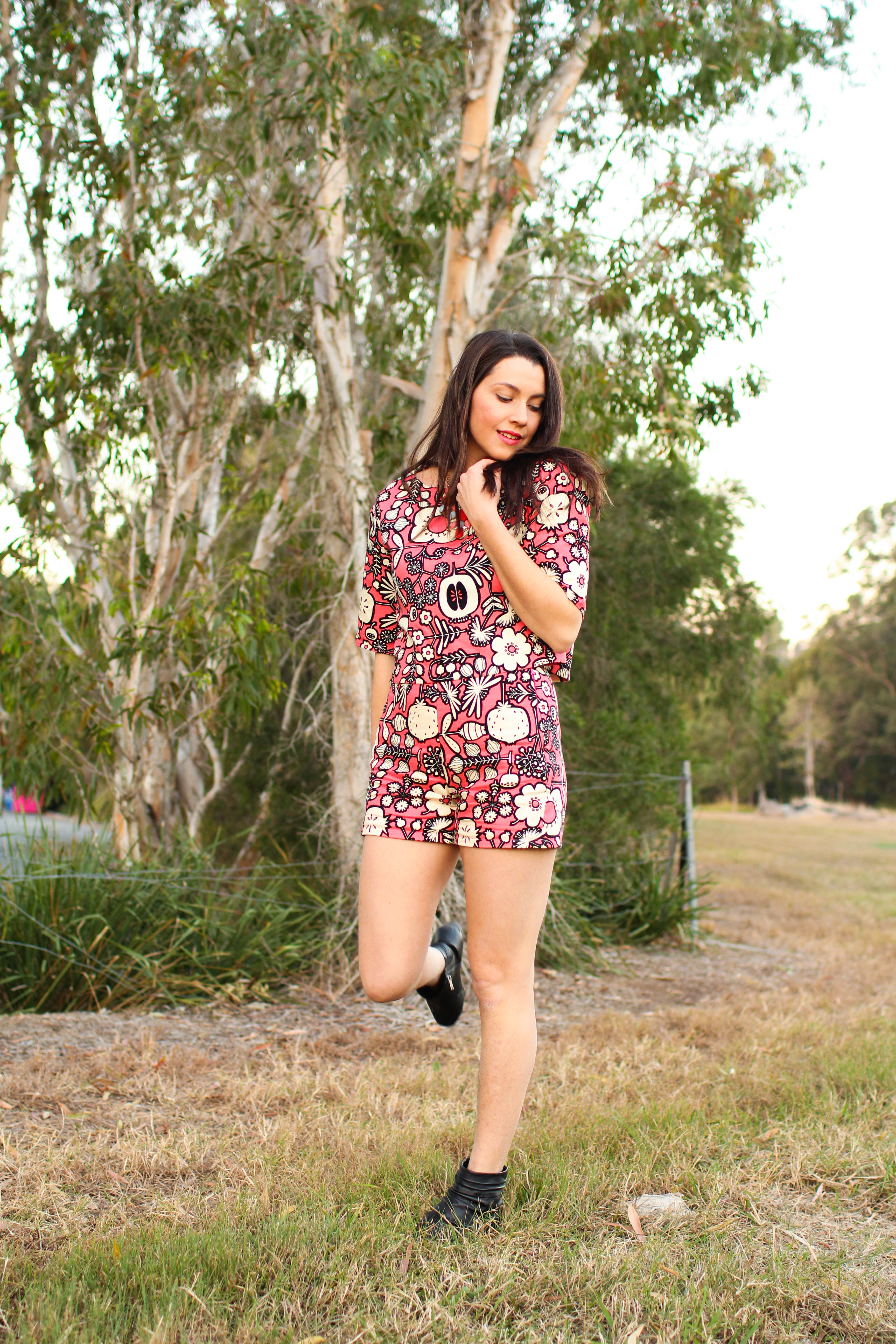 Oddly enough, the easiest part of the whole 'shoot' was the looking like a twat in public thing. Generally I try to go about it as if taking photos of myself in a field at dusk is the most appropriate thing in the world that I could possibly be doing right now. Not that I'm immune to feelings of self-consciousness. I don't enjoy having other people watching me take photos, even when someone else is behind the camera. But I've kind of realised that people are just curious and they're going to stare whether you like it or not. So give them something to stare at! Amp up that music that only you can hear, prance, dance, hair toss and generally enjoy your party for one while any onlookers back slowly, slowly away. Then run for their lives. I find going about it with an air of 'WHAT?! You mean you DON"T take photos of yourself in a field at dusk?!' helps.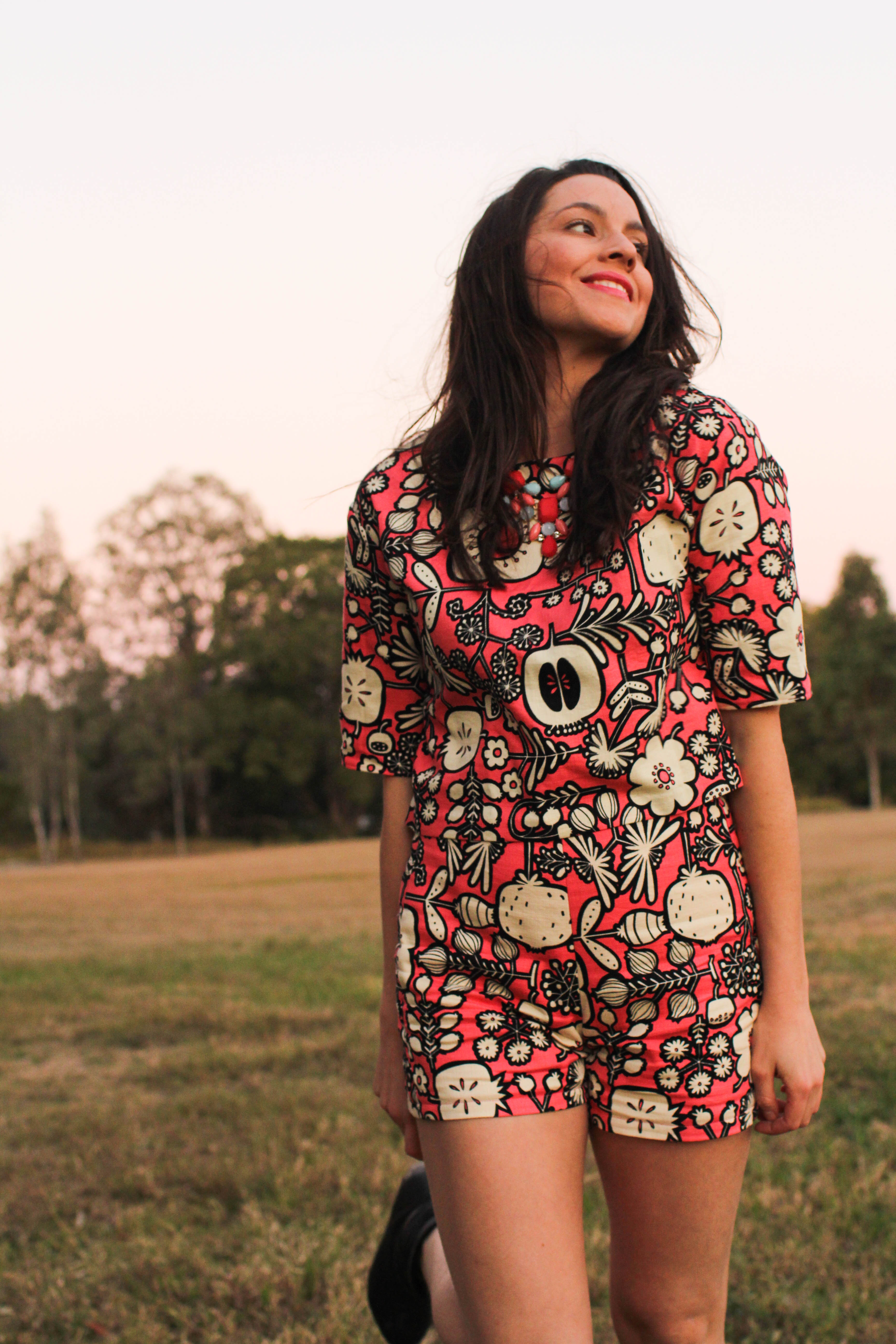 Well that turned into more than a few thoughts! I guess I found the whole debarkle interesting in a terrifying sort of way. But back to shorts. Between all the  indie companies and commercial pattern designers there are soooo many good looking shorts patterns out there. I've listed a whole lot here but even since then more have been released like Katy and Laney's Tap shorts and Papercut Anima shorts. For shorts inspiration all month long, here's the line up…
7/28 – Inder Loves Folk Art & Fake It While You Make It
7/30 – Delia Creates & Casa Crafty & A Happy Stitch
7/31 – Noodlehead & Things for Boys & Sew Delicious
8/01 – Clever Charlotte & Thread Theory & Hideous! Dreadful! Stinky!
8/04 – Girl Like The Sea & Buzzmills & Make It Perfect
8/05 – Ada Spragg & You and Mie & Siestas and Sewing
8/06 – Groovy Baby and Mama & Caila Made & Cali Faye Collection
8/07 – Skirt as Top & Katy and Laney & The Scientific Seamstress
8/08 – Petit a Petit and Family & Max California & Melly Sews