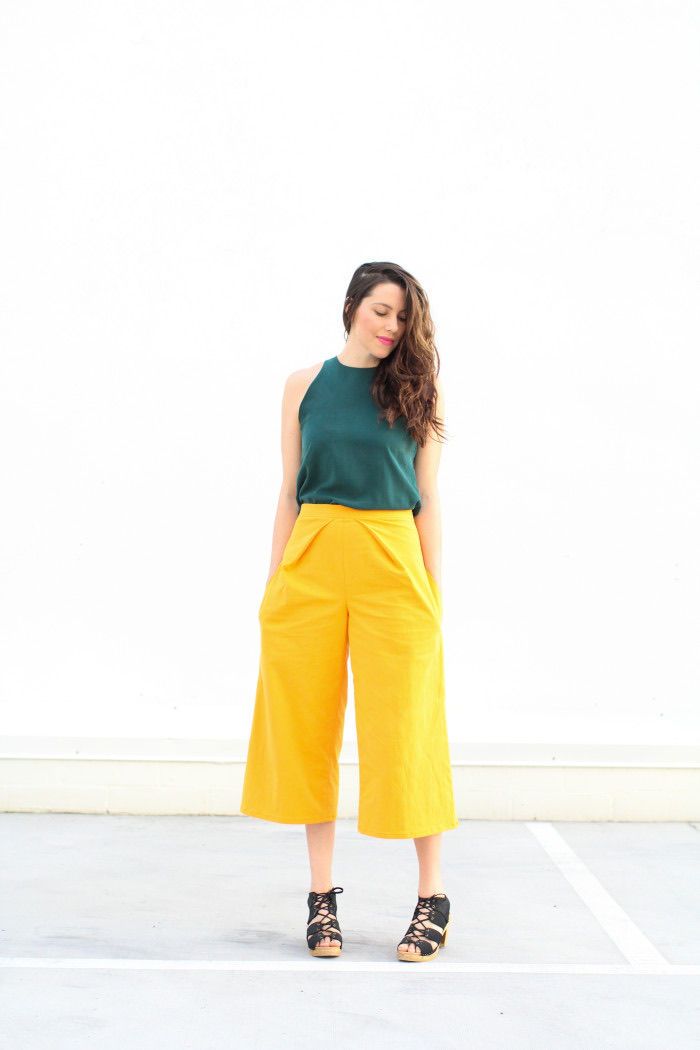 Well, hello there. Representing Australia in Green and Gold….I kid! I didn't mean to look so, um representative. I was going for colour-block loveliness not Aussie Olympicness! Anyway, I'm pretty excited to share this make with you today. A pair of culottes is what. Confused? Has fashion regressed? Well, yes and no. Culottes are back, that's one thing. Thankfully there's been some advances since last time culottes were officially 'in' and they're looking less like this  and more like the super svelt pair you see before you. Thanks, I'll take it.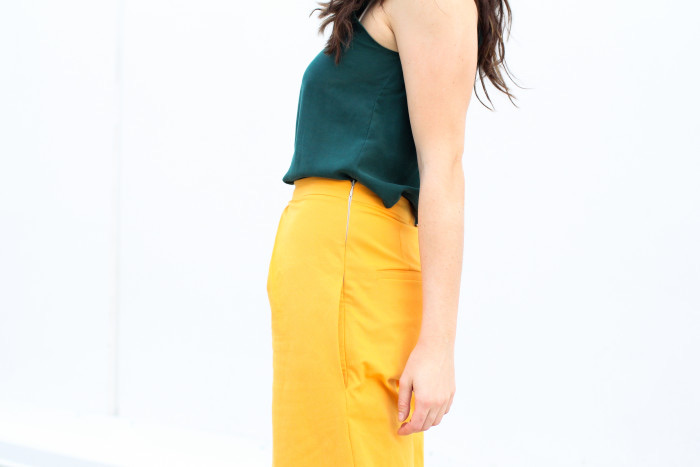 I've wanted in on this culotte revival since this pair, then this pair and then suddenly there were ALL the pairs so I did what any sew-obsessed woman would do and created an inspiration board (shrine) to keep track of ALL the pairs. What is so deeply appealing about this strange hybrid midi-skirt-long-shorts garment? Let me try and put it into words: a. Culottes are fun b. Culottes are practical and c. Culottes are…they are just great ok?! Work with me here.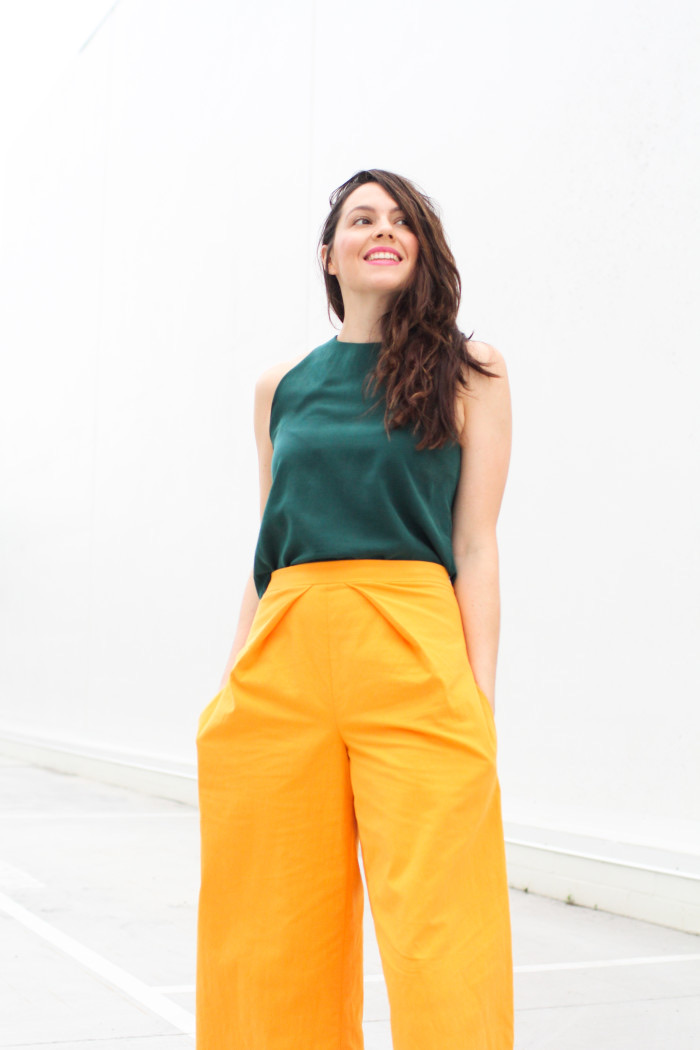 Do you find there certain elements you are drawn to planning your hand-made wardrobe? I always feel I'm drawn to interesting silhouettes. And the shape of culottes makes them super fun to play with proportions. You can pair them with a boxy crop, a slouchy sweater or a button-down shirt. I love them with a heel (or in leather), in a vibrant solid colour or a busy print! Done right, with a 'restrained' amount of pleating near the hips, they're actually really flattering (you had your doubts, don't lie) not to mention versatile. They hit that sweet spot between being under-stated feminine and utalitarian. You're almost sold I can tell…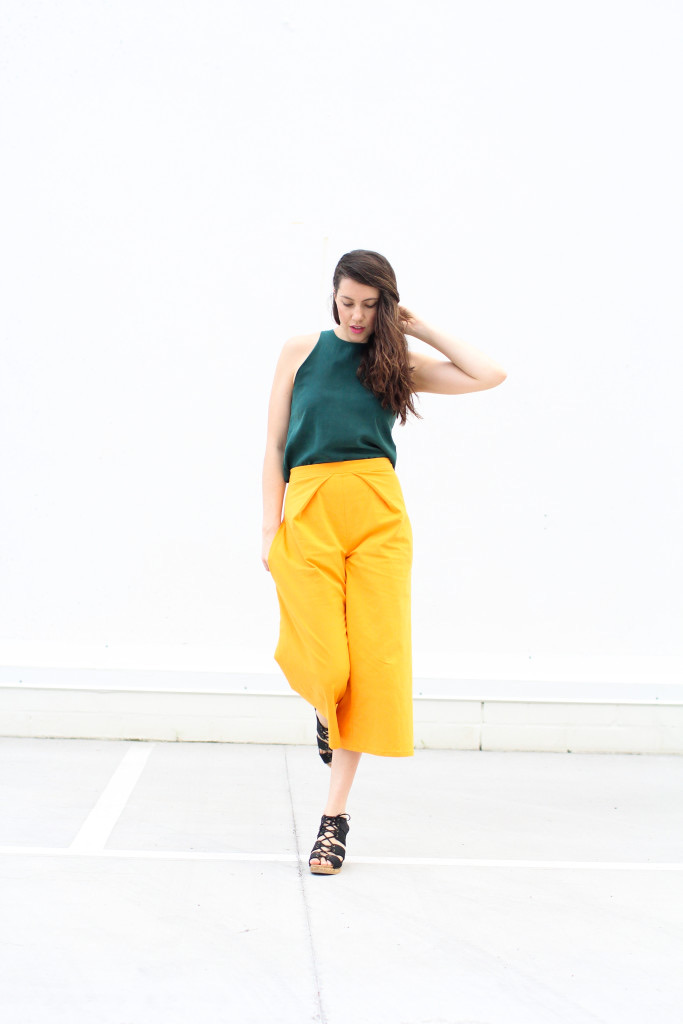 So what are are options for DIY-ing yourself a pair of culottes. I love it when pattern companies take cues from what's going on in the outside world because there are actually a whole bunch of good looking ready-made culotte patterns at our disposal. There's culottes by Style Arc, Megan Nielsen, Liels and Co., Burdastyle and Vogue, to name a few. Or you can just do what I did and 'culottify' any shorts pattern you know and love by extending the side seams. I chose the Tap Shorts by Katy and Laney, version 'B' with 'deep pleats', an invisible side zipper and welt pockets.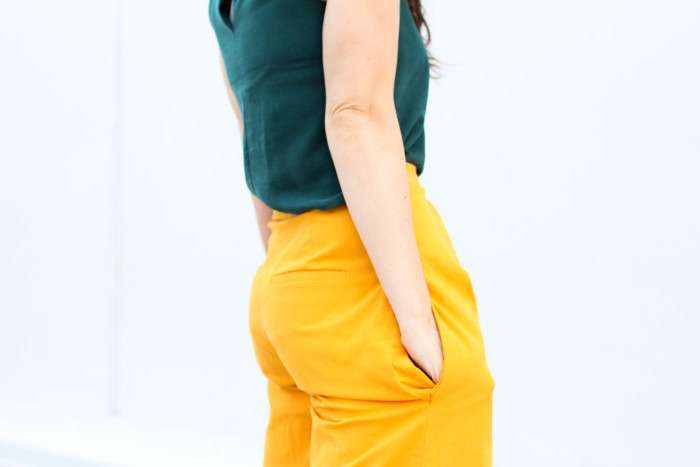 From what I can remember of the instructions (I made these in January) they were great, no dramas! The method of inserting welt pockets was different from what I've done before but they actually turned out more precise and neater than any previous welt pockets. I'll be going back to refer to it. If you're wondering about sizing, I went by the measurements and made a size 6. There's some very handy 'finished garment measurements' to go by for the waist and hip. I wish more patterns supplied this info; it takes some of the guess work out of getting a good fit. To 'culottify' the Tap Shorts, you extend the inner leg seam pretty much straight down and the side seam down and out at a slight angle.  Sounds obvious, right? Thanking Culotte Queen Lily Sage and Co. for this advice…extending two straight lines had fallen outside my realm of possible at the time.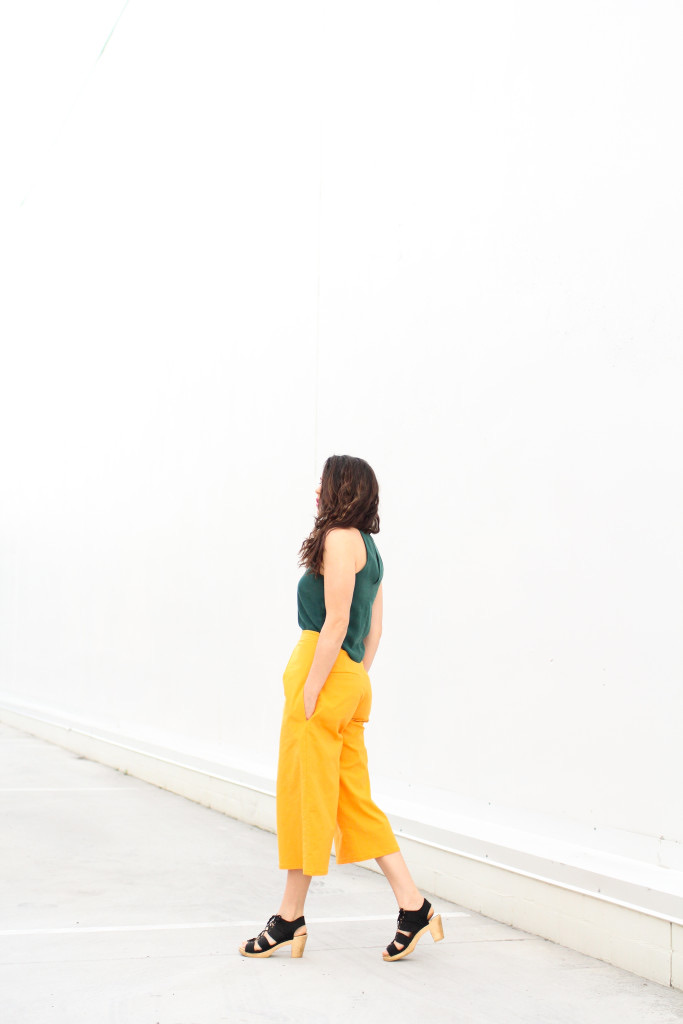 Being in the middle of a major colour-block appreciation moment, I spied this mango coloured 'Gamboge-orange' stretch cotton and knew it was destined for culotte-dom. This fabric is possibly even more yummy and yolky in the flesh and the perfect bottom weight. But, I have to say, bright orange culottes was maybe one of those ideas that seem so great the time but then afterwards you're not so sure. A friend described the finished pair as 'retro' and I went all meh on them. I don't know…they're just so ORANGE! And I poured SO much love into them. Like an insane amount of love. I actually did proper welt pockets, not fake ones. In a fit of culotte-fever I thought it would be fun to bind, with bias binding, every single inside seam. The insides are a work of art, I tell you. I also added in-seam side pockets. And lovingly installed a freakin invisible zipper INTO one of these in-seam side pockets (don't ask me how, it was a feat of spatial thinking and intuitive sewing). And at the end of all that to be a bit hmmm about them, was a bit of a kick to the sew-jo.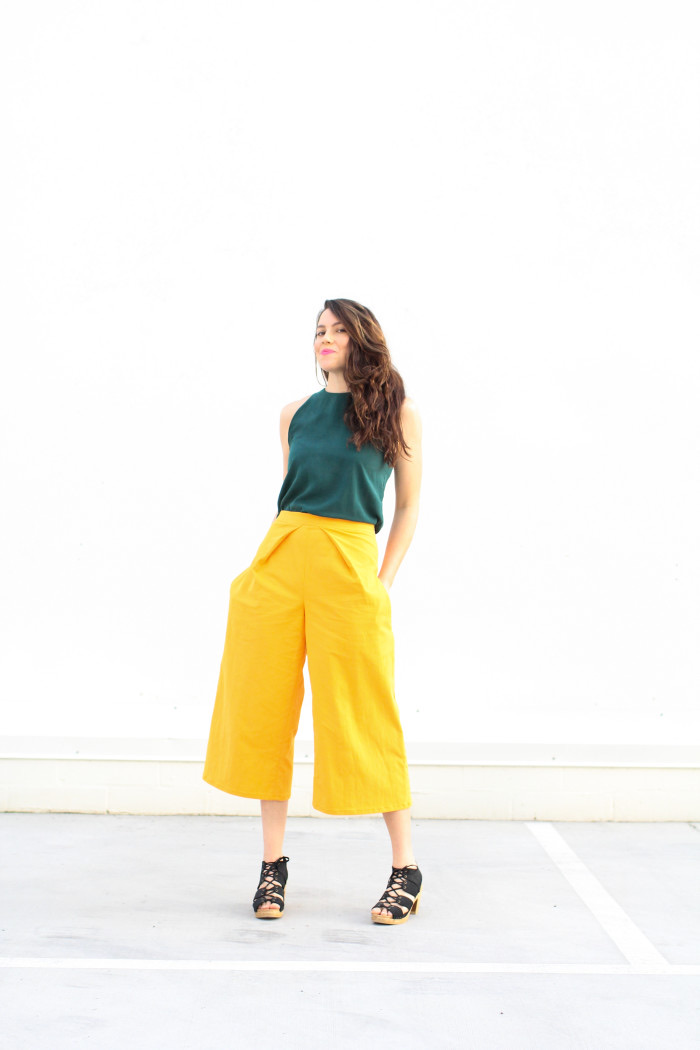 Still, I'm not done with culottes yet! I've just started thinking about cool weather sewing and culottes are definitely going to feature. Preferably with a fluffy sweater. So, what do you think…are you #teamculottes or still sitting on the fence? Admittedly, culottes are great for sitting on fences because you can't flash and get to look cute at the same time. Something to think about while you're gathering culotte-spiration and checking out Kirsty's Pineapple Culottes because…pineapple…cullottes!