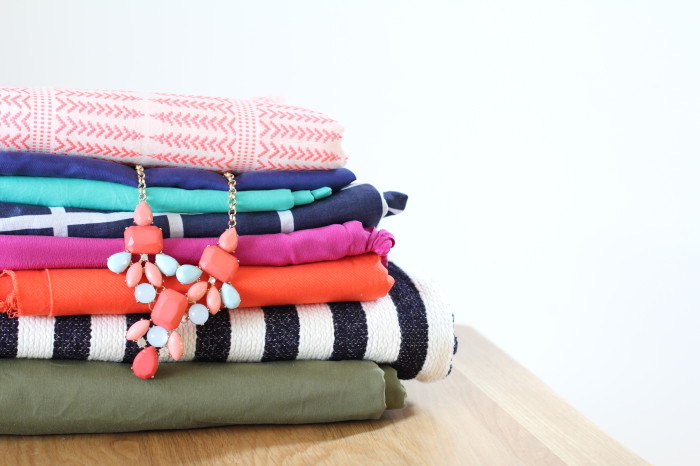 If you happen to follow my Instagram feed, then you'll probably have noticed it's all about the planning over here! The sewing planning that is. For me, the planning is almost as much fun as the actual making. I relish the whole process and it is indeed, turning into a process. Not to say I don't enjoy adding to the hand-made closet piece by piece, but I love love LOVE the idea of churning out a little mini collection each season, just for fun! It's something I've been wanting to do for so long, after the original inspiration of seeing Jen's seasonal wardrobes start out in illustration form and come to life over a few months. I attempted a seasonal wardrobe this winter. I made plans, I had sketches, I had swatches. And by the time my winter wardrobe was finalised…it was Spring! Ahem, so, this seasonal sewing thing is rather tricky I've decided. Seasonal Sewing Confusion Disorder (SSCD) is what's it is. Being out of sync with the Northern Hemisphere, I feel like it's this battle between sewing for the season I'm in or sewing along with the opposite seasons. Where I live, in sunny Queensland, Australia, the seasons looks like this: 9 months of warm weather, three months of ""winter"", I use the term loosely. Right now it's Spring, so I figure I'll just sew for Spring / Summer up until late Jan / Feb and then start the cool weather sewing after that in Autumn. For this Spring, I've come up with 6 outfits: 12 pieces in total. Which sounds like a lot but it will be spread over a few months, so I'm aiming to sew and blog two outfits or 2-4 pieces a month. Allowing some lee-way here in case of dem curved balls.
The idea of actually sticking to sewing plans and following them through is a new thing; there's nothing so fun as spiting your own queue to sew something not in the queue! I thought maybe I'd feel restricted, or 'locked in' by these plans but quite the opposite. I'm very very excited to be approaching this bunch of hand-mades with a whole new way of thinking (who knew sewing could be so deep). As a statement piece kind of sewer at heart, I live for the thrill of sewing something unique and spectacular. But I also not so secretly admire and covet the hand-made closets of fellow sewing bloggers with their more sensible, thought out and very wearable items! So, for my DIY Spring Closet, instead of going on autopilot, I've been thinking about what I could sew that would build on what is already in the closet. Who are you and what have you done with Sophie?! What it looks like is reigning in the statement pieces and boosting up the solids (solids being as close to staple pieces as we're ever going to get here). Out of 12 pieces, 6 are prints and 6 are solids which feels as unnatural as a machine needle through the fingernail, but we're going with it. Without further ado…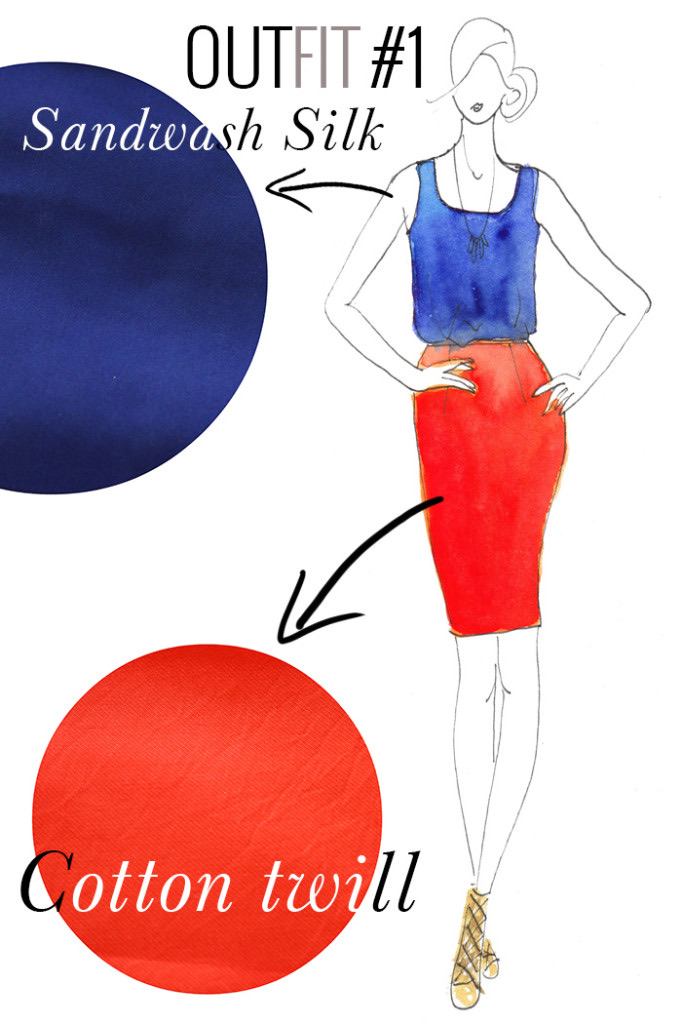 First up, two soliddddds! So, this stretch cotton twill was always going to be a bottom half piece. I was thinking shorts initially, but then it got fashioned it into a pencil skirt in front of the mirror and…phwoar! For a pattern, I'll probably return to the Burdastyle Jenny skirt but add a good 3 inches so it hits below the knee. I especially love the silhouette of a fitted skirt with a billowy tee or tank and so I've been longing to make a simple singlet out of this beautiful cobalt sand-wash silk. As for a pattern, still undecided. I love the dartless-ness of the Wiksten tank but I'm imagining narrower straps and less flare at the hem, so it can be tucked into said skirt. Possibly the Eucalypt tank? Taking suggestions…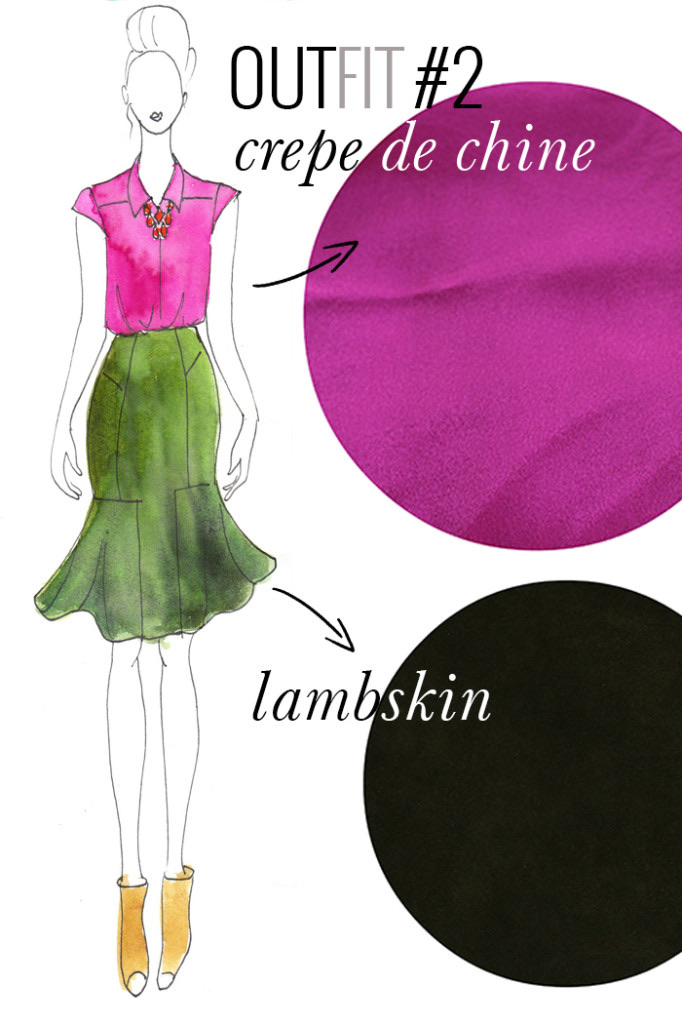 This fuschia Silk CDC was always going to be top half! This is my color. MINE, I tell you! It makes me look alive. Plus it goes with many other bottoms in my closet. So I'm feeling the pressure here to pick the perfect pattern. And I think I'd like to make a top similar to this one. As for the pattern, a dartless version of view B could be close but the collar needs to be shorter and higher and I'm not entirely sure about importing a collar from elsewhere. Maybe there is another pattern out there that would be closer straight from the pattern? Eeeeee, the skirt! So excited for this one. I used some of my Project Sewn winnings to purchase a couple of hides of this olive green, super svelte lamb leather. It smells funny, but it's lover-ly. And because I love this skirt, Vogue 9031, so much, I'm making a leather version! Again, going for the fitted skirt + billowy top half…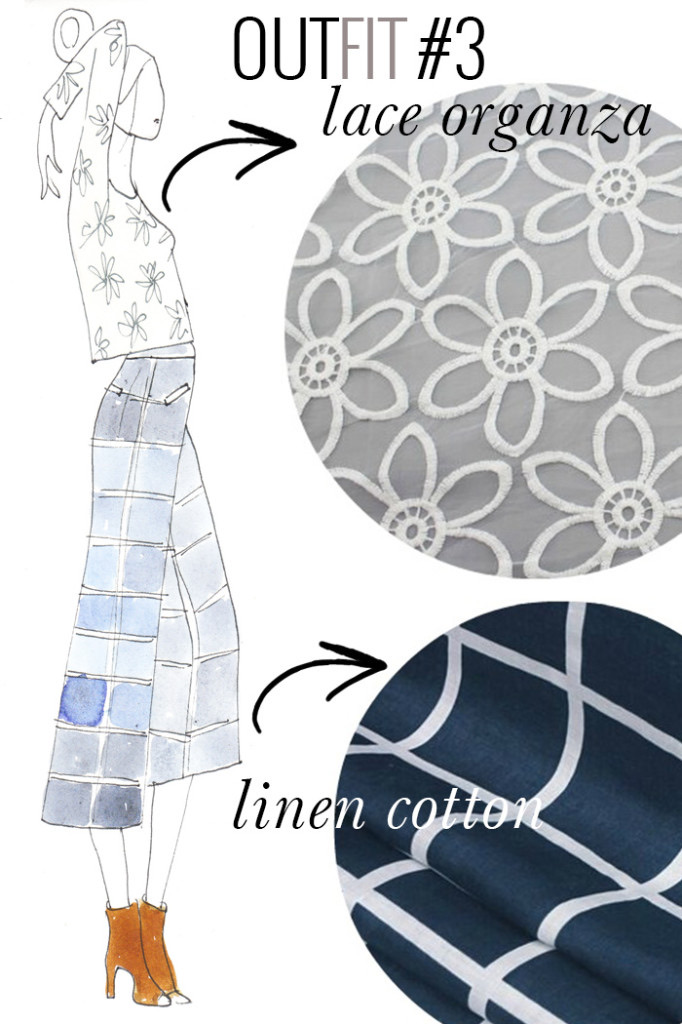 CULOTTES! CULOTTES! CULOTTES! Okay, it's on. The Culotta-thon. I had a great pair of Culottes once, when I was 18. They were bright aqua, stretch denim and they fitted perfectly through the butt and hips before flaring out below. Where are they now? I do not know. But what I firmly believe is if you're going to embrace this Culotte trend and you don't want to join the ranks of the poofy puffy pants brigade, then they need to be fitted through the hips and waist. You've already got all this extra volume in the lower leg, do you really want to be adding extra volume through the tummy / hips with pleats and other festivities? I don't! You saw how these pants turned out. Now imagine them with even more volume down below. So no, the style of culotte I am going for is this, this and this. Made up in this crazy grid print linen! As for a pattern, I've got about 5 or 6 vintage culotte patterns from the 70's sitting in my Etsy cart and they all kind of nail that fitted-through-the-hips, flare-out-below thing. Okay, I'm not going to lie…my entire inspiration for this outfit is this silhouette here. It's so fun and so fresh and I wants it. So, for the top we're going sheer!  I'm thinking the Kanerva button back shirt. Yes, it's entirely a novelty outfit but I have a vision and I'm a slave to it!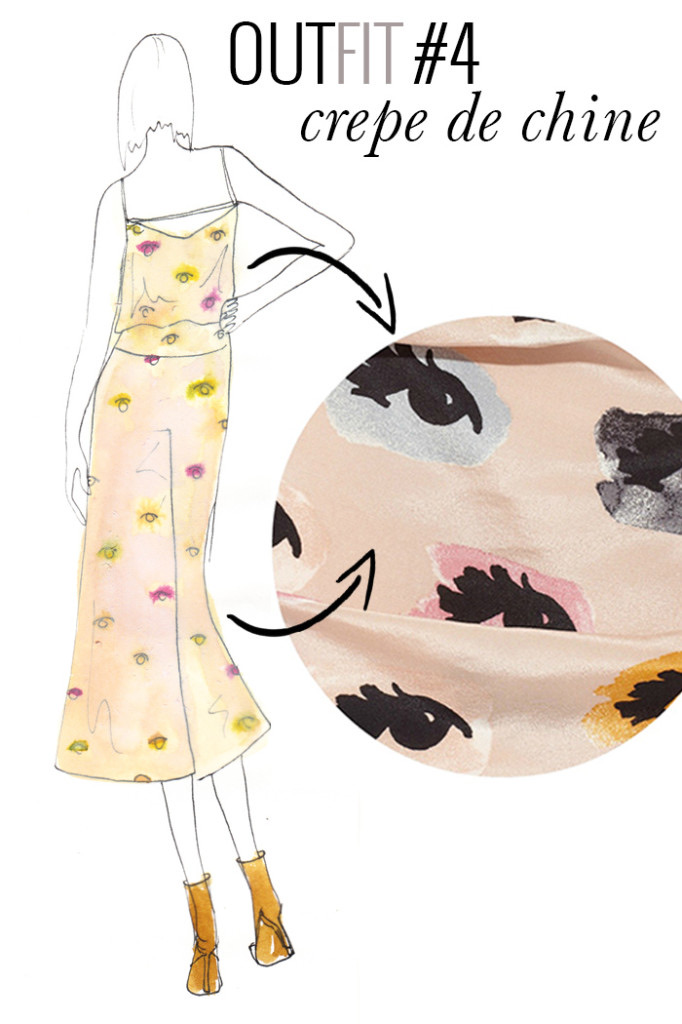 Now I think about it, it was pretty cute to assume I'd be done with matching sets just because Two-Piece Set month had finished, wasn't it?! But how could I stop? Not after I happened upon possibly my favourite fabric find ever…the exact eye fabric from this Moschino dress. It was totally random, of course, on Etsy. I was looking for printed denim. And even more random because I've pinned this dress and this skirt so many times, each occasion thinking how amazing the fabric was, wonder if there was any left in the world, anywhere? Mwahahaa! So, I have 5 yards and my inspiration is THIS amazing two-piece. I've been giving a lot of thought to which patterns to use here, since I want to be able to wear them as separates, or possibly together, thought not sure where. School drop-off? For the top, I'm knocking off a RTW top, with spaghetti straps, a slightly flared hem and no darts. I've copied it once before and it's a super flattering shape that I wear all the time.  Although I have my heart set on culottes for the bottoms, I wonder if the closet will reach culotte-saturation and I'm also not sure how they would look in something flimsy and silky. Maybe like pyjamas? Other ideas were some kind of crazy pleated skirt like the Anne-Marie pattern or even a draped pencil skirt. Would love to hear your thoughts, speak now…the top half is done!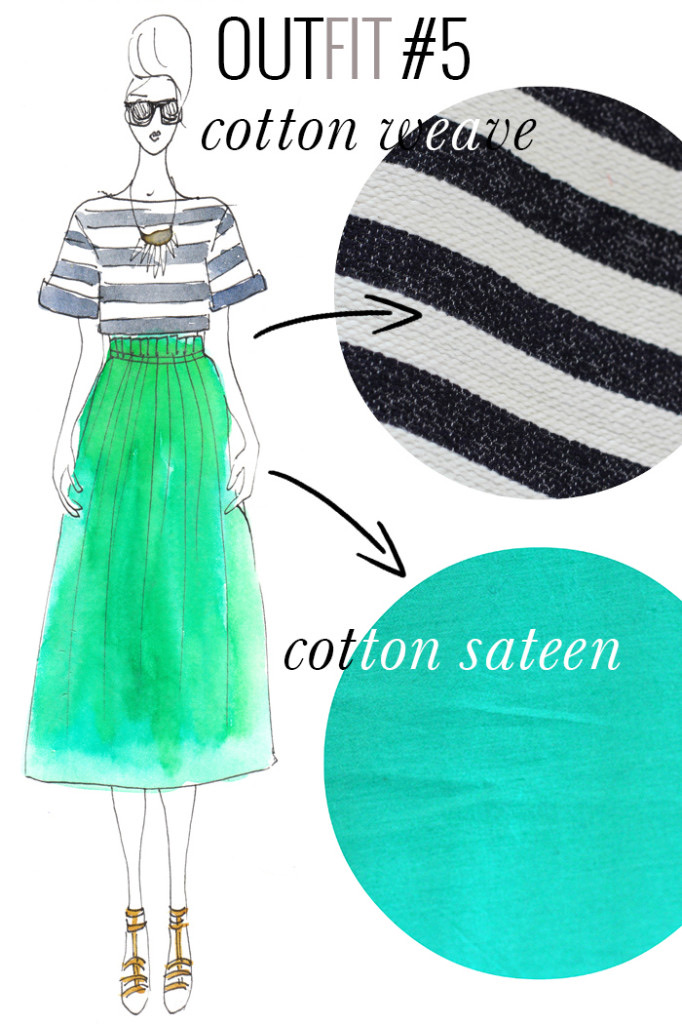 This boxy crop + full midi skirt silhouette is a new one for me. I keep seeing it everywhere and there's just something about it! It's so feminine without being toit and looks killer with some statement heels, see here! So, for the top, I'm cutting into this heavily woven cotton and either going to make another modified version of Simplicity 1366 or try something new. For the skirt, I'm thinking the Lumme by Named patterns. The sateen is quite thin, so I'll probably back it in something to enhance the color and avoid flashing.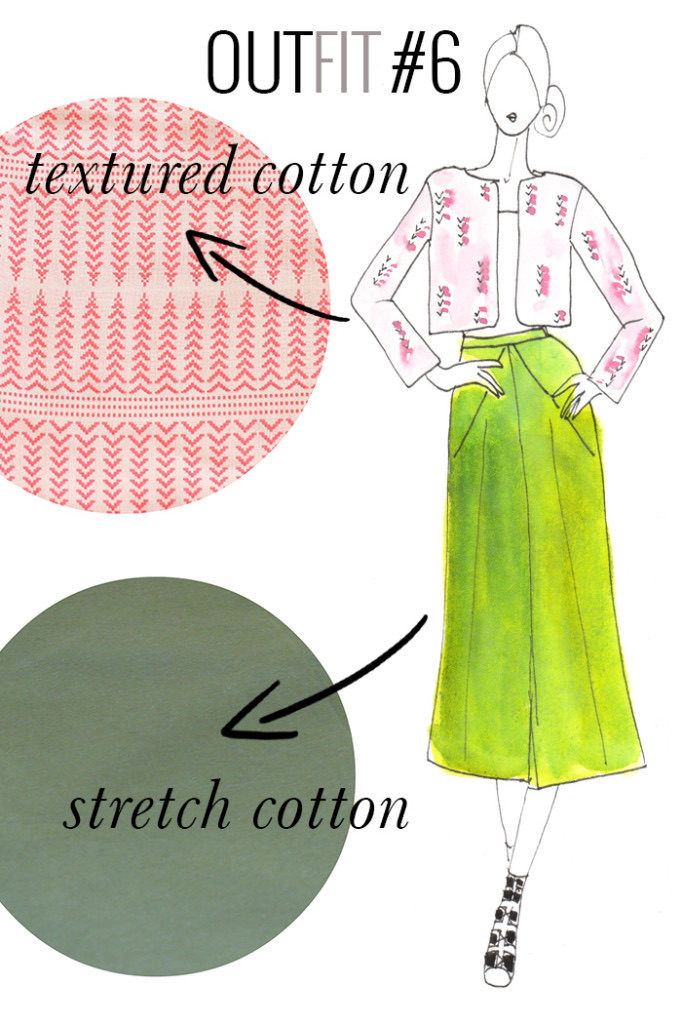 MORE Culottes! And yes, the color in the sketch is a very inaccurate representation of the actual fabric. So, this khaki stretch cotton, was the very last addition to this little collection. I actually bought it several years ago, originally to make a Minoro Jacket. But when I held it up to the mirror one fateful evening, wrapped it around like a giant 90's maxi skirt and pulled it through the middle to look like pants, it actually turned into the most awesome pair of structured culottes ever! And so it was decided. I'm actually thinking for this pair, I may start with the Katy and Laney Tap Shorts as a base and make use of those ever-so subtle diagonal lines. This little cropped jacket I am royally excited about. I've got a few inspiration picks collated here on my Spring /Summer Sew board, but in particular this pretty one! I've been wanting to make up the Bernadette cropped jacket for so long, just waiting for the right fabric. And then I found this amazing embroidered FLEURO (my camera does not do fleuro), TRIBAL cotton at Spotlight, of all places! Now I'm trying to source some fleuro piping or fabric to make into piping. Either that or metallic silver. Gah! So many decisions.
What are you sewing this Spring / Autumn?