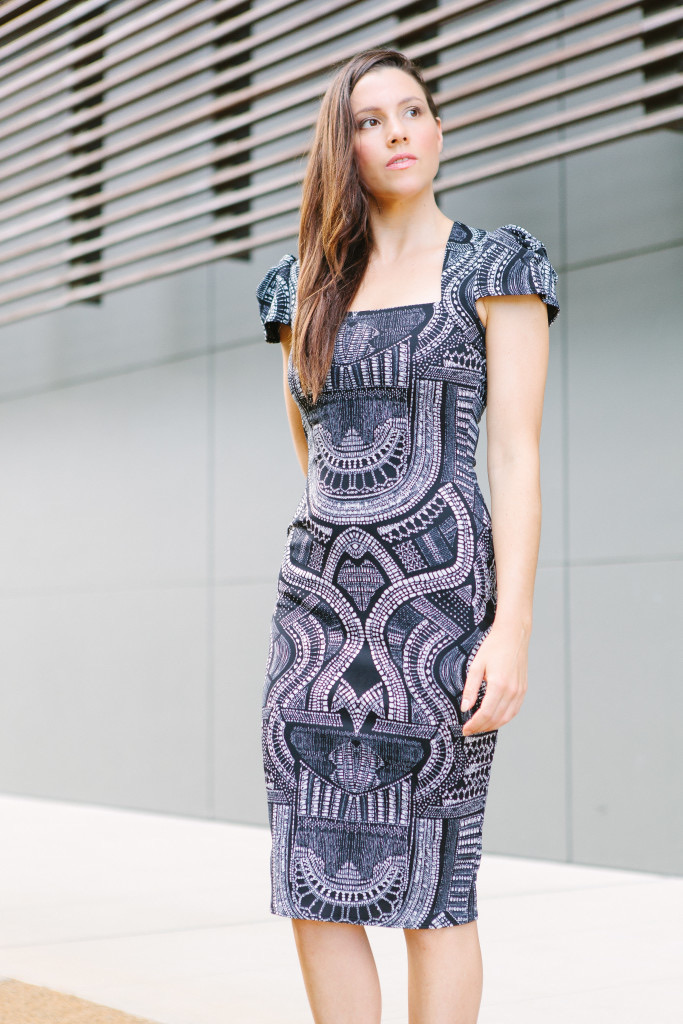 Well hi! Did the new year begin already? Its been a sluggish start and I admit I have a huge backlog of hand-made lovelies to share, starting with this one, a second Vogue 8280, my beloved, aka the Roland Mouret Galaxy Dress in a particularly galactic looking fabric. I can say straight up, that this project was a queue-spiter (aren't all the best projects?!). I was part way through my first attempt at sewing a capsule wardrobe, for last Spring, which had started giving me the shits when I realised I'd bitten off way more than I could actually sew in a season. If there is one thing I do well it's setting the bar un-reasonably high and getting upset when I can't meet said expectations. Still, the Spring Wardrobe wasn't a complete failure, I got about half of the things sewn, which I will share over the coming weeks. And I did also learn a lot about how I want sew and how much I can realistically produce in a season without the sew-jo taking a beating. It is not twelve items in three months, not it is not. More on this soon.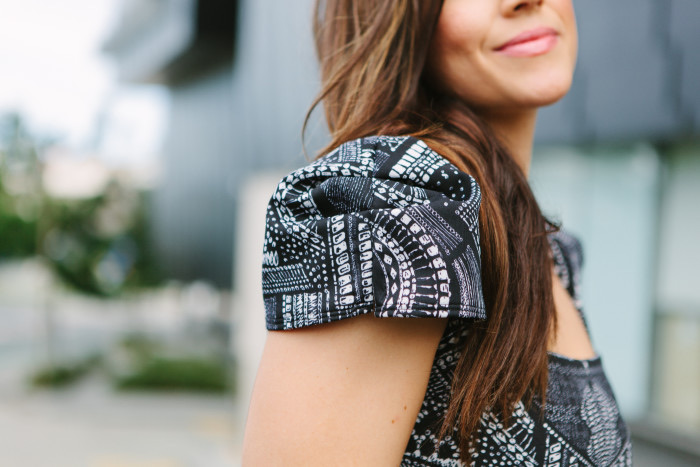 Now, the story of this fabulous frock is a great one! Sometime last Spring, I received a very lovely and random email from a woman in Australia, announcing she had set up an online store, Designer Fabrics Australia, to sell off her stash of beautiful gourmet fabrics acquired from around the world and could I please help her get the word out to the people of sew-landia! But of course. The timing really couldn't have been more perfect with the Brisbane edition of sewing get-together, Frocktails, coming up and the fact that I was desperately needing a sewing pep-up in the face of Perceived Spring Wardrobe Failure. As all the best relationships start, Liz sent me some fabric and I vowed to love and hold it forever more / make it into something spectacular. Which was not hard considering it's freaking intergalactic, geometric SCUBA! Because of the nature of selling ones stash, the pieces listed at Designer Fabrics Australia are mostly once-off cuts, with enough meterage to make a garment but no more once its gone, so if you see something you like you have to pounce. Alas, there is no more of this particular fabric but there are new pretties listed weekly by designers such as Anna Sui, Oscar De La Renta, Isabel Marant and friends.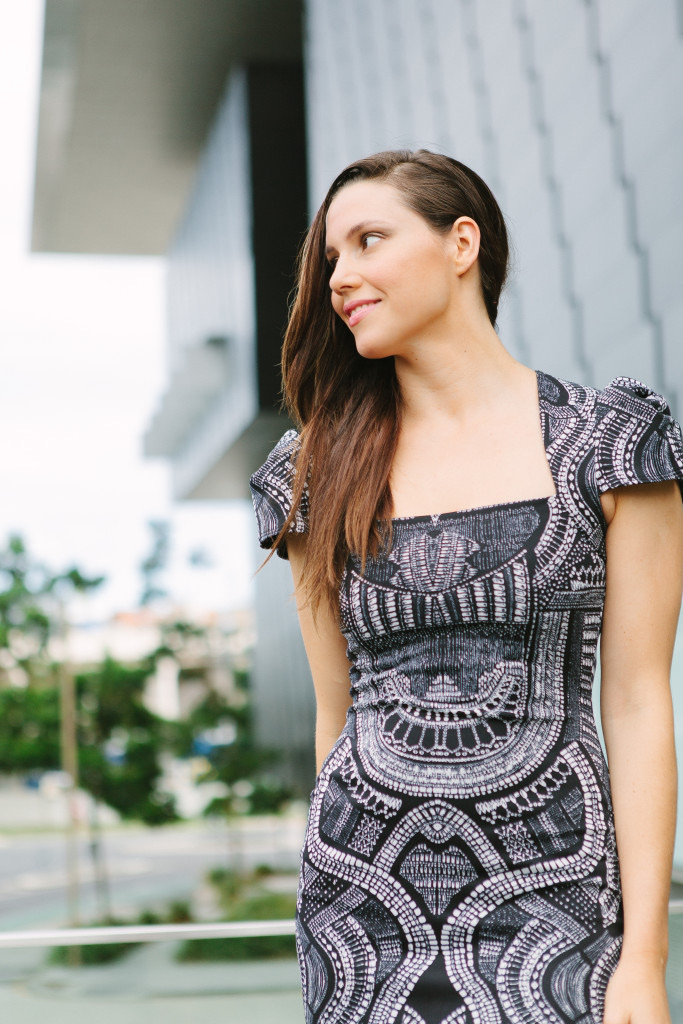 Scuba, aka, Neoprene, faux wetsuit material is pretty exciting stuff to sew with. It's thick, but not too thick, stable and co-operative (I feel like a dirty one-liner belongs here but I'm all out of sass today) much like a ponte knit. If you want to know more, I preached its joys with my previous scuba project here. And I knowwwww its a novelty and probably one of those trends we're all going to look back and laugh at in the next few years still I have not had my scuba fill, it really is so fun to play with. Quite a few online fabric stores are stocking scuba, like Emma One Sock and Britex Fabrics among others. The thing I love is that it holds it shape perfectly and makes for super plumped up pleated sleeves like these ones. Volume Baby!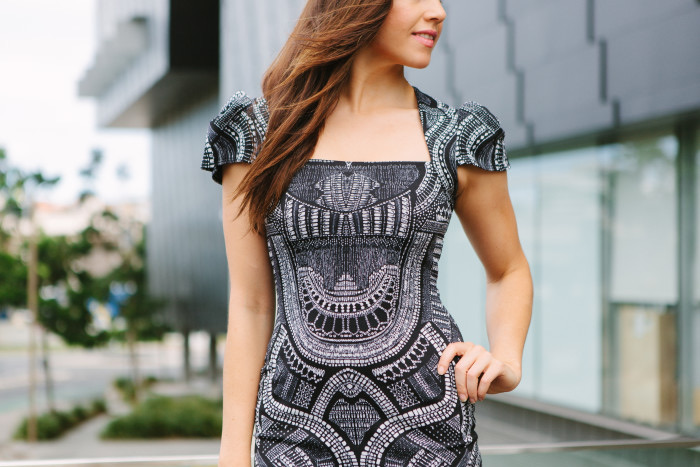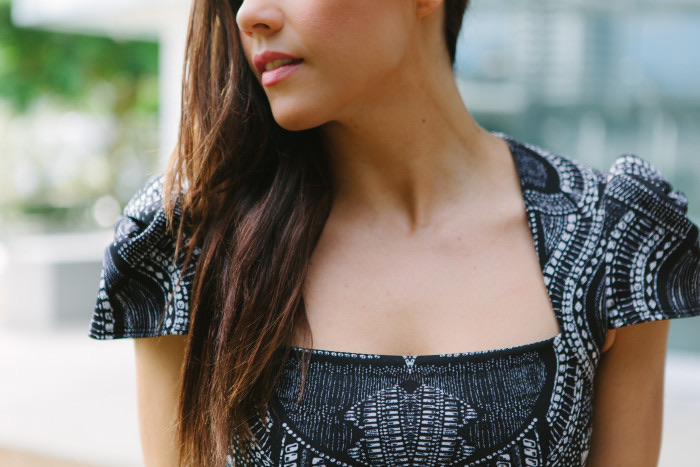 The most exciting bit of all was getting to tap into my SEWERS INTUITION!My first Vogue 8280, I followed the instructions religiously as I tend to do with most things because I get scared to go off the path. But because I was feeling wild and unchained and using a stretch fabric I figured I would just size down to a 10, remove all the darts, join the bodice and the skirt, leave out a lining and eliminate a zipper. And tie it up with a bow, honey. It was all 'I'll just tape this here, pinch that out there, see if this will join up here' and so so rough. I felt like I was on a reality sewing show. Will she make it? Will it work? There's just so much potential for things to go wrong when you're doing a hack-job. The whole time I felt like I was following the quiet guidance of that little inner sewing guru, the one who chimes in at helpful times with things like: ' Girl, do you REALLY want to place that uterus shaped print right THERE?'.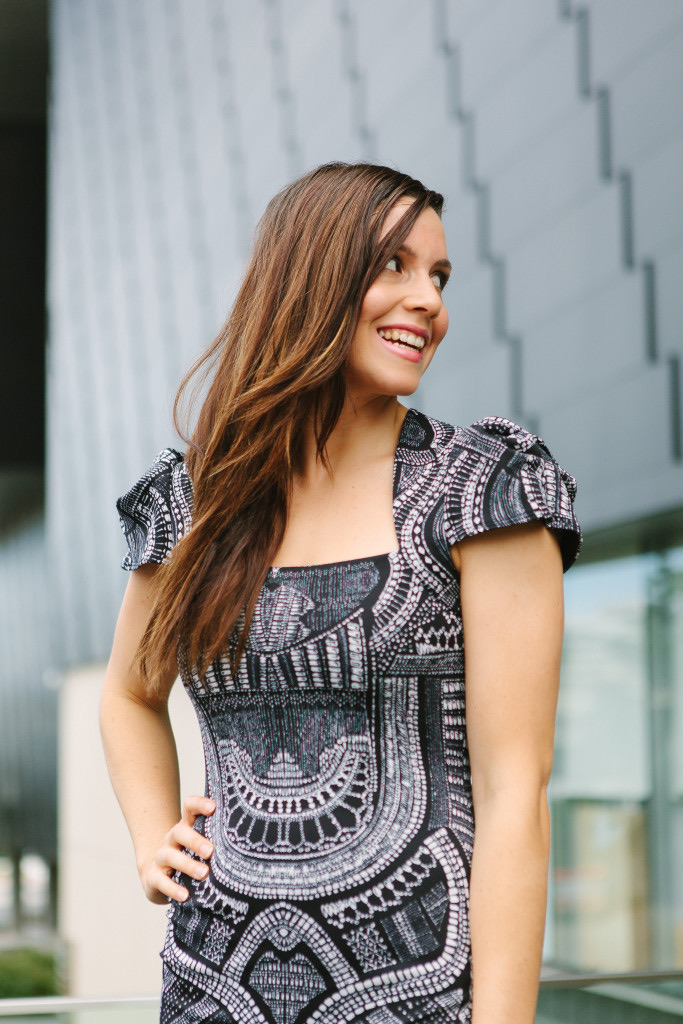 Without a lining, the whole construction changed and the instructions became even more useless than they were to start with, although they were absolutely necessary for the sleeves, which have a little contraption underneath for extra puffed-up-ness. My first Vogue 8280 took the good part of a week. Condensed, it would still have been a day or two worth of sewing. Sub in scuba and it sewed up in an afternoon and a night and mostly on the overlocker. I then switched over to the coverstitch for the hem, sleeves and backline, which sped things up again. Anyway, suffice to say, there are days when you become your own sewing legend!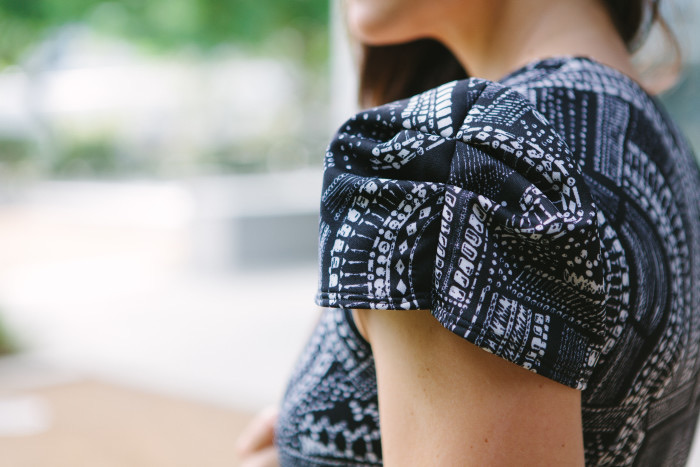 Photography By Daniel Maddock