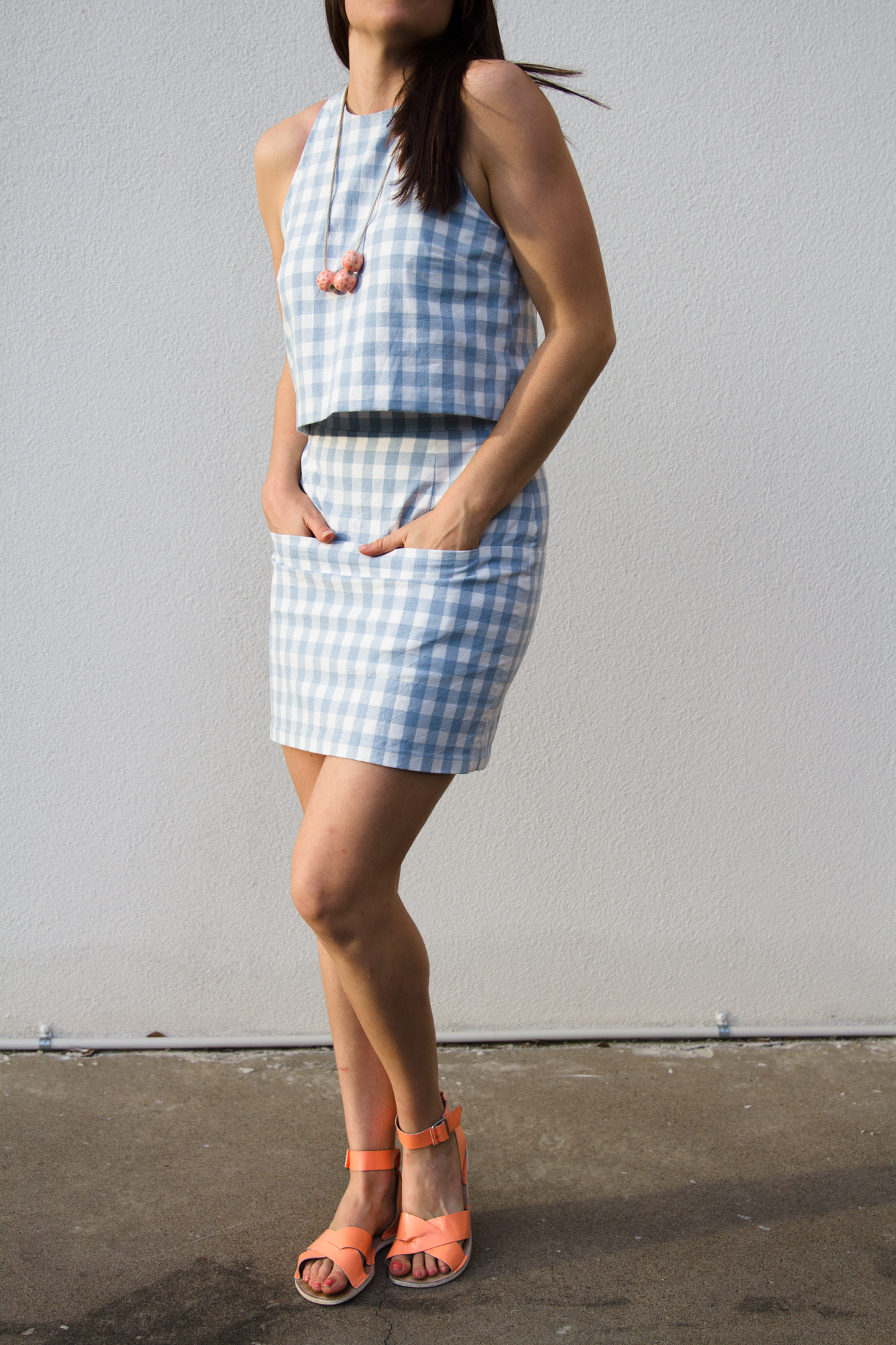 Fashion is a funny thing, hey?! Take it back a month or two and you couldn't have paid me to leave the house in a matching set. Or you could, but it would have cost you a lot of fabric.  And here we are, me in my first edition to Two-Piece SET-ACULAR feeling pretty fine and dandy and you, probably asking Two-Piece Set-WHAT-ular and wondering if you've stepped back onto the set of Clueless. So, let's recap. In This week's See It Sew It post, I admitted a growing fondness for this 90's throwback trend of matching sets, or' Co-ords', and invited the Blogosphere in for a Two-Piece Set-acular! And yes, I was a leetle bit nervous that it might be a party for one so I'm pretty flippin happy that you guys want to play along! Literally tongue hanging out to see your sets. As for a time frame in which to sew & blog / instagram your makes, I'm declaring August (or between now and then) official two-piece fiesta month!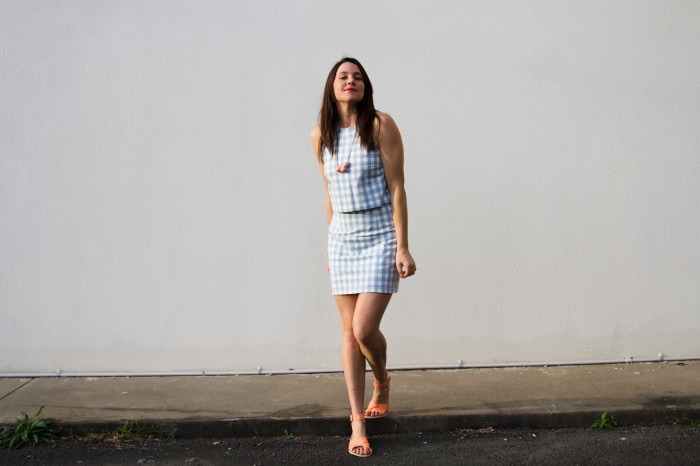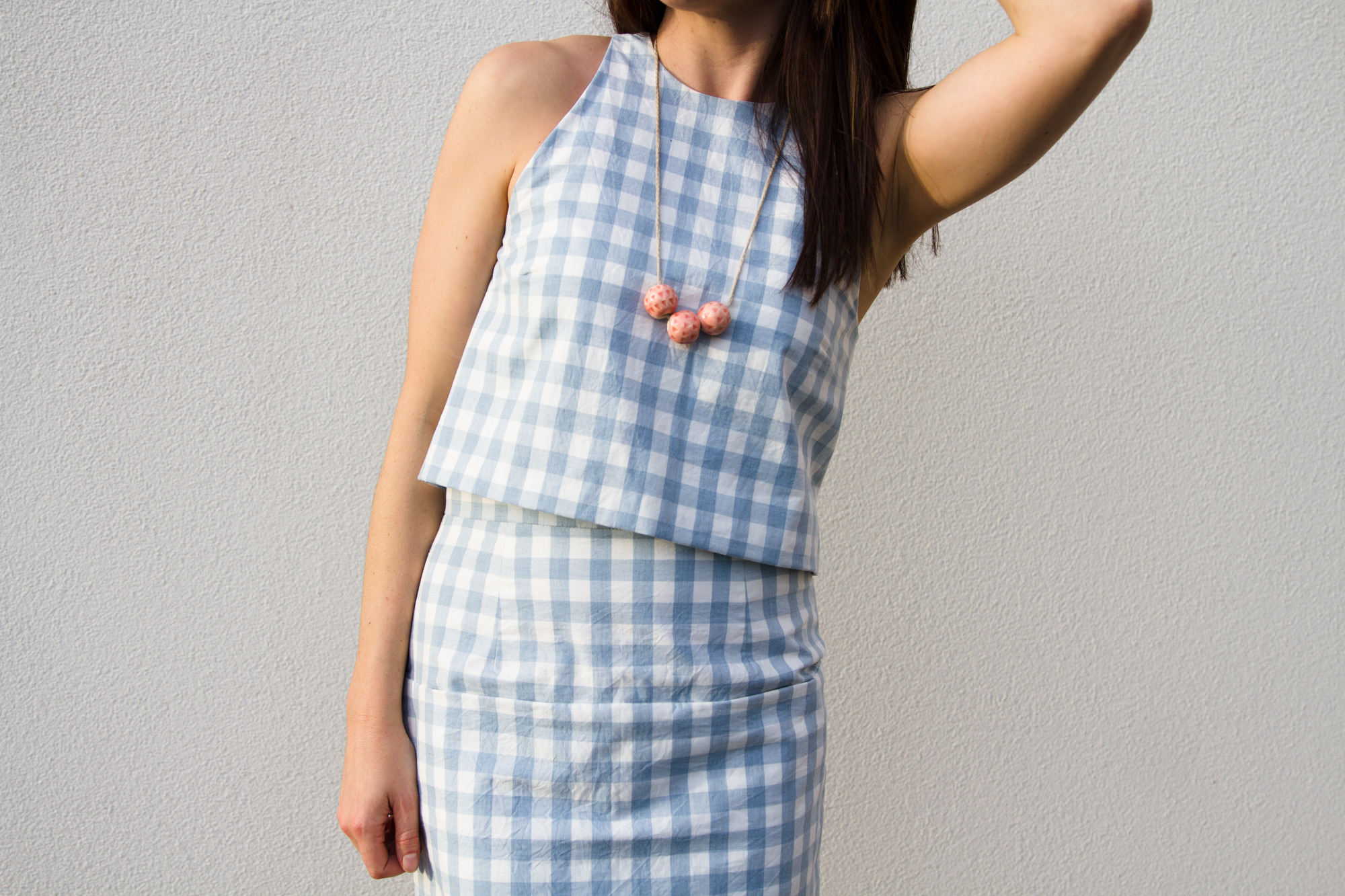 Ok, so I mentioned here that why this trend is so much fun is that pretty much anything goes. There are all sorts of silhouettes that make for rockin two piece sets and I got all inspired and sketched up some combo's that work with suggestions for sewing patterns you could use. This is a the perfect time to experiment with new shapes & styles OR return to those favourite sewing patterns, the ones you know and love and feel good in, which for me are these two: the Hannah Top by Salme patterns, previously sewn here, and Vogue 1247, from this recent polka+ floral combo.  I think these two patterns work together as a Two-Piece Set because there is balance between the snug-ish skirt and the loose boxy fit of the top. The skirt is relatively short but the top has a high-neck, which all make me feel comfortable and not 'exposed'.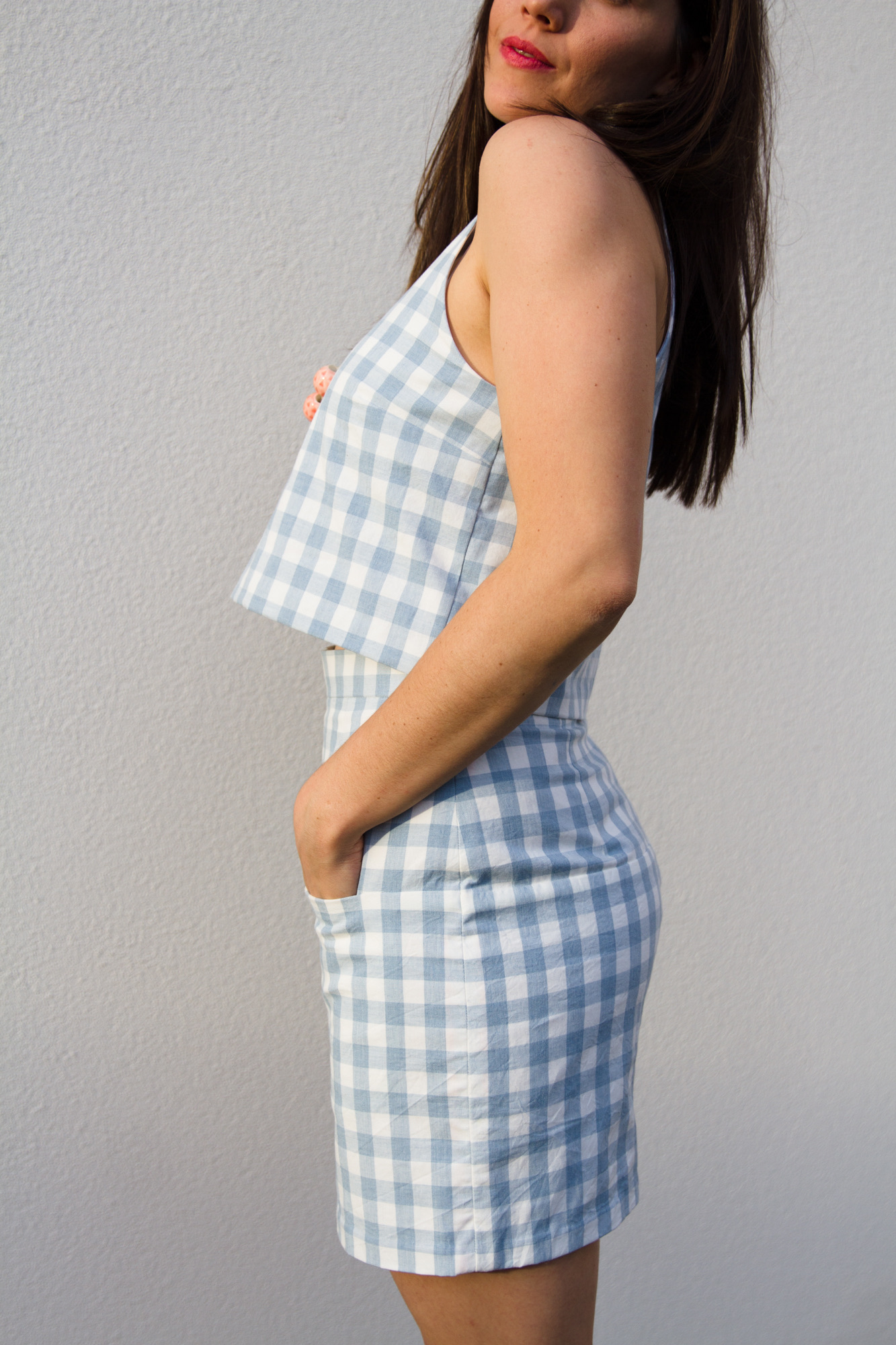 How LOUD you like your two-piece sets is a matter of personal preference. I think this one is pretty tame really and proves that can do this trend with subtlety too. It all has a lot to do with the fabrics you choose. This print, a plain cotton check, is not something I'd usually go for except that I had a vision of it becoming something a little left of centre. It's not a fabric you'd expect to see in a 90's style crop or a two piece set, which is why it's so FUN! But both pieces have slotted so easily into my closet as separates too.  The top often gets worn with this pencil skirt, while bottom half looks cute with a white tee & my RTW navy blazer. Together they've made my hand-made closet more versatile, especially because the print is kind of neutral. So,  a great idea before you start on your two-piece is to consider how it will mingle with the other items already in your closet. And when that sad day comes when no-body is wearing matching sets again, you don't have to retire it!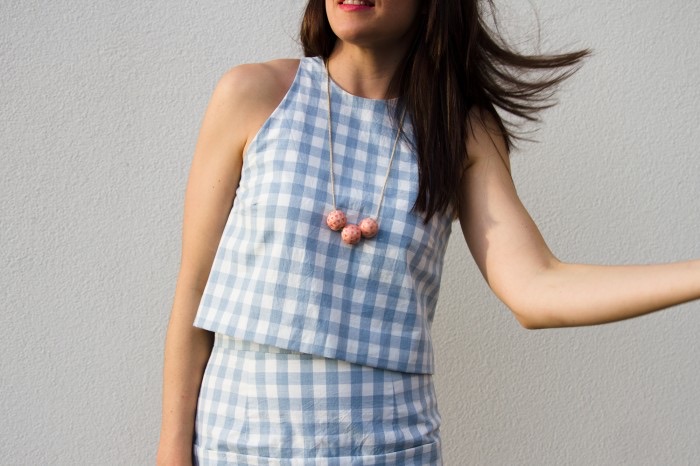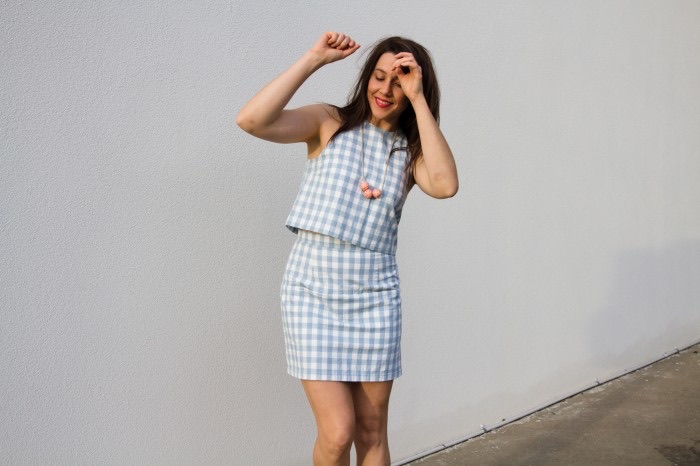 Top // Size? 10 Mods? Extended the neck facing down into a full lining for more stability (fabric is quite light). Loved? The facing makes for an uber clean finish around the neck and armholes. Just cos? I made a matching self-cover button which didn't make it in the photos & lovingly hand-tacked the hem.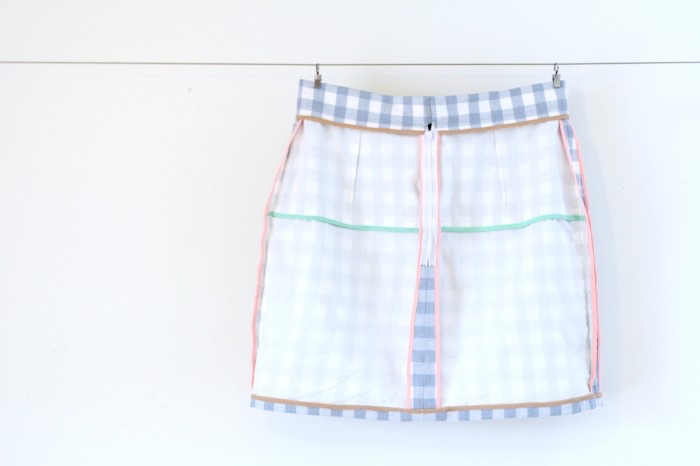 Skirt // Size? 12 Mods? Same as this one, sheered a little off at the bottom side seams and back seam for a closer fit. Also, added the extra length I needed this time to make a proper hem. As well as a little extra length to the waistband so it overlaps lol. Loved? The way it's all put together, especially the joey pockets and the insides, with their pretty binding. This time I used some left over bits in my stash and I like the effect, even if it makes me hungry for gelato!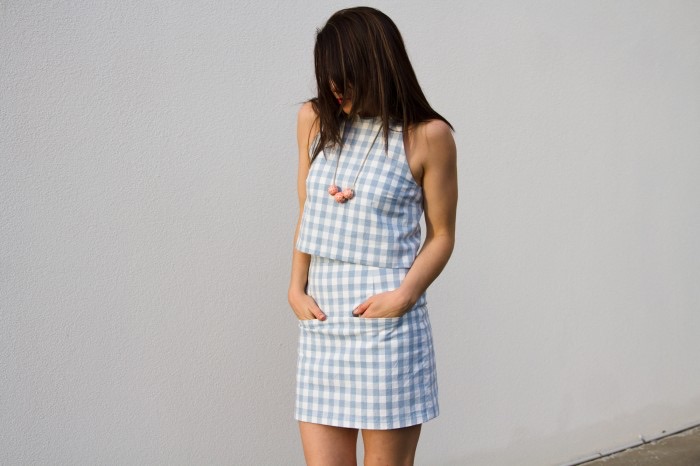 So, what do you think? If you'd like to join in the festivities but want some more inspiration, there's whole lot of matchy matchy goodness here and if you're button-happy, feel free to grab yourself one here. There are even two-piece sets out in the blogosphere by a few girls already on it and yards ahead obviously: a summerlicious set by Sallioeh and this lovely by Madalynne.