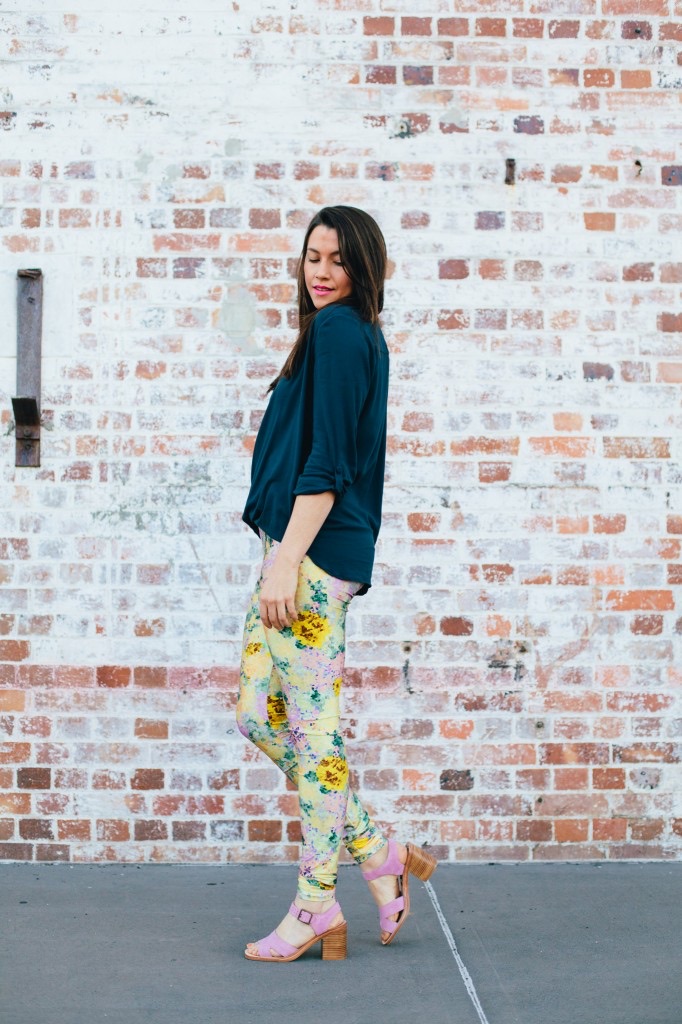 There's nothing, I've decided, quite so annoying as being restricted in some way by the clothes you are wearing. Whether they be too tight, too short, too good or too silky, it's all bad. Now, if you've been here for the ride thus far you may have noticed I have a small penchant for silky things, specifically, silks. But here's the thing…many of my most favourite silk items hang, rarely worn, in near-mint condition in my closet. Which is a bit sad considering how much time and love got poured into them. I would like to wear them on a daily basis if it weren't for fear of small people grime and the fact that I could still probably do with a bib when eating sometimes. When I petitioned (mostly against myself) to sew more 'fiercely attractive mum-friendly clothes' this year, I didn't know what that would look like. But I knew what was needed were things I could throw on, go about the day's mostly un-glamorous activities, all the while looking put together, or at least like I'd changed out of pyjamas. Finally, with this legging and blouse combo, I feel I have arrived! At a craggy isthmus somewhere between BabeTown and MumTown.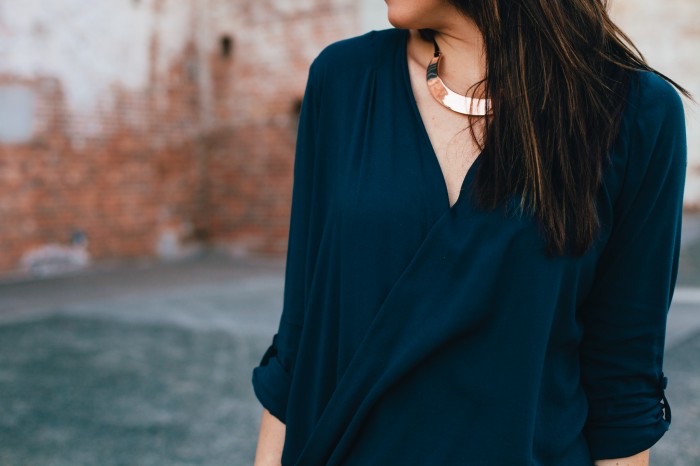 In hopes of reigning in the silk-monger within, I've been looking out for some happy replacement for silk; something drapey and nice against the skin, without the omg-dishwater-on-my (insert most-beloved item) factor. Step in Viscose, Rayon and whatever else is in this glorious man made fibre! I saw it, petted it, decided it was the softest, most buttery SOLID I ever laid eyes on and stowed it away for a worthy project…something like the wrap-style Dotty Blouse by Style Arc. You may have seen this deep cross-over silhouette doing the rounds, see here and here. I saw it, loved it and before I knew what was happening, the pattern was making it's way to my house. McCalls have put out a similar blouse and Burdastyle released this cute variation but it was the line drawing of the Dotty that sold me.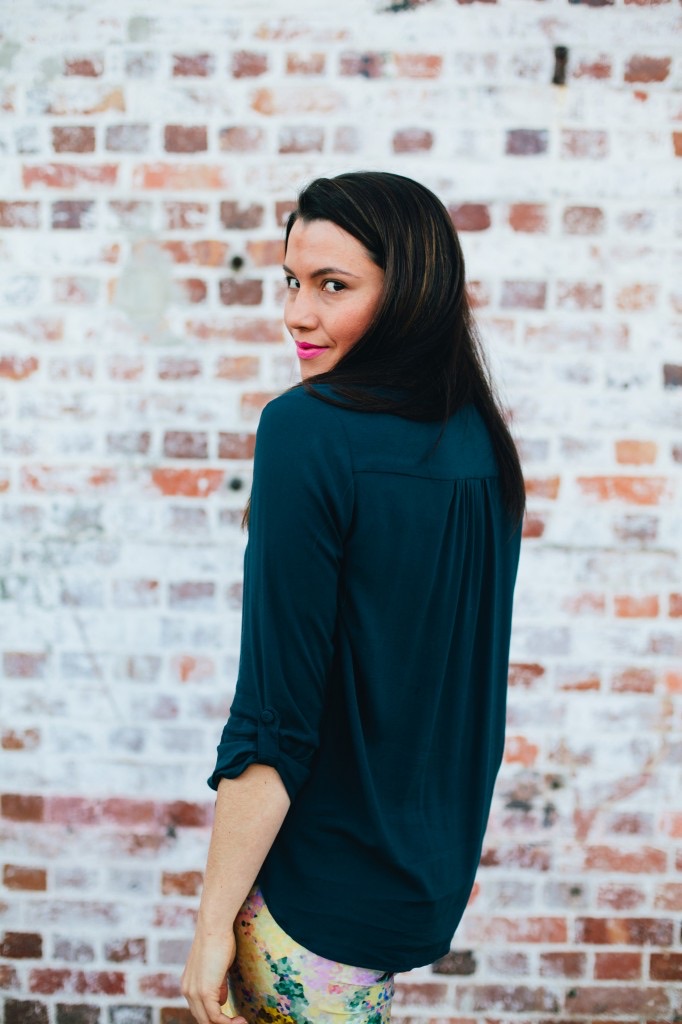 So much to love here! A double yoke, gathered back, good butt coverage and a cleverly designed front with the wrap section cut as one whole piece. The instructions imply you can sew a double yoke in your sleep and with my experience of double yokes being mostly of the breakfast variety, I decided to seek help. I followed this tutorial on the Style Arc site, up to the point where it became obvious that attaching a double yoke in a normal scenario, where the shirt front has two pieces (like a normal button up) is one thing. Attaching a yoke for a shirt where the front is made of one long joined piece of fabric, is something else all together. Also, the tutorial makes sense for a shirt that would eventually have a collar attached, in which case it is no problema to leave the neckline raw. But for the collar-less Dotty blouse, I realised that the neckline would have to be sewn shut at some stage in the yoke attaching otherwise it be left raw foreverrrr! To be honest I don't really remember how it did it and wish I took better notes on the process but just know, it's possible. Your double yoke will be okay. It will, however, take some manoeuvering that I cannot explain without wild hand gestures.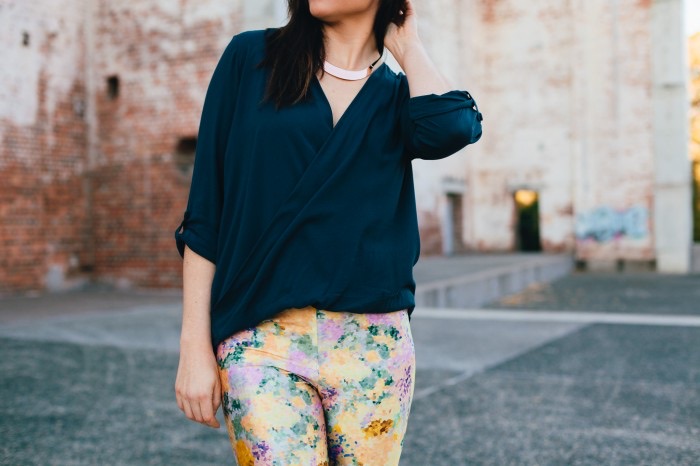 This is actually my second version of the Dotty Blouse. I thought I should probably muslin it (see! I can be a responsible) before cutting into this fabric. The pattern recommends silk, crepe or a jersey knit. After muslin-ing it in a feather-weight cotton voile, I learned that lightweight and good drape are not one and the same. The recommendation for jersey knit should have been the give away that whatever fabric you choose, it has to hang-well (not the same as well-hung). In fact I don't think it mentions light-weight anywhere. No it does not. I made that up. But having now sewn the Dotty up in something lightweight with no drape and something with lots of drape, the drapier fabric produced a front section that cascades instead of puffs out and an all round nicer looking top.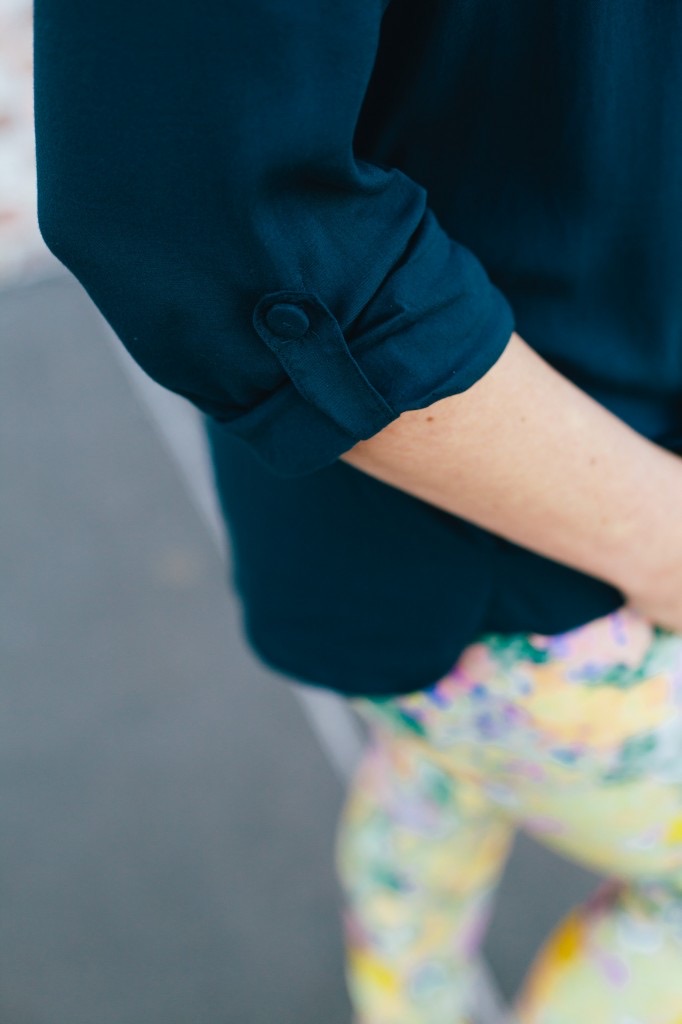 The sleeves are my favourite! The instructions are to gather them into narrow bands and left long. But I liked rolled up sleeves. I like their utilitarianism. Especially on a top with so much party in the front. Plus I thought that the addition of sleeve tabs could take this top some place special. So, after asking the deep questions about sleeves, I omitted the sleeve band, sewed a straight hem and 'borrowed' the sleeve tabs from another pattern. For the buttons, I covered some regular flat shirt buttons using a great little technique I learned here. I much prefer their compactness over the clunky store bought self cover buttons.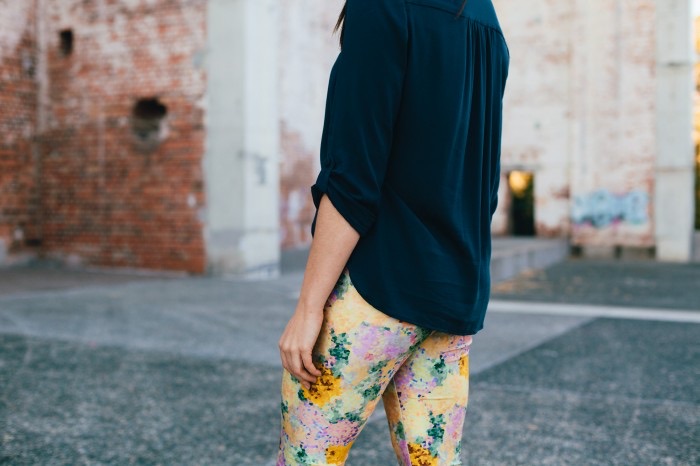 Now seems a good time to address the pink elephant in the room: how is that front section staying shut?! Well, it's not really and even standing relatively still on a not windy day, my photographer copped a few eyefulls. So, short of wearing a velcro bra, I'll have to go back at attach a press stud, which I was trying to avoid but is what the pattern suggests anyway.  I should also point out that even with the double yoke fussing, it was possible to French seam the whole thing, which makes this one of my most meticulous and most un-hand-made looking pieces yet. Save for a few dodgy bits sewing the curved hem…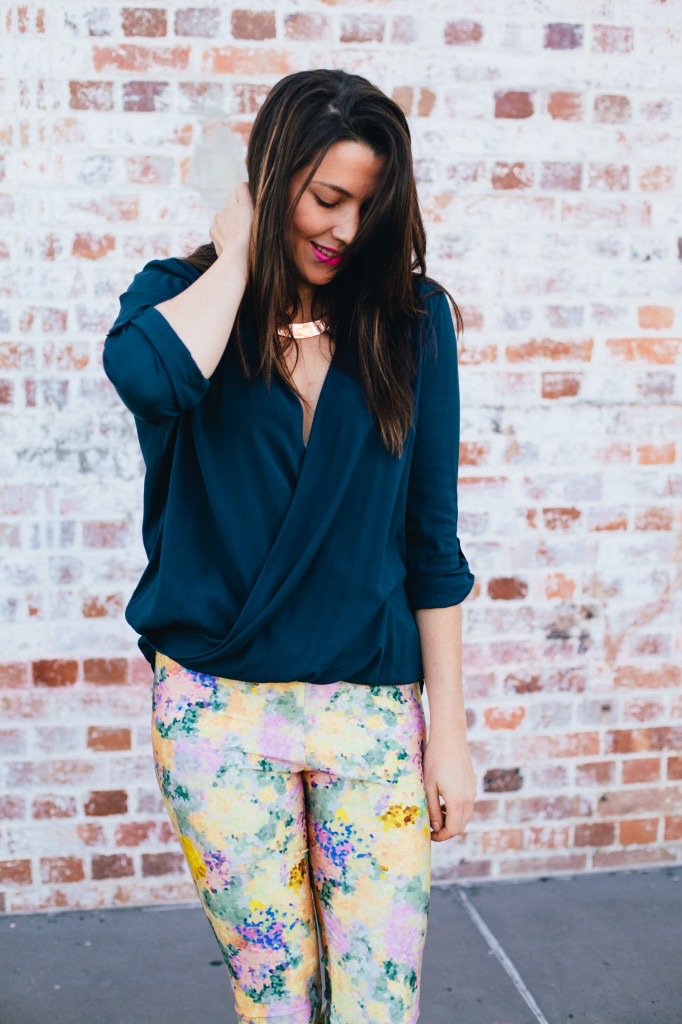 Short and sweet for all involved, DIY leggings are the ultimate quickie project! These here were my demo pair for the Leggings Workshop I taught at the recent The Craft Sessions weekend. I chose leggings because they're beginner friendly when you're starting out with knit sewing and instantly satisfying. At the start of the workshop, I told the ladies they'd laugh once they realised how straightforward leggings are: one pattern piece + 4-way stretch fabric + a ball point needle + stretch stitch = DIY legging fabulousness. Anyway, they all produced beautiful leggings (some I wanted to snatch for myself) and left with new sewing confidence!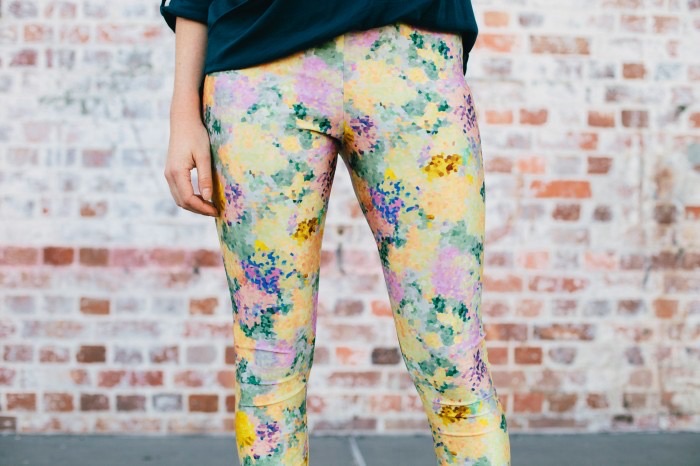 Now that leggings season is coming to an end here, these are finally making it to the blog. The fabric is swimwear lycra from here, which I really don't mind against my skin. My favourite sources for leggings fabric are Tessuti Fabrics, Wanderlust Fabrics, Girl Charlee and random Etsy shop, Fabulace. I used the same Burdastyle pattern as this pair (now retired to pjs), which I love for the extra length in the legs and torso.
(good butt coverage)